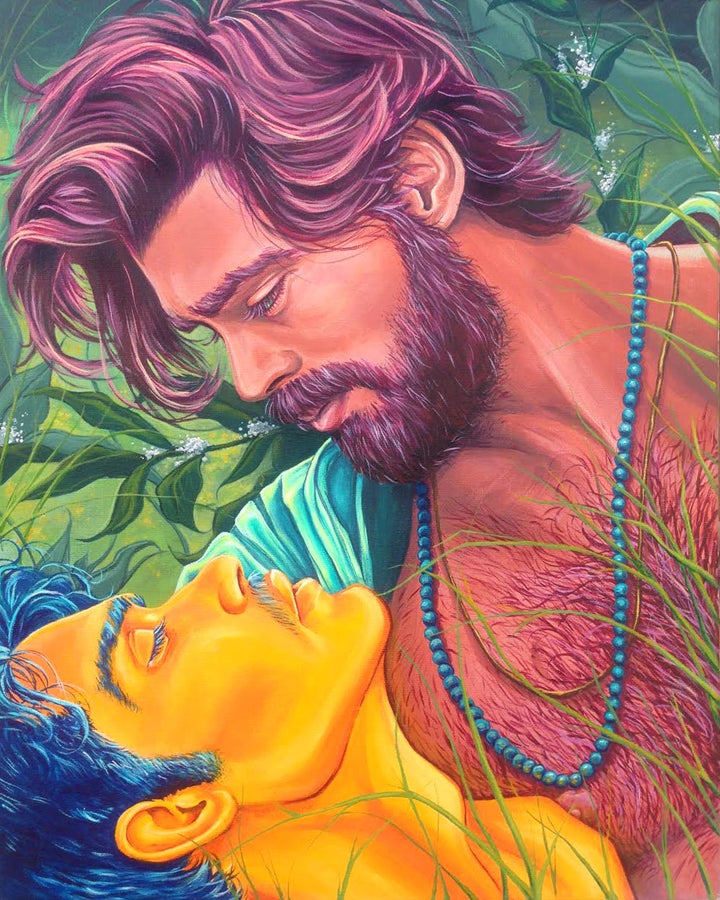 In January 2016, HuffPost Queer Voices brought you one of our favorite pieces of art from the past year: a very NSFW queer coloring book called LAST NIGHT I DREAMT THAT SOMEBODY LOVED ME by artist Nathan Rapport.
The coloring book depicted beautifully graphic sex scenes between men contrasted with lyrics from classic heartbreak songs, inviting the viewer to examine their own relationship with atrophying of intimacy and casual sex.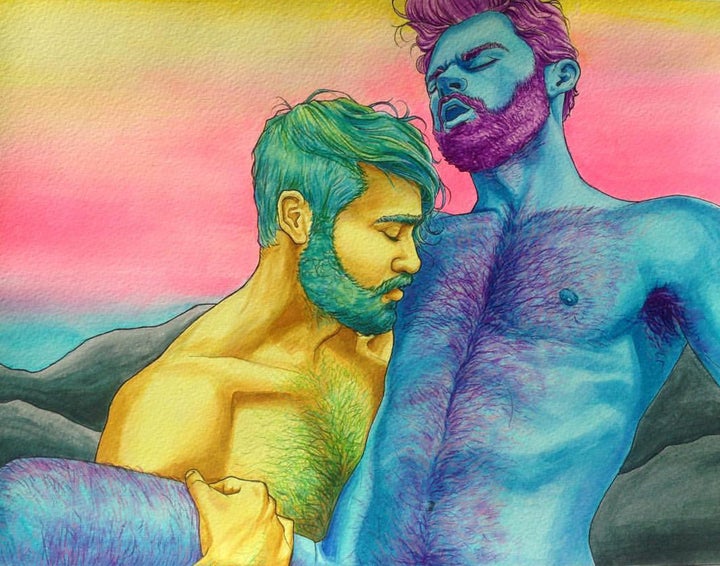 "I took this show as an opportunity to look at intimacy in a different way than I did with the coloring book," Rapport told HuffPost. "Rather than focusing on the loss of intimacy, and subsequent search for it, with these new paintings I have decided to take moments of intimate connection, and hover on them and observe them in a grateful manner. Choosing to move back into painting has allowed me to flesh out these moments in a way line illustration never would. By utilizing a hypercolor palette, elements of fantasy, nature imagery, and nostalgia by way of musical reference, I hope to create visual experiences of heightened gay romance."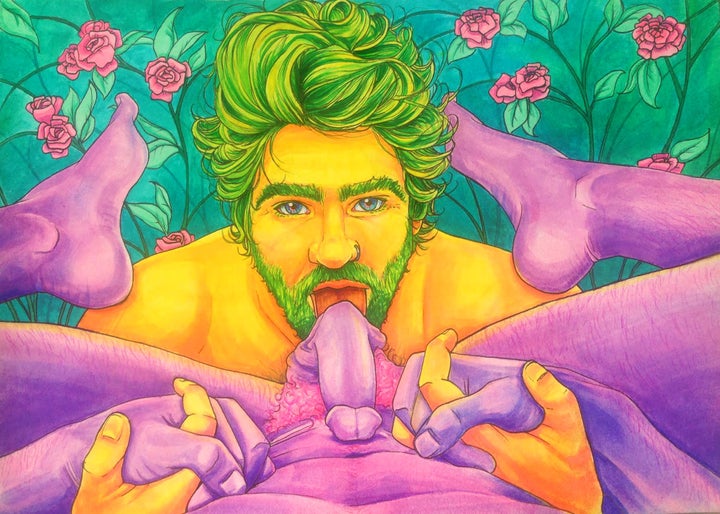 Rapport also told HuffPost that after publishing LAST NIGHT I DREAMT THAT SOMEBODY LOVED ME, he has expanded his work into a variety of different creative mediums, including wearable art forms.
"Since the book I have pretty much dedicated all my energy to creating new work and taking it on the road," Rapport continued. "The almost year-long book tour grew many sets of legs and has allowed me to create a whole line of queer wearables, resulting in collaborations with Mr. S Leather and Folsom Street Fair. The push from the book also led to several gallery opportunities, and I'm very grateful and excited that fine art, specifically painting, is my crystal clear focus again. Preparing for this show has forced me to flex muscles I haven't worked out in too long, and simply taking more time with each piece on a technical level has created a greater level of intimacy between myself and the paintings. I feel like this show is the start of a new, more focused and patient phase of my work, and it excites me a lot."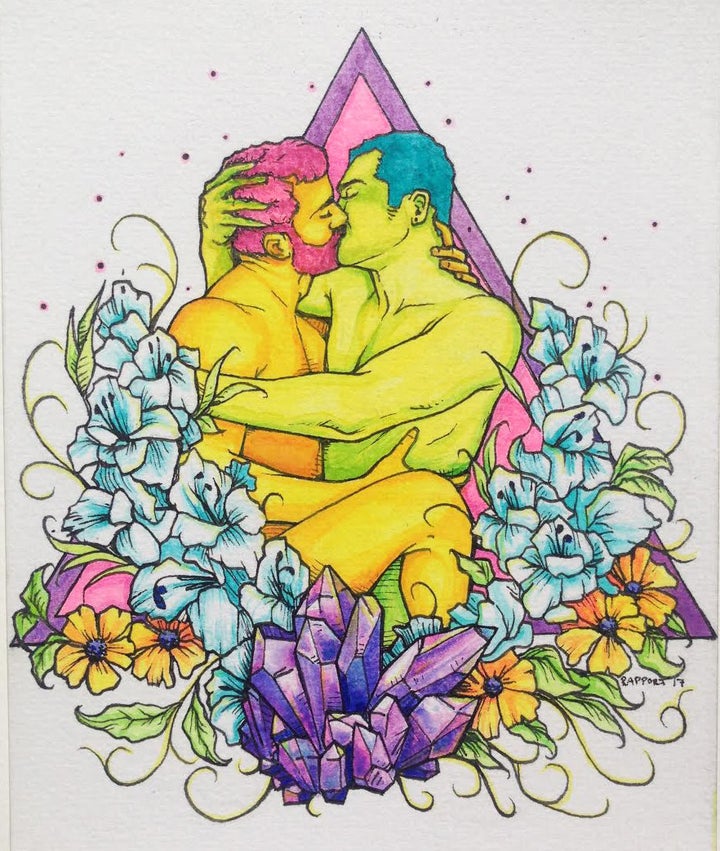 When asked what he wanted viewers to take away from his latest work, Rapport told HuffPost, "I hope viewers look at this work and are able to lose themselves in the connection occurring on the page or canvas." He added, "It's one thing to recognize an embrace or a kiss as tender or connected, but another to physically feel the electricity between a pair of almost touching lips. To have an image make you weak in the knees or tingly in the toes. I want people to feel the breath in these moments."
Before You Go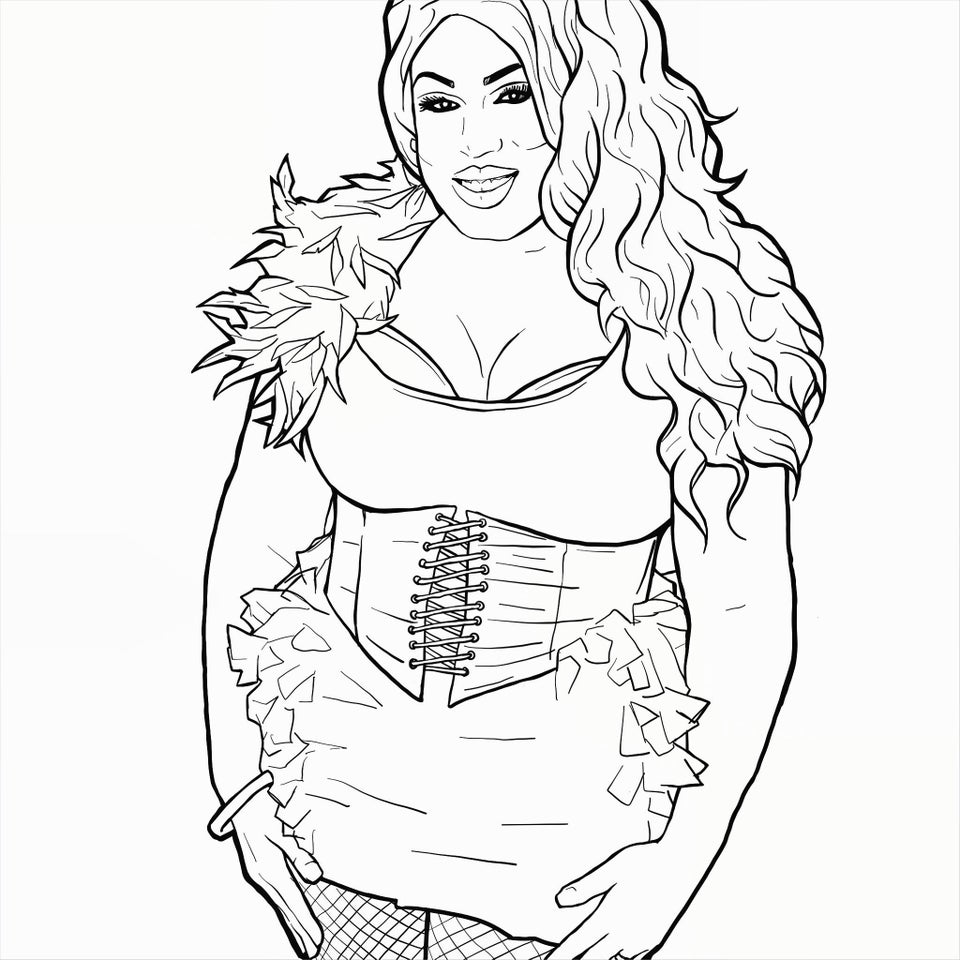 Drag queen coloring book
Popular in the Community