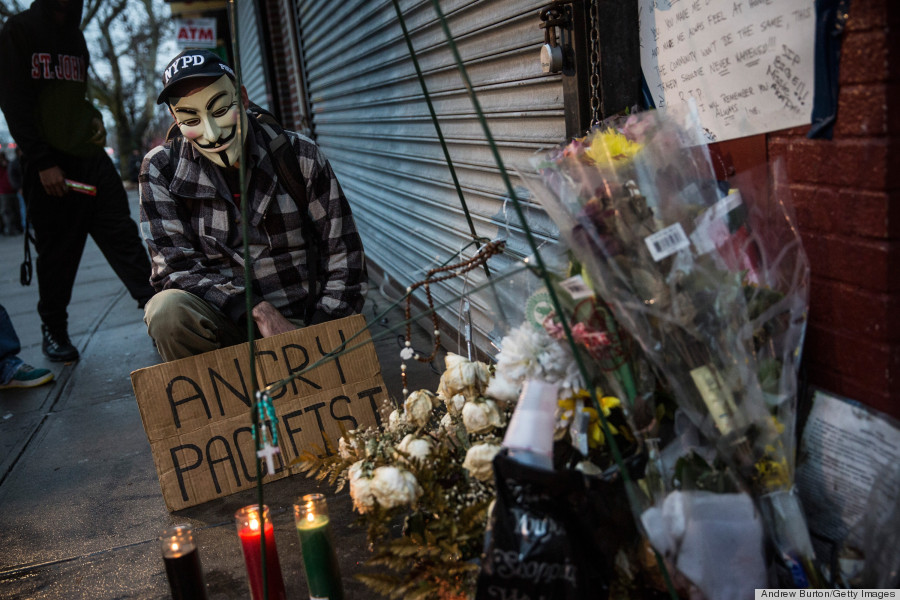 A grand jury announced their decision Wednesday not to indict police officer Daniel Pantaleo in the case of 43-year-old Eric Garner, who died on July 17 after the NYPD officer placed him in a chokehold.
The decision comes just over a week since a grand jury in Ferguson also chose not to indict a police officer in the death of 18-year-old Michael Brown.
Many protesters took to the street Wednesday to speak out against these deaths, as well as others who have died at the hands of police.
"I am Sean Bell. I am Amadou Diallo. I am Ramarley Graham. I am Michael Brown. I am every black man that has been lynched," Staten Island resident Kevin Buford told The Huffington Post. Buford also personally knew Garner. "This was a public lynching on video and there's no system for justice."
Hundreds of protesters trudged through Oakland during a steady downpour in response to the grand jury decision. Demonstrators obstructed traffic, but the protest was much smaller and more peaceful than marches last week where stores were vandalized and scores arrested after the Ferguson grand jury didn't indict Darren Wilson for killing Michael Brown.
"The only difference is their names," Karissa Lewis, 32, of Oakland said of the Garner and Brown grand jury outcomes. "The system won't work for black folk."
President Obama addressed the grand jury's decision and said that these police tactics have been an ongoing issue that demand more progress.
"I'm absolutely committed as President of the United States to making sure that we have a country in which everyone believes in the core principle that we are equal under the law," Obama said.
In addition to elected public officials and celebrities who have spoken out against the decision, protesters nationwide are voicing their concerns -- again.
From Ferguson to New York, here are images of people around the country who are standing in solidarity and sending one strong, singular message: Black lives matter.
Calling all HuffPost superfans!
Sign up for membership to become a founding member and help shape HuffPost's next chapter