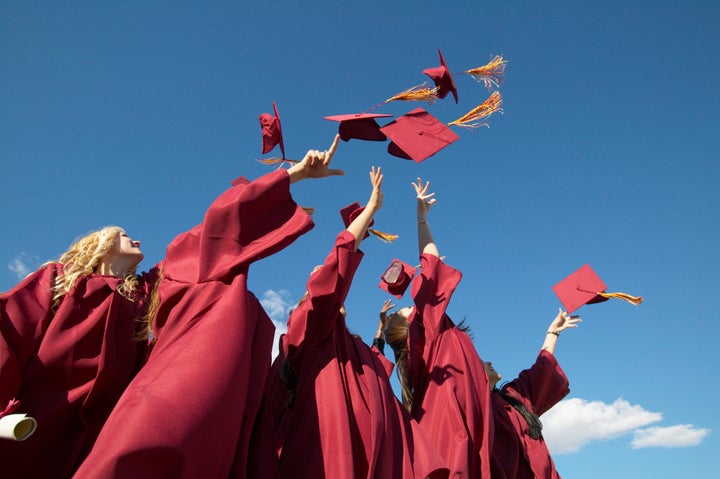 Few things mark the end of summer like the cadence of bright-eyed children marching back to school in their shiny shoes, towing stacks of paper, textbooks and sharpened pencils in their new backpacks. With students now in their first full month of school studying away for their first test, the reality is that our nation is failing to graduate them with the skills they need to compete in the 21st century.
Today, one in three drop out of school before getting a high school diploma. This is an alarming trend with dire consequences for our society and the economy. According to the Alliance for Excellent Education, the 1.3 million teens -- the population of the city of San Diego -- who did not graduate high school with their peers in 2009 alone will cost the nation $335 billion in lost wages and productivity over the course of their lifetime.

Only a generation ago, one could obtain a decent paying job without a postsecondary education. That time has passed. Economic shifts and the demand for highly-skilled workers have made it increasingly difficult for those without a high school education to advance in our society. Workers are no longer competing against their former classmates or their neighbors in nearby states. Instead, in our small world, students in New Orleans and Des Moines compete against those in the Nagasaki and Dubai.
Tori Walston, from Lake Charles, La., was on her way to becoming just another statistic. She skipped school, got mixed up in the wrong crowd and dropped out of seventh grade. Her mom didn't seem to care she wasn't going to school, so why should she? Tori grew up in a challenging environment that would lead many people down the wrong track. Fortunately, she discovered the National Youth ChalleNGe program. It was there that she learned how to make positive changes in her attitude and self-confidence, and developed a life plan to succeed.
Created in 1993, Youth ChalleNGe is a 17-month program that aims to help at-risk adolescents achieve their education and become productive and responsible members of society. The first five months are spent in a residential phase and the next 12 months the cadets are partnered with mentors. Children, particularly those who don't have support at home, need adults in their lives who will provide structure and guidance, and they deserve a second chance at an education. The residential phase of the ChalleNGe Program provides these teens, from ages 16-18, with this nurturing and encouraging environment -- and it works. ChalleNGe is not a recruiting tool for the military. Only about 14 percent of grads end up going into the military.
Through my work in the Senate, as well as with the National Guard Youth Foundation, which supports the National Guard Youth ChalleNGe Program, we're working to give those who drop out of school a second chance to succeed. There are now 34 sites in 27 states and Puerto Rico. At an average cost of $17,000 for a 17-month program, ChalleNGe is cost-effective alternative with a track record of results. The federal government and states partner to finance the program, with the feds covering 75 percent of the cost and states financing the remaining 25 percent. In my home state of Louisiana, we have three programs that have made a difference in the lives of more than 10,000 children, including Tori.
Results of a multi-year evaluation of ChalleNGe by MDRC, a social policy and education research organization, found former dropouts who participate in the ChalleNGe program are more likely to earn their high school diploma, GED, obtain college credits, and are more likely to be employed and earn more in wages.
In 2009, 91 percent of ChalleNGe graduates either earned their high school diploma, GED or returned to high school. This evidence-based program changes the trajectory of lives of former dropouts in a positive way; I've seen first-hand the transition these kids go through.
Tori represents the more than 100,000 students who have graduated from Youth ChalleNGe. She's now working full-time and plans to go to college next year to study to become a counselor. Tori's words at her graduation last January, in front of her 200 fellow cadets, best summed the impact of ChalleNGe on our young people. "Where would we be without Youth ChalleNGe?" she asked. "Most, if not all, of us would have no education, no future."
At a time when we are looking to save money everywhere in the federal budget, we must fight to protect -- even expand -- proven programs such as the National Guard Youth ChalleNGe program. They offer an invaluable tool -- and chance -- to our children who need a little more guidance and structure to help them grow into adults who can be competitive in today's workforce.
As we are in back-to-school mode, it's important that we keep these kids in school, and equally important that we offer a helping hand to those who have already left the school system before they become another statistic.
Let's give more children another opportunity to be contributing members of society.
Sen. Mary L. Landrieu (D-La.) is the senior senator for Louisiana and honorary co-chair of the National Youth ChalleNGe Foundation.
Related
Popular in the Community