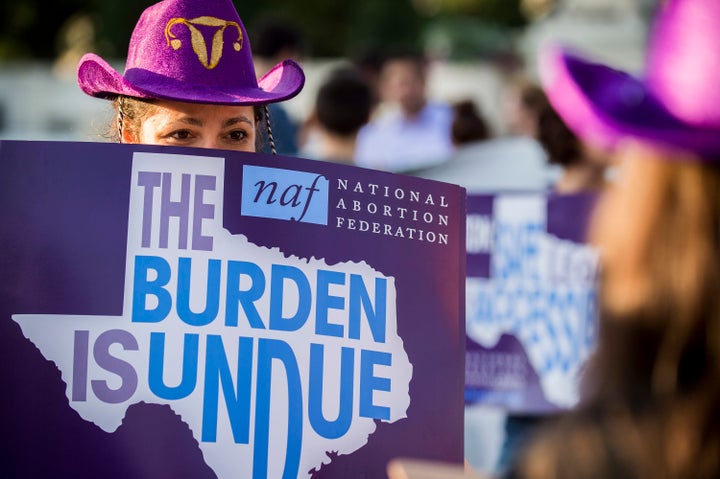 In most political battles, the National Abortion Federation and labor unions find themselves on the same side.
But not when it comes to the NAF's employees.
The group, which is one of the country's leading reproductive rights organizations, has stood in the way of its workers' attempts to form a union for months, including by contriving a dispute before the National Labor Relations Board that prevented the board from scheduling a vote on unionization, labor organizers say.
In a scorching July 2 letter to the NAF's board, officials with the Washington-Baltimore News Guild blasted the NAF's actions as "anti-progressive, anti-employee, anti-union."
"It is entirely immoral and unacceptable to lay claim to a so-called organizational mission … which promotes health and justice for women but not ensure health and justice is possible for employees internally," union officials wrote. "Shouldn't this mission also apply to the NAF workplace?"
Workers at the NAF Hotline Fund — the part of the organization that helps low-income women pay for abortions — have long complained about meager salaries and tough working conditions. In January more than 70 percent of them agreed to be represented by the guild and asked their employer for voluntary recognition of the union.
The NAF declined to recognize the bargaining unit, forcing the union to ask the NLRB to schedule an election. The NAF delayed the process by picking a fight over whether a handful of midlevel employees belonged in the union, the guild claimed. And it refused to back down when the News Guild's lawyers proposed to hold the election without those employees and negotiate over their status later.
"It's just been a nightmare," said Bruce Jett, an organizing consultant with the News Guild. "One thing after another and a lot of double-talk."
On Wednesday morning, workers received an email from the NAF's chief financial officer, Michael Johnson, announcing that entry-level staff will now be paid a minimum annual salary of $36,000 and nonmanagers making more than that will receive a raise of $2,000. The move took workers by surprise because the NAF has maintained for months that it could not raise pay before the unionization effort was over. The NAF announced the change just hours after HuffPost raised questions with the group's spokeswoman; she attributed the timing to the recent addition of some board members and their getting up to speed on workers' complaints.
Also on Wednesday, the NAF said it contacted the NLRB to ask if it could withdraw its objection to including the midlevel workers in the proposed bargaining unit. The two sides had been waiting since February for the NLRB to make a ruling.
That should clear the way for the NLRB to schedule a vote.
"Almost everyone who wanted a union is now gone."
But a hotline worker, who spoke on condition of anonymity to avoid reprisals, wondered if the NAF had delayed the vote long enough to kill organizers' efforts.
"There's high turnover here, and our numbers have definitely dwindled as people have left," she said. "I think they have succeeded in their intentions of delaying the vote long enough that almost everyone who wanted a union is now gone."
The NAF would seem an unlikely adversary for organized labor. It holds itself out as standing for women's dignity and autonomy by preserving their right to make their own reproductive choices. More than 400 independent abortion clinics rely on the group to act as their megaphone in battles against abortion restrictions, to provide training and security advice and to oversee quality and safety standards. The organization's other major component is its hotline. Thousands of women who need financial assistance for an abortion call the hotline every week.
Yet the NAF-union showdown is part of a recent trend of advocacy groups trumpeting progressive ideals while behind closed doors resisting workers' efforts to organize. Workers at Media Matters for America, for example, said the liberal watchdog's response to their unionization effort left them feeling betrayed. Media Matters declined to voluntarily recognize the bargaining unit — which unions prefer — and forced workers to hold an election, which the union won handily.
The NAF is not the only reproductive rights group embroiled in a labor fight. In Colorado, Planned Parenthood of the Rocky Mountains is fighting the results of a vote by clinic workers to join the Service Employees International Union.
NAF hotline workers say that in addition to low wages, they have long felt abused by management. Vicki Saporta, the NAF's longtime president and CEO, was prone to screaming at employees who failed to meet her standards, five current and former employees said.
In June the website Rewire.News revealed that multiple current and former employees accused the group's director of security, Mark Mellor, of sexual harassment but that he was allowed to remain in his job. The union's July 2 letter accused Saporta of protecting Mellor, saying, "Saporta chose to align herself and NAF with a serial sexual harasser."
Within a week, Mellor was no longer working at the NAF, and Saporta announced an early retirement.
But other managers who still work at the NAF, employees claim, were also responsible for failing to address complaints about compensation and working conditions, such as those against Mellor. "I feel strongly, and I know a lot of other people involved in the unionization effort do too, that it wasn't just Vicki causing issues," said one hotline worker.
NAF spokeswoman Melissa Fowler wouldn't address the assertions that Saporta screamed at staffers or protected Mellor's job. "Vicki is no longer with the organization, and neither is Mark," she said. "We are not focused on past things. We are really focused on moving forward and how best we can support employees."
"As a mission-driven organization dedicated to justice, the National Abortion Federation is committed to providing a safe and inclusive environment where all individuals are treated with dignity and respect," she added. "With the recent transitions at NAF, the transition team has been taking time to fully consider the facts and all of our options to ensure we make the appropriate decisions for NAF and our staff moving forward."
The NAF still believes employees should vote on whether to join the union and will not voluntarily recognize the bargaining unit, Fowler said.
In a message that the hotline director, Chloe Hebert, sent to staffer early this year in reaction to the unionization effort, the NAF argued a union wasn't necessary to improve the workplace.
"Our benefits package is excellent and competitive with other nonprofit organizations and surpasses what even many for-profit companies provide," the message read. "Employees receive these annual wage increases and benefits without having to pay hundreds of dollars every year in union dues or risk additional fees that could be assessed if employees of other organizations or companies in the union go on strike."
Until Wednesday, the starting salary at the NAF was $32,000 to $33,000. Assistant case managers, who are one rung above the operators, claim that the NAF recently balked at giving them a scheduled pay raise. NAF headquarters is Washington, D.C., where the cost of living is among the highest in the country. Even with the raise, a current hotline worker said, "$36,000 is still not a living wage in D.C."
The job is emotionally difficult. For many callers, the hotline operator is the first person to whom they confide about being pregnant. They might talk about being abused or homeless. Today the NAF's health insurance plan offers some forms of free counseling, and the organization sometimes arranges for a therapist to be on site. But for years, said one former employee, "there was no conversation about self-care or boundaries." A part-time worker with no health benefits, she said she went into debt to pay for therapy.
When they complained in the past about low wages, former hotline employees said, the NAF's response was often hostile. "If we pay you more, that's less money for the women that we're serving," Saporta said on one occasion, a former employee said. Another former employee corroborated that claim.
NAF hotline staffers first considered the idea of unionization in 2010, when a handful of hotline operators approached Chris Townsend, a local union representative of the United Electrical, Radio & Machine Workers of America with complaints about their working conditions. That effort ended abruptly when the NAF issued a job satisfaction survey and announced that it would create multiple full-time positions on the hotline.
A spokeswoman said the NAF was not aware its workers were talking to a union, but people who worked there at the time suspected otherwise.
"The greatest damage that was done to the effort," said Townsend, "was the skillful use of the carrot and not the stick — selective promotions and rewards."
"Who is going to get yelled at today? Who are we all going to pretend we don't hear sobbing in the bathroom later?"
Conditions became more fraught in 2013, when the NAF brought on Mellor to handle security. He — and most of his alleged victims — worked on the hotline side of the office. At one point, according to Rewire.News, his desktop background, which was visible to anyone passing his desk, was a photograph of a topless woman.
Problems with management were not limited to the hotline. On the nonprofit side, where Saporta worked with the NAF's lawyers, advocates, media team and policy experts, she was known for her frequent tirades. She screamed insults at subordinates when she felt they underperformed, several of them said. Her outbursts came often enough that employees were filled with dread.
"It was, 'Who is going to get yelled at today? Who are we all going to pretend we don't hear sobbing in the bathroom later?'" said Dax Murray, a former NAF employee.
Saporta got her start in labor organizing. In the 1980s she oversaw the national organizing effort for the Teamsters Union, with a mandate to attract new members from white collar fields.
She denied that she or other managers ever mistreated the staff.
"The behavior you described does not at all accurately reflect my interactions with employees," she told HuffPost. "I told hotline employees on many occasions that they deserved a raise" and took steps to make Wednesday's salary increase possible, she added.
She and Fowler denied that Saporta ever linked the hotline workers' compensation to the money available in the abortion fund. Rather, they said, it was hotline workers who talked as though the two budgets were linked. "NAF is always clear that the budget we have for hotline operation is completely separate from the budget that we have for subsidies for patients in need," Fowler said, adding that she attended several meetings in which Saporta explained as much to staffers.
Saporta said no one ever told her about Mellor's alleged behavior and that she learned about the allegations in March.
"I was surprised and told them that, as one of the few women union organizers in the '70s and '80s, I personally experienced and witnessed extensive sexual harassment and that I wouldn't put up with it at NAF or the Hotline Fund for a single minute," she said. "I encouraged employees to come talk with me, since I couldn't address what I didn't know about."
Saporta announced in May that she planned to retire early next year. In late June, however, she alerted staff that her retirement would begin that month.
Her abrupt exit happened around the same time as a contentious phone conference with NAF staff and the board, in which board members said they were hearing about many of the staff's concerns for the first time.
With Saporta gone, the News Guild has expressed hope that the NAF will voluntarily recognize the union and make improvements to the workplace. "Each of you have an opportunity to correct the unchecked and dangerous anti-progressive, anti-employee, anti-union behavior of Ms. Saporta," the guild wrote.
To do any less would be a "devastating contradiction," one former employee said.
"We're not going to get the world we want without treating people according to the way we want the world to look."
CORRECTION: A previous version of this story indicated NAF headquarters are outside Washington, D.C. They are in Washington, D.C.
Support HuffPost
The Stakes Have Never Been Higher
Popular in the Community