Weeks after San Francisco 49er Colin Kaepernick used the national anthem to protest social inequality, NFL players from around the league got political on Sunday, the 15-year anniversary of the Sept. 11, 2001 terrorist attacks.
Players from the Seattle Seahawks joined arms while standing during the national anthem. Several players from the opposing Miami Dolphins kneeled, as the Denver Broncos' Brandon Marshall had done on Thursday.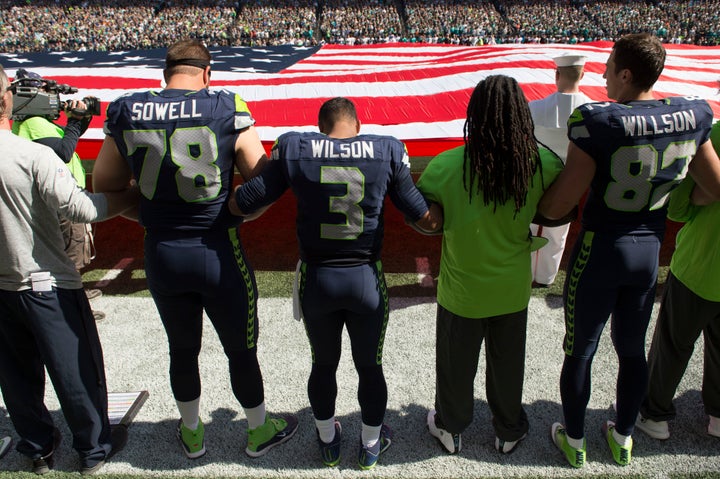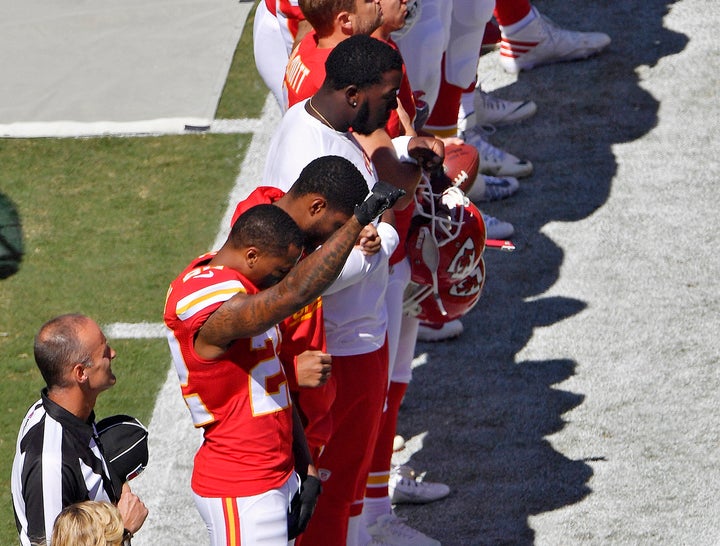 New England Patriots Martellus Bennett and Devin McCourty both raised their fists for the anthem ahead of Sunday's late game against the Arizona Cardinals, as several Tennessee Titans had earlier.
The demonstrations were sparked by San Francisco's quarterback Colin Kaepernick, who opted to sit during the national anthem in protest of the mistreatment of people of color in the U.S., causing an uproar.
"I am not going to stand up to show pride in a flag for a country that oppresses black people and people of color," Kaepernick had told NFL.com's Steve Wyche. "To me, this is bigger than football, and it would be selfish on my part to look the other way. There are bodies in the street and people getting paid leave and getting away with murder."
Nate Boyer, a free agent long snapper and former U.S. Army Green Beret who spent a summer with the Seahawks, told Fox Sports Radio about the team's motivation to demonstrate.
"They realize that 9/11 is a very important day in our nation's history," he said. "The Seahawks, and probably every team, will be honoring those who serve in camouflage and also those in blue who served on such a difficult day. Shortly after 9/11, our country seemed more unified than I had ever experienced and was the most unified it has been since I have been alive. Since that date, we have grown farther apart in our unity. Standing together this Sunday is key to making progress. What the team will do is a powerful sign of unification."
The Chiefs released a statement explaining their own demonstration:
After having a number of thoughtful discussions as a group regarding our representation during the national anthem, we decided collectively to lock arms as a sign of solidarity. It was our goal to be unified as a team and to be respectful of everyone's opinions, and the remembrance of 9/11. It's our job as professional athletes to make a positive impact on our communities and to be proactive when change is needed. Together we are going to continue to have conversations, educate ourselves and others on social issues and work with local law enforcement officials and leaders to make an impact on the Kansas City community.
The Dolphins encouraged players to stand during the anthem, but said the team would respect the right of individuals to observe the anthem as they see fit.
The demonstrations come amid heightened debate over social inequality and concern over police violence ― issues that have caused athletes to speak out with increasing urgency.
Along with protest, Sunday's games saw players participating in acts of patriotism in tribute to the victims of the September 11 attacks.
Some players, including New York Giants Odell Beckham Jr. and Victor Cruz, wore patriotic equipment.
Support HuffPost
The Stakes Have Never Been Higher
Related
Before You Go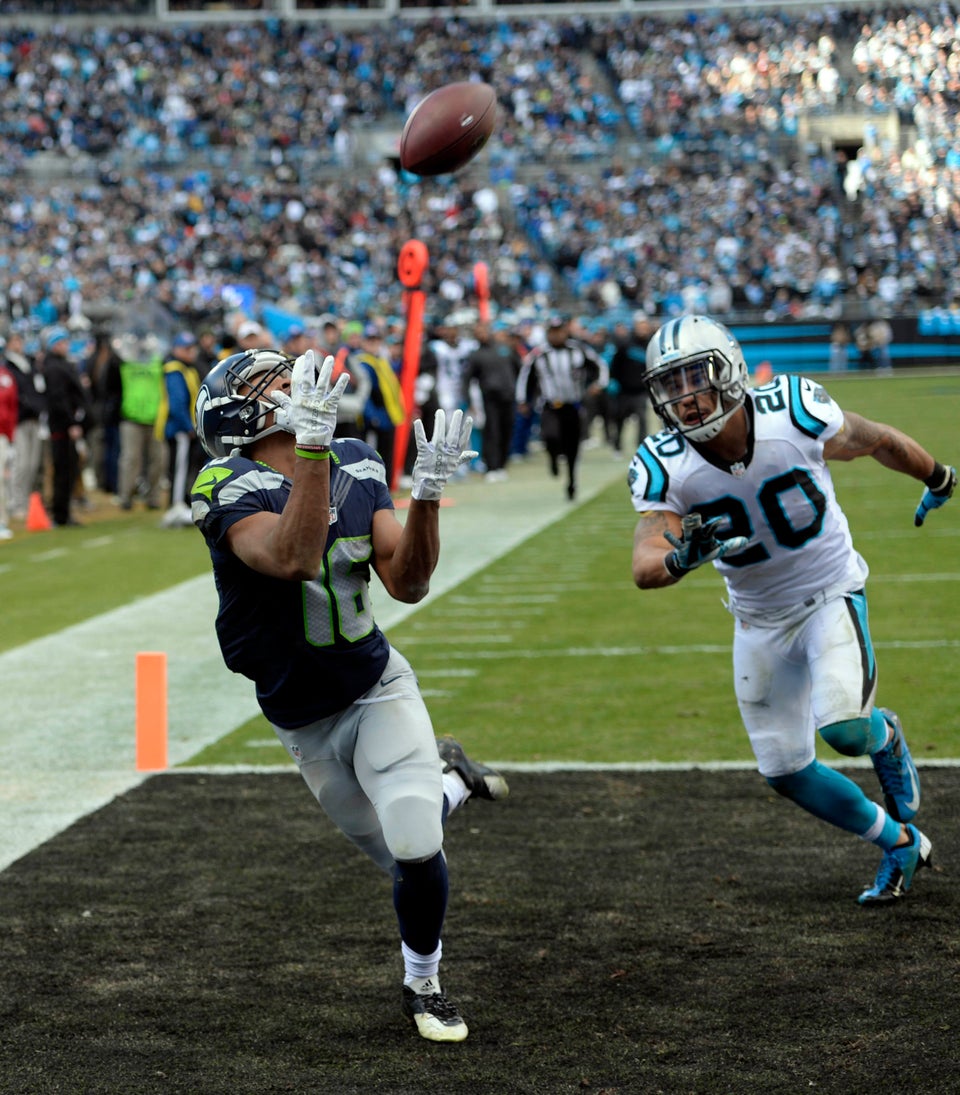 20 Breakout Stars Of The 2016 NFL Season
Popular in the Community