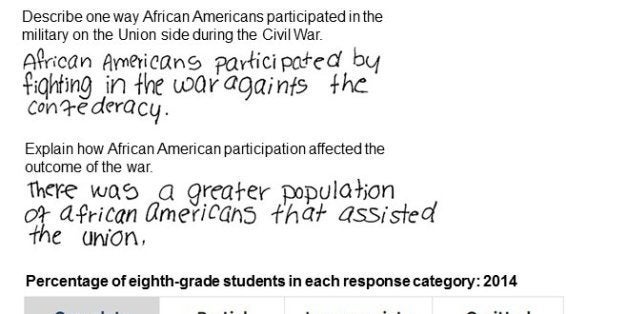 Which of these do the governments of Canada, France and Australia have in common: a) They are controlled by the military; b) They have constitutions that limit their power; c) They have leaders with absolute power; d) They discourage participation by citizens in public affairs?
If you chose b, you're smarter than more than 40 percent of America's eighth graders. But that's a stubbornly low bar, according to a report released Wednesday by the federal government's educational research arm.
Students posted relatively low scores on national exams in civics, history and geography in 2014, no better on average than in 2010 and slightly improved from 1994. The tests are the subject exams of the National Assessment of Educational Progress, a low-stakes test administered by the federal government to a nationally representative sample of public and private school students. Experts consider it to be the gold standard for measuring student knowledge, but one of its proponents says its definition of proficiency is "aspirational."
Mary Crovo, deputy executive director of the National Assessment Governing Board, which administers the test, argued that the results are particularly important as students seek to make sense of a world buzzing with news about the earthquake in Nepal and riots in Baltimore.
"So many of these headlines relate to the content of these U.S. history, geography and civics assessments," Crovo said. "Look at Nepal. Look at Baltimore. Look at the Supreme Court. These are all important 21st century issues -- challenges that are rooted in the solid understanding of U.S. history and geography."
Only 18 percent of eighth graders were proficient or better in U.S. history in 2014. They scored slightly better, on average, than the eighth graders who took the first such test in 1994 -- but no better than those who took the test in 2010. The increases were on questions about democracy, culture and world role, but not on technology.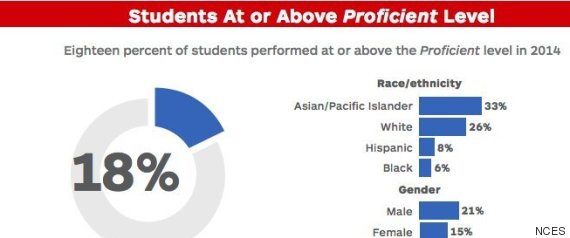 Despite the low performance, Peggy Carr, acting commissioner of the National Center for Education Statistics, said there is some reason for optimism about the history results. The lowest performers increased their scores, she said, and "Hispanic students are doing remarkably well." Hispanic students' average score has increased by 4 points since 2010, and by 13 points since 1994. The share of Hispanic students taking the test rose from 8 percent in 1994 to 26 percent in 2014, she added.
Less than one-fourth of all eighth graders were proficient on the civics exam. Forty percent of Asian/Pacific Islander students made proficiency, compared with 32 percent of white students, 12 percent of Hispanic students, and 9 percent of black students.
The overall average score has increased by 6 points since the test was first given in 1998, and by 4 points since 2010.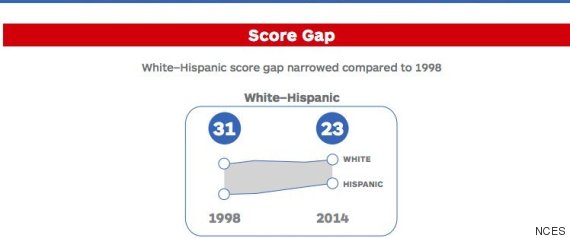 For Ted McConnell, executive director of the Campaign for the Civic Mission of School, that increase is not enough.
"These results are disappointing, bad for our nation's future and not surprising," McConnell said. "These results are due to a narrowed curriculum and a focus on a few subjects, over all others, that has gone on too long and has to stop. These results are due to policymaker actions that undermine effective instruction in these subjects."
Due to budget cuts, the U.S. Education Department scaled back its assessment in these subjects. Previous administrations tested more than just the eighth grade. Crovo said she plans to test high school seniors during the next round in 2018.
In geography, a test on which students were asked to use an atlas to identify lakes created by the Hoover Dam, 27 percent of eighth graders were proficient, and overall scores didn't vary from 1994 to 2014.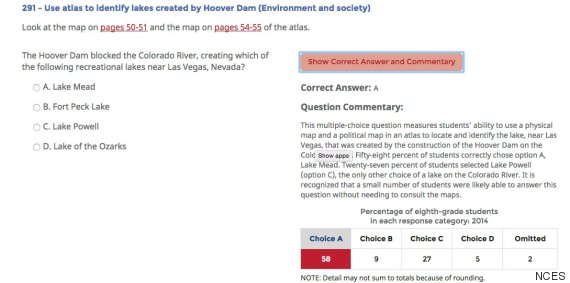 White students in 2014 posted scores 4 points higher than white eighth graders in 1994. Black eighth graders scored 11 points higher than in 1994, and Hispanic eighth graders scored 10 points higher. Only 6 percent of students could write a complete answer to a question showing a bar graph of different countries' life expectancies that asked them to explain factors that may account for differences.
"Barely a quarter to a third of students being able to demonstrate a frankly easy proficiency in these subjects is dangerous to the health of our republic," McConnell said.
Before You Go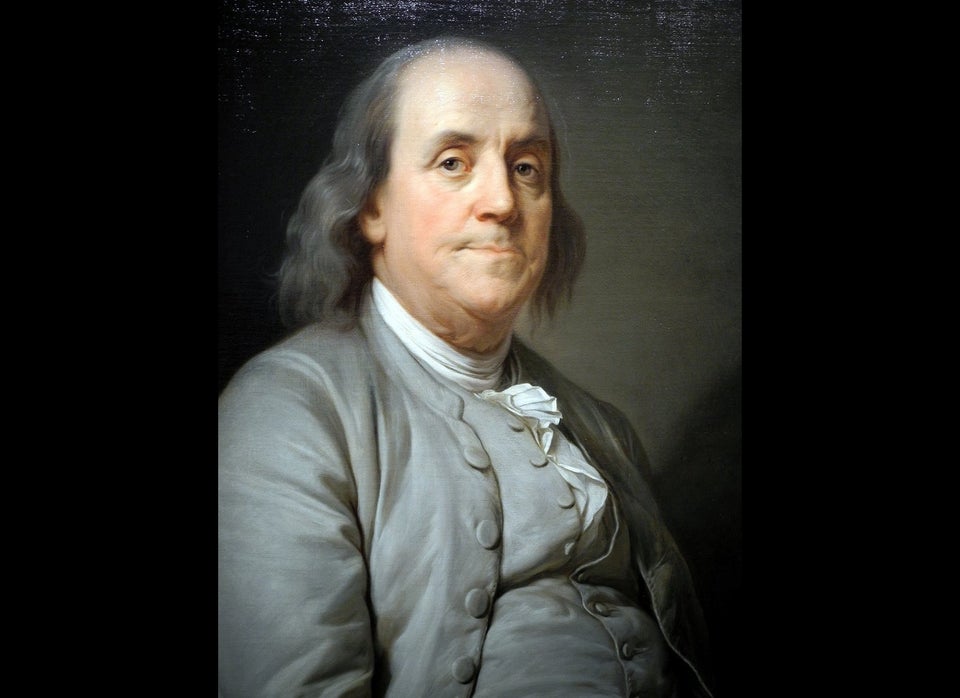 The Marital Histories Of Our Founding Fathers
Popular in the Community