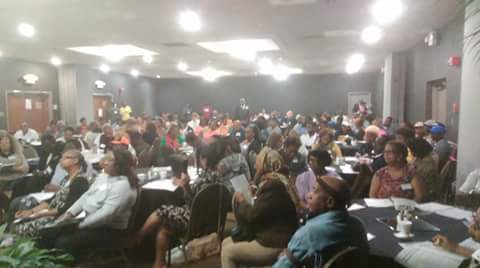 Back in the 1980s and '90s it was a tragic but almost commonplace experience to read about foreclosure sales of black-owned farms in local newspapers. Acre by acre, black farmers were losing their hard-won land acre by acre because they were voiceless and largely powerless. These losses were made even sadder by the history of African Americans who hungered and struggled to own farms after working the lands of others for centuries when they didn't own even themselves.

As one of those farmers straining to make a career in farming as my ancestors have done for generations, I realized that we could join forces to stop the disappearance of a black presence in agriculture. With others, I founded the National Black Farmers Association (NBFA), now celebrating its 25th year of advocating for justice for minority farmers. I saw a need for a voice for those voiceless farmers who were losing land acre by acre.
Today, with a quarter century of legal and legislative advances against official discrimination--despite many setbacks--we have climbed a good ways out of the depressed state black farmers were in when the NB FA began. Now, we find ourselves fighting against the reality that as landowners black farmers still get no respect. Our challenge is to change the way America looks at black farmers. After all, we have a lot to be proud of.
Like many African Americans I was taught how to farm by my forefather. I was no different my father and his father, John Boyd Sr. and Thomas Boyd made their living as farmers, while my mother's parents survived as sharecroppers. Both sets of my grandparents lived in a small farming community called Bracey, located in Southside Virginia. I was raised to be energetic and with a hearty will to work.
So, when I decided I wanted to own my own farm I approached another black farmer, an older man named Russell Sallie, who was being foreclosed on by the then-named federal agency, the Farmers Home Administration (FMHA) in the United States Department of Agriculture (USDA). It is now renamed the Farm Service Agency (FSA). Mr. Sallie told me, "Yes, Boyd, you should buy my farm. Go talk to them folks at FMHA," for loan support. Then he warned me, saying "Good luck getting them to lend you any money." He was right; I was in for the ride of my life. Trying to gain justice and for myself and fellow farmers, I was denigrated, spat on and called degrading names--yes even the n-word. http://www.apnewsarchive.com/1998/Alledged-USDA-Race-Remark-Probed/id-8984c70a3faf090f8c63c61151d7f3e2
Only after I began to file written complaints against the county supervisor in my home county of Mecklenburg, Virginia, did I learn just how bad the USDA had treated black and other minority farmers. I decided to organize and form the NBFA with farmers Linwood Brown, and Slyvester [Sylvester] Warren, also black farmers from Virginia. We were beleaguered, but kept a sense of humor. As we debated the name NBFA or a more inclusive name as "minority farmers," my lights went out. Caught up in the farmers' challenge, I had neglected to pay the electricity bill and the company disconnected my power for non-payment. Mr. Warren said "Well that solves it; It's black in here so we are the black farmers association!" That's how we came up with the name.

We KNEW the USDA was discriminating against black farmers, and probably other minority groups, who later joined our cause. Our case, known as Pigford v. Glickman was a class action lawsuit against the USDA alleging racial discrimination against African-American farmers in its allocation of farm loans and assistance between 1981 and 1996. The lawsuit was settled on April 14, 1999, by Judge Paul L. Friedman of the U.S. District Court for D.C.
Throughout the 20th century USDA made its loans to small family farmers based on applicants' credit, but African Americans were discriminated against and had trouble gaining credit. Denied the vote under Jim Crow by southern laws and lacking political power, African Americans were left out by the federal support available to white farmers. Many black farmers lost their land by tax sales, eminent domain, and voluntary sales. The USDA has admitted to having discriminated against black farmers. By 1992 the number of black farmers had declined by 98%.
State USDA authorities, usually white, shut black farmers out of loans for land or equipment, saying for example, "all you need is a mule and a plow", or telling the black farmer that the disaster relief is "too much money for a nigger to receive." Biased USDA agents used delays in planting season, paper-shuffling, and approving only a small fraction of black farmers' loan requests to keep aid from them.
Since the early days of the NBFA we have protested, using our mules and the symbolic forty acres. We have overcome many hurdles and crossed many rivers, as we filed lawsuits in every e in the South. We began to see some progress in Washington, D. C. after the Washington Post published a front page story about our plight by reporter Michael Fletcher.
My first test in Congress was certainly the hardest. When U.S. District Court Judge Paul Friedman expressed concern that the statute of limitations might prohibit legal action to redress black farmers' claims, I lobbied Congress to lift the statute. One of the highlights of our work to pursue a compensation bill was making sure the language could be used by other minority farmers' groups.
Rep. Maxine Waters (D-Calif.), then chairperson of the Congressional Black Caucus sponsored our bill along with Senator Chuck Robb (D-VA) in the Senate. The bill passed allowing claims for violations against farmers back to 1981-1997. The statute of limitations exemption provided the grounds for the largest settlement in U. S. history for African Americans, more than a billion dollars.
Farm foreclosures "are "and remain today a sore point for black farmers. As a group, we have lost land by millions of acres. During the Clinton administration we were able to stop farm foreclosures through steadfast protests around the country. To his credit President Clinton's USDA Secretary Dan Glickman always had his door open for me. Whether he was upset about my style of protest he made civil rights a top priority during his tenure. I would show up with my mules at the Justice Department, Department of Agriculture, and at Congressional buildings.
USDA's civil rights office was shut down during the Regan administration. Along with Lawrence Lucas, president of the Coalition of Minority Employees, I found only two people working in the office. Boxes with years of dust, sat while nothing being processed for civil rights cases. Senator Robb proposed funding for the office of civil rights and it was re-opened during the Clinton administration. After a finding of discrimination by DSDA's own investigators, we found there was no administrative process in place to settle discrimination cases. Together with agency officials James Myart and Ira Hobbs we worked out the guidelines for USDA Administrative Settlement process. The process was later used in the black farmer's settlement as track B.
I made many mistakes in the first Black Farmers settlement. Nearly 80,000 black farm families came after the filing deadline which made them in ineligible. They were later referred to as "late filers." I continued to press Congress to pass the black farmers bill that would allow the late filers their day in court.
I met with then Senator Obama after Senator Ted Kennedy became ill. Obama agreed to be the lead sponsor for the black farmers' bill. The late filers' bill finally passed in the 2008 federal Farm Bill. Although I thought I was finally at the end of the road, but we still had to get the funds appropriated by Congress to compensate the farmers. I went back and lobbied for the funds.
By this time I picked up the Cobell settlement for $3.4 billion and water provision for Indian reservations for another $2 billion. As president, Obama endorsed a settlement to compensate the approximately 70,000 late filers under the "claims remedy act of 2010," after it finally passed. President Obama signed the bill into law on December the 8th 2010. I am proud to have led the way.
Much work remains to be done. We have a new generation of farmers that the NBFA is focusing on. This year we formed the NBFA scholarship program a joint partnership with the Chrysler Foundation. We awarded 20 students from black farm families five thousand dollar scholarships. I am looking forward to knocking down more obstacles and pressing fortune 500 companies for equal markets for black farmers.

We must all do our part to support black and other small-scale farmers. Without farmers there would be NO food. We need more respect from the general public, just because our clothes are soiled, and we work in the dirt, does not mean we should be treated like dirt. Farmers are the backbone of this country, we are respectable hardworking Americans. Our message to candidates seeking to become president, "Black Farmers Vote Don't overlook us." The NBFA has come a long way in twenty five years, as I said at the beginning of the black farmers movement "I have my mule I'm still looking for my forty acres".
REAL LIFE. REAL NEWS. REAL VOICES.
Help us tell more of the stories that matter from voices that too often remain unheard.