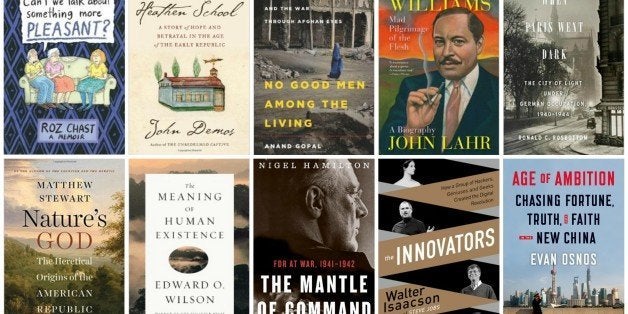 This year's National Book Award longlist nominees include a blend of critical darlings and fresh faces. Pulitzer Prize and National Book Critics Circle Award winner Louise Glück received a nod for her latest poetry collection, and the long-venerated E.O. Wilson was nominated for his nonfiction title The Meaning of Human Existence.
Of the fiction nominees, two are previous National Book Award finalists, and one is a former winner. Three are debut authors, including Molly Antopol, whose The UnAmericans chronicles political dissidents and Israeli soldiers struggling to find meaning in their familial relationships. The theme of war is prevalent among the nominees, including Anthony Doerr's historical novel All the Light We Cannot See and Phil Klay's Redeployment, which takes place in Iraq and Afghanistan.
Sonorous sentences abound as well, as Richard Powers's carefully constructed Orfeo follows a wily scientist who's been dubbed "Biohacker Bach," and Elizabeth McCracken's short story collection features a tale starring a two-person folk band. One nominee, John Darnielle, is best known not for his work as the writer of a psychological thriller, but as the frontman for the indie band Mountain Goats.
Below are the nominees for the 2014 National Book Awards, in the categories of Fiction, Young People's Literature, Poetry, and Nonfiction:
2014 Longlist for the National Book Award for Fiction: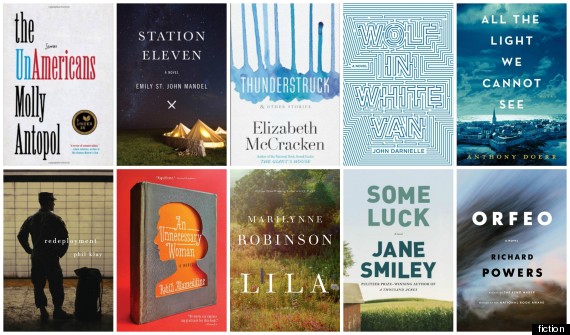 Rabih Alameddine, An Unnecessary Woman
Grove Press/ Grove/Atlantic
Molly Antopol, The UnAmericans
W. W. Norton & Company
John Darnielle, Wolf in White Van
Farrar, Straus and Giroux
Anthony Doerr, All the Light We Cannot See
Scribner/ Simon & Schuster
Phil Klay, Redeployment
The Penguin Press/ Penguin Group (USA)
Emily St. John Mandel, Station Eleven
Alfred A. Knopf/ Random House

Elizabeth McCracken, Thunderstruck & Other Stories
The Dial Press/ Random House
Richard Powers, Orfeo
W.W. Norton & Company
Marilynne Robinson, Lila
Farrar, Straus and Giroux
Jane Smiley, Some Luck
Alfred A. Knopf/ Random House
2014 Longlist for the National Book Award for Young People's Literature: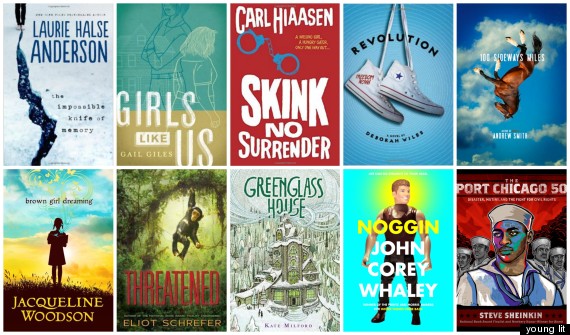 Laurie Halse Anderson, The Impossible Knife of Memory
Viking/ Penguin Group (USA)
Gail Giles, Girls Like Us
Candlewick Press
Carl Hiaasen, Skink--No Surrender
Alfred A. Knopf Books for Young Readers/ Random House
Kate Milford, Greenglass House
Clarion Books/ Houghton Mifflin Harcourt
Eliot Schrefer, Threatened
Scholastic Press/ Scholastic
Steve Sheinkin, The Port Chicago 50: Disaster, Mutiny, and the Fight for Civil Rights
Roaring Brook Press/ Macmillan Publishers
Andrew Smith, 100 Sideways Miles
Simon & Schuster Books for Young Readers/ Simon & Schuster
John Corey Whaley, Noggin
Atheneum Books for Young Readers/ Simon & Schuster
Deborah Wiles, Revolution: The Sixties Trilogy, Book Two
Scholastic Press/ Scholastic
Jacqueline Woodson, Brown Girl Dreaming
Nancy Paulsen Books/ Penguin Group (USA)
2014 Longlist for the National Book Award for Poetry: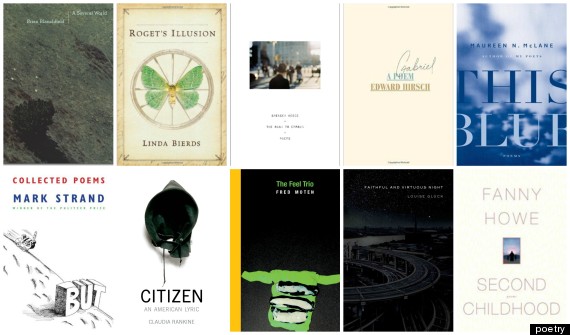 Linda Bierds, Roget's Illusion
G. P. Putnam's Sons/ Penguin Group (USA)

Brian Blanchfield, A Several World
Nightboat Books
Louise Glück, Faithful and Virtuous Night
Farrar, Straus and Giroux
Edward Hirsch, Gabriel: A Poem
Alfred A. Knopf/ Random House

Fanny Howe, Second Childhood
Graywolf Press
Maureen N. McLane, This Blue
Farrar, Straus and Giroux
Fred Moten, The Feel Trio
Letter Machine Editions
Claudia Rankine, Citizen: An American Lyric
Graywolf Press
Spencer Reece, The Road to Emmaus
Farrar, Straus and Giroux
Mark Strand, Collected Poems
Alfred A. Knopf/ Random House
2014 Longlist for the National Book Award for Nonfiction: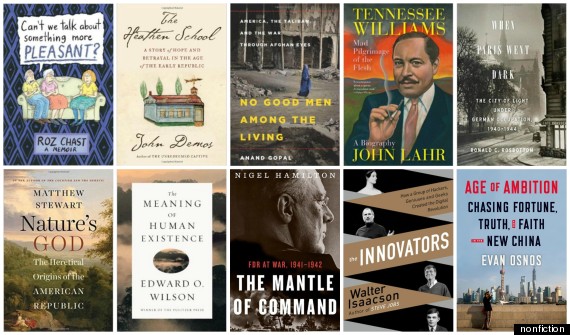 Roz Chast, Can't We Talk About Something More Pleasant?
Bloomsbury
John Demos, The Heathen School: A Story of Hope and Betrayal in the Age of the Early Republic
Alfred A. Knopf/ Random House
Anand Gopal, No Good Men Among the Living: America, the Taliban, and the War through Afghan Eyes
Metropolitan Books/ Henry Holt and Company
Nigel Hamilton, The Mantle of Command: FDR at War, 1941 - 1942
Houghton Mifflin Harcourt

Walter Isaacson, The Innovators: How a Group of Inventors, Hackers, Geniuses, and Geeks Created the Digital Revolution
Simon & Schuster
John Lahr, Tennessee Williams: Mad Pilgrimage of the Flesh
W.W. Norton & Company
Evan Osnos, Age of Ambition: Chasing Fortune, Truth, and Faith in the New China
Farrar, Straus and Giroux
Ronald C. Rosbottom, When Paris Went Dark: The City of Light Under German Occupation, 1940-1944
Little, Brown and Company/ Hachette Book Group
Matthew Stewart, Nature's God: The Heretical Origins of the American Republic
W.W. Norton & Company
Edward O. Wilson, The Meaning of Human Existence
Liveright Publishing Corporation/ W.W. Norton & Company