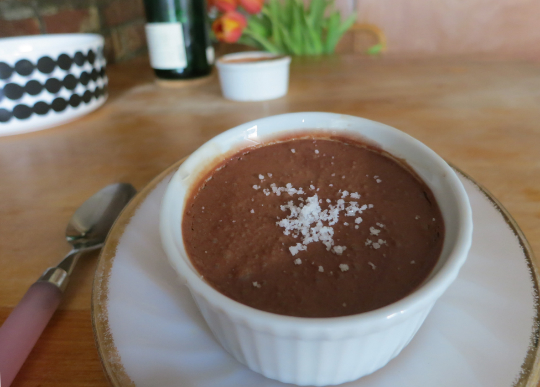 Chocolate mousse: elegant, airy, rich in flavor but light in texture, sophisticated but also simple. It's one of my favorite desserts. I'm not really a fan of calling foods sexy, but if ever there was a sexy dessert, chocolate mousse would be it.
Today is National Chocolate Mousse Day, and in honor of this special day, I made a recipe I've been eyeing since I read it for the first time in the New York Times more than a month ago. Just in time for Valentine's Day this year, Melissa Clark published a recipe for a "good and simple chocolate mousse."
Clark's recipe consists of only two ingredients: chocolate and fleur de sel (well three ingredients, if you count water). My version included another ingredient -- whipped egg whites -- but you can skip this step if you're happy with the mousse's consistency. The best part about this recipe is if you don't get it quite right on the first attempt, you can try again without having to start again from scratch (don't you wish all recipes were like that?).
The process is straightforward, and the result addictive. You place a tall bowl in an ice bath, melt bitter-sweet chocolate and water in a pot, pour the melted chocolate into the chilled bowl, and whisk for three to five minutes. If the chocolate hasn't thickened enough by five minutes, you can return it to a low heat, add more chocolate and try again.
To make the mousse even fluffier, I added whipped egg whites to the whisked chocolate, folding soft peaks into the chocolate at the end. The mousse keeps in the refrigerator for a few days, but staying away from it that long is easier said than done. Happy Chocolate Mousse Day!
12 ounces of bitter-sweet chocolate
1 cup of water
2 egg whites (eggs should be at room temperature)
Fleur de sel to taste
- Prepare an ice bath: Place ice cubes and cold water in a large bowl, and place a tall bowl in the ice water. (Make sure the bowl is tall enough, as the chocolate will splatter when you're whisking it.)
- Pour the chocolate and one cup of water into a small pot and melt on medium heat, stirring consistently until smooth
- Pour the melted chocolate into the tall bowl and whisk vigorously for about five minutes minutes
- Whisk the egg whites until they form soft peaks and fold them into the chocolate
- Pour the mousse into small bowls and sprinkle with fleur de sel
- Chill in the refrigerator for two hours or up to a few days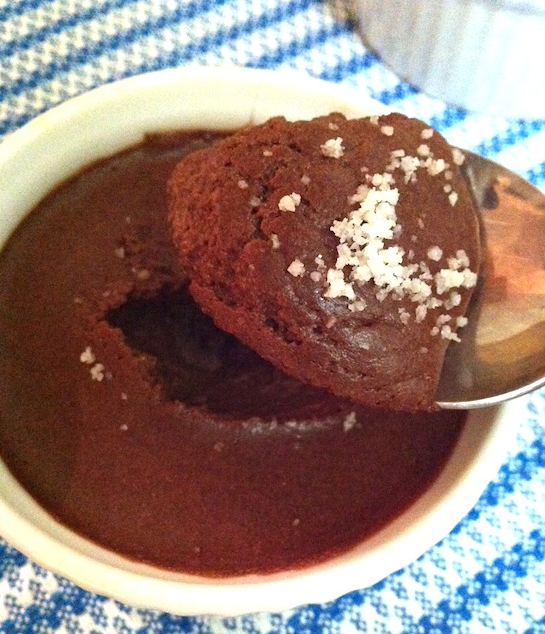 Related