 Next Friday, December 6 will be the annual lighting of the National Christmas Tree.
There are a lot of Christmas trees in D.C. -- the One City Tree at City Hall, the Capitol Christmas tree, "Big George" (the Capitol Hill neighborhood tree), the one in my living room -- but only one National Christmas tree whose lottery sells out in a matter of hours to get tickets to watch the event, I'm sorry, to get a chance to maybe watch the event.
In Feb. 2011, the Christmas tree was felled by a blustery day. It had been planted in 1978. Not only is our National Christmas tree, a real tree -- it is an actual, real life, planted tree. In 2012, they replanted, twice, a Colorado Blue Spruce as our tree and the second will be decorated this year. But how/why did this all get started?
Why is anything "holiday"-related started? Business. General Electric, in this case, wanted more people to use Christmas lights and thus electricity during the holiday season. It was all arranged by an employee of GE in 1923. School children gathered to sing carols while accompanied by a Marine Band quartet. President Calvin Coolidge would push the button himself to add prestige to the event. A 48-foot-tall tree was donated by Middlebury College in Vermont with patriotic/Christmas colors of of red, white and green and the annual tradition has been held since. Though some things have changed.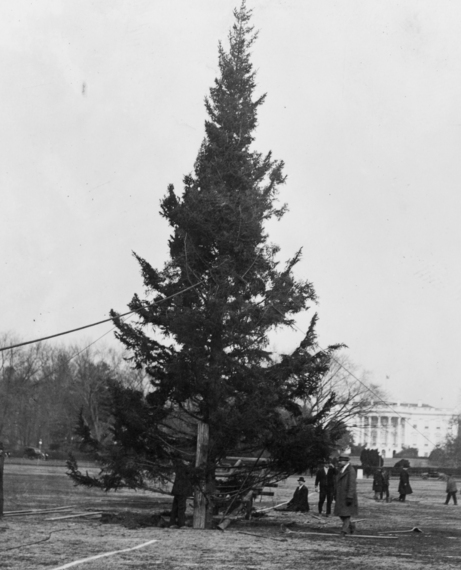 The first ceremony was religious; back then, you were allowed to have faith in public. There was a Christian mass and service, and a large cross was illuminated on the White House while shepherds walked to the tree. Now, pop stars sing and TV stars host. For some years, no American Idols were needed, it was the tree itself that sang! Speakers were hidden in the branches and Christmas carols were played each evening until NYE.
At first the tree was placed in Sherman Park, then Lafayette Park, the Ellipse, South Lawn of the White House, and back to the Ellipse, where it remains to this day. For those of you not familiar with D.C., these are all places that surround the White House.
It was 1954 that gave it the permanent location but also the new name: Christmas Pageant of Peace. Christmas may have its origins (somewhat) in Christianity, but this is a secular event of community and peace. It mimics the way that many people, regardless of faith, celebrate the "holiday season" -- a massive tree with a big star on top.
During WWII, the tree was lit a few weeks after Pearl Harbor in December 1941 and not again until 1945. A time when the country could have really used a Pageant of Peace, there was none to be found. It was kept off for economical reasons -- to save power, resources -- but also security -- a well-lit tree on the lawn of the White House would definitely help the enemy locate FDR. There were still trees, still decorations (during these years, the ornaments were made by local school children to honor the fallen) but no lights.
The Hargrove Company has been in charge of decorating the tree since 1954, when Earl Hargrove first began the tradition. This was prior to what we all recognize now as a string of lights. Back then, each individual light was manually installed a foot apart throughout the tree. And when they broke? Well, Santa (or Hargrove in a Santa suit, whichever you choose to believe) would climb up to fix them!
Today we have our 28-foot-tall Colorado Blue Spruce (though it's from Virginia), lit with LED lights designed by GE, at the end of the a walkway. This Pathway to Peace is lined with smaller trees that represent the other states and territories.
If you don't have your tickets yet, you aren't likely to see the event live and in person. But in this age of technology, you can watch it from your laptop, curled up with a mug of hot cocoa on the National Christmas Tree Lighting website. After the official tree lighting you can visit the tree and the smaller state trees, decorated still by handmade ornaments from across the country, until January 01, 2014. Each evening, live entertainment, mostly from area schools and groups will serenade you as you visit Santa's Workshop.
Even if this tradition was started to raise the profits of an electric company, you have to enjoy the beauty of this "American holiday tradition that continues to bring citizens together to share in a message of hope and peace."
Related
Popular in the Community