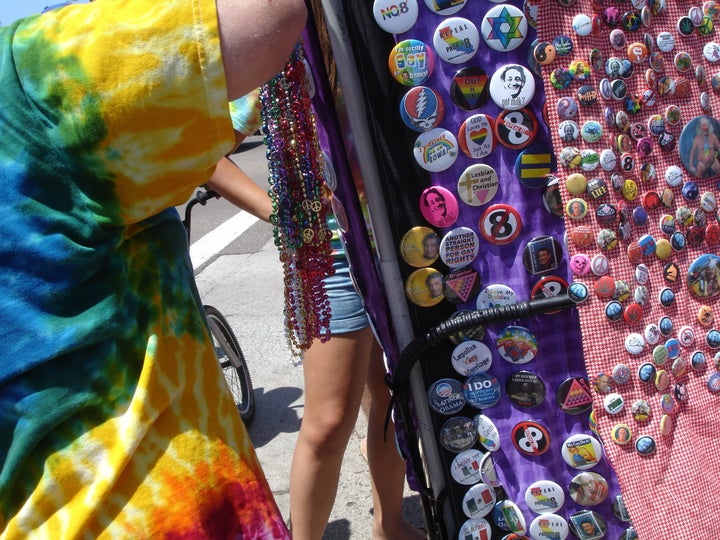 On Oct. 11, 1987, almost half a million people came to Washington, D.C., for the Second National March on Washington for Lesbian and Gay Rights. The issues we marched for included legal recognition of our relationships, the repeal of sodomy laws, a federal ban on discrimination, passage of a gay and lesbian civil rights bill, reproductive freedom, an end to HIV/AIDS discrimination, and an end to racism. This was when the AIDS Quilt was first displayed.
National Coming Out Day (NCOD) was first observed a year later, on Oct. 11, 1988, in recognition and celebration of this landmark event. The idea came from Robert Eichberg of New Mexico, who founded the Experience Workshops, and from Jean O'Leary of Los Angeles, who served as head of the National Gay Rights Advocate. It was the Experience's Lynn Shepodd and Honey Ward who brought the holiday to a national level, educating LGBT folks about the need to come out and be counted. It was Lynn and Honey who schlepped to every LGBT function imaginable and set up tables and engaged a generation to find the courage to come out. By 1990 NCOD was celebrated in all 50 states and the District of Columbia, and it is now a landmark component of the Human Rights Campaign.
Twenty-two years ago on National Coming Out Day, I stood in front of City Hall in Portland, Ore. with staff and volunteers, and we handed out large, neon-bright NCOD buttons. The buttons said either "I'm a Lesbian," "I'm a Gay Man," "I'm Transgender," "I'm Bisexual," "I'm a Friend," or "I'm an Ally" (and so on), followed by the words "National Coming Out Day." We asked people going in and out of that government beehive of activity to choose a button, wear it, and, when asked about their buttons, talk to people about the importance of National Coming Out Day. People chose their buttons carefully. "Friend" and "Ally" buttons went quickly. At that time Oregon was in the middle of what has been called a "culture war" and a "holy war" because of Ballot Measure 9. The radical religious right worked to create a second-class citizenship with Ballot Measure 9, along with unprecedented anti-LGBT laws. This was a citizen's initiative proposition, which would have amended the constitution of that state to declare gays and lesbians "abnormal, wrong, unnatural, and perverse." Campaigns escalated into violence as LGBT people were targeted, hurt, harassed, and even murdered. Every person who chose to wear a button chose to be courageous and educate others about who they were. Many LGBT people made that choice, as did many friends and allies.
Police Chief Tom Potter made the most interesting choice of them all. He walked over to me and asked for a button. I tried to give him a "Friend" button, but he refused. Instead, he took a "Lesbian" button, pinned it to his uniform, and said, "This will get people talking." And he was right. Throughout the day his officers, the mayor, city council members, the media, and others asked about his neon "I'm a Lesbian" button. He spent the day talking about his commitment to the equality and safety of all Portlanders, including those who were LGBT.
Today we continue to celebrate National Coming Out Day. Here in the Heartland we invite people to come out and talk about the real issues of equality: relationships, family, love, faith, and community. We ask our friends to talk about why marriage matters to them. Here in Iowa, marriage equality is a reality. While we celebrate that reality, we still have a long road ahead of us. At One Iowa, we are working to ensure that all the family, parental, and relationship protections accorded to every other Iowan family are accessible to our families. Because our opposition has not given up their work to undermine our families and devalue our relationships, we know we must remain vigilant. We know that there are LGBT people in Iowa who cannot come out today or any other day. We must continue to work until the day when Iowa is a safer place for them, and for us.
National Coming Out Day. What a wonderful time to look back and see how far we've come from those early days. And even more exciting is our look forward, toward the future. As we move from National Coming Out Day to the November elections, I ask that we remember that the choices we make have consequences, as well as rewards. Collectively, we can come out, we can vote, and we can make almost anything happen. On Nov. 6 we have the opportunity to come out and vote for equality. Will you join me?
Popular in the Community