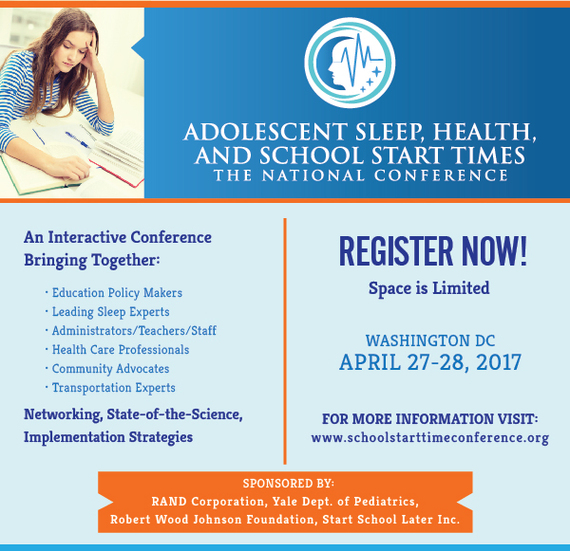 Many health organizations - including the American Medical Association, the American Academy of Pediatrics, and the Centers for Disease Control and Prevention - recommend that middle and high schools start after 8:30 a.m. These recommendations are based on decades' worth of research showing that early school start times both decrease and disrupt adolescent sleep due to later shifts in sleep cycle that occur during puberty. Deficient sleep is correlated with a host of health and safety issues including car crashes, depression, diabetes, sports injuries, and more.
While many schools have adopted later start times to promote teen sleep health and well-being, change often takes years of study and planning. More commonly, schools struggle to overcome community resistance to change and widespread ignorance about sleep. This conference is aimed at helping school administrators and community advocates overcome these challenges to streamline the implementation process.
"This conference will provide an opportunity to improve the health and well-being of young people across the country," says Phyllis Payne, Start School Later's Implementation Director.
Expert-Packed Agenda
Attendees will hear from sleep scientists as well as districts who have acted on the research to move bell times later. Day one's keynote speaker will be award-winning writer and pediatrician Perri Klass, MD, a professor of both journalism and pediatrics at New York University, who has written extensively on (among many topics) medicine, children's health, and sleep.
Other key speakers include:
The conference will not only include state-of-the-art science of teen sleep health but include opportunities for participants to network and share ideas and experiences.
"School leaders will join policy experts to collaborate on how to ensure a smooth return to more traditional school hours that allow middle and high school students the opportunity to sleep and wake at times that work with their body clocks and promote improved learning," says Payne.
Travel Scholarships
Start School Later, Inc. is offering scholarships to school leaders and community advocates travelling to attend the conference. They will reimburse up to $500 of documented conference fees, transportation, and/or lodging costs for each scholarship recipient.
Applications received by January 10, 2017 will be considered for scholarships awarded on a funds-available basis, with priority given to applicants demonstrating need and the greatest ability to benefit their communities from conference attendance. Applications received after this deadline will be considered on a rolling basis depending on remaining funds and conference spaces.
Related