 An obscure counterterrorism agency now has access to an array of data on ordinary Americans so vast and with so few restrictions that critics are likening it to the "pre-crime" squad in the movie "Minority Report."
Though Attorney General Eric Holder signed off on the expansion to the National Counterterrorism Center's powers in March, details have emerged that the changes have provoked heated internal discussion within the Obama administration.
The Wall Street Journal published an article Wednesday detailing the contention in the Obama administration over whether to allow the NCTC to access data from all government agencies on ordinary Americans -- whether or not they are suspected of involvement in terrorism.
The National Counterterrorism Center acts as a coordinating agency for numerous counterterrorism organizations from the CIA to the National Security Agency to the FBI, collecting data on terrorism threats domestic and foreign. But it is something of an orphan agency, with few intelligence-gathering capabilities of its own. In March, when Holder approved the changes allowing the NCTC to drag up more information from its partner agencies, he did so over the objections of the chief privacy officer for the Department of Homeland Security, who called the expansion of NCTC's capabilities a "sea change in the way that the government interacts with the general public."
According to the Journal, the NCTC will now be able to:
[E]xamine the government files of U.S. citizens for possible criminal behavior, even if there is no reason to suspect them. That is a departure from past practice, which barred the agency from storing information about ordinary Americans unless a person was a terror suspect or related to an investigation.

Now, NCTC can copy entire government databases -- flight records, casino-employee lists, the names of Americans hosting foreign-exchange students and many others. The agency has new authority to keep data about innocent U.S. citizens for up to five years, and to analyze it for suspicious patterns of behavior. Previously, both were prohibited. Data about Americans "reasonably believed to constitute terrorism information" may be permanently retained.
The rule change itself is not news -- but the fact that officials from Homeland Security and the Justice Department were so vehemently opposed to it, is, said Chris Calabrese, the legislative counsel for privacy issues in the American Civil Liberties Union's Washington office.
"It's really telling that people who were very close to the program in a number of agencies were troubled by it," Calabrese told HuffPost. "They're seeing how it's going to operate, they know what's going on with all this information and they're ringing the alarm bell."
Jesselyn Raddack, national security and human rights director at the whistleblower nonprofit Government Accountability Project, likened the NCTC's new abilities to the "pre-crime" squad on her blog.
Calabrese continued that, "The scope of this is striking."
"These are investigations and information that can be shared with foreign government," he said. "These are investigations of future crimes -- how are you supposed to get out from under this microscope?"
Not everyone agrees with the interpretation of the rule change as a scandalous intrusion on Americans' privacy. Stewart Baker, former assistant secretary for policy at Homeland Security under George W. Bush, wrote in response to The Wall Street Journal report on his blog that the battle over the information sharing was essentially a "turf war":
The first rule of bureaucracy is never to share information with a rival. So it's no surprise that DHS didn't want to hand over its data to (NCTC director Matthew Olsen).

It's not even a surprise that DHS claimed it was fighting for Americans' privacy. But, really, how silly is that? Do you know anyone who resonates to this slogan: "I'm glad Janet Napolitano has my travel records, but I will fight to the death to keep them out of Matt Olsen's hands"?

What's troubling is that DHS, born out of 9/11, is leading the effort to roll back the lessons we learned then. Its argument in the WSJ article sounds exactly like the arguments that prevented information sharing in the run-up to 9/11.
A spokesman for the NCTC's parent agency defended the new rules to the Journal, saying that "The guidelines provide rigorous oversight to protect the information that we have, for authorized and narrow purposes."
One of the agency's justifications for the increased access to citizens' data was the "underwear bomber" Umar Farouk Abdulmutallab's failed attempt to destroy a Detroit-bound plane on Christmas Day 2009. The Nigerian national was allowed onto the flight after intelligence agencies failed to put him on a terror watchlist, despite leads indicating his intentions.
In response to that failure, the NCTC argued, it needed access to more data for longer periods of time in order to prevent future terrorism. It's an argument that riles civil liberties advocates.
"What seems to be happening here is they're justifying massive new intelligence collection about innocent US citizens -- based on an attempted terror act by a non-U.S. person who they already knew was a terrorism suspect," Calabrese said.
Before You Go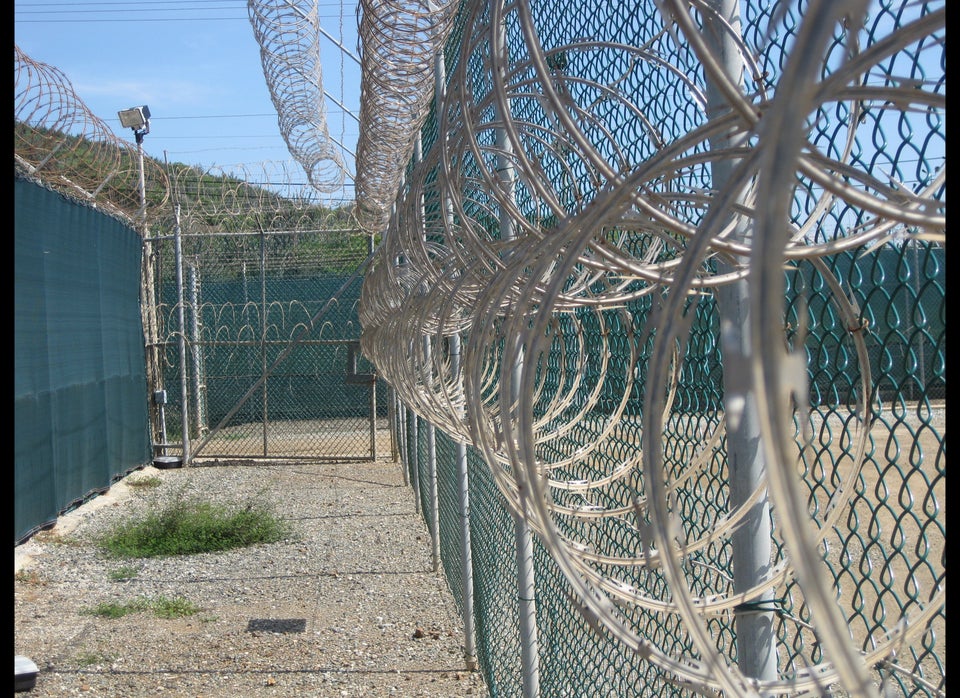 Inside Guantanamo Bay
Popular in the Community