As the house lights slowly dim over the audience, the stage begins to glow with an electric pulse. No it is not the thousand watts of spotlights that illuminate the theatre causing the glow, but the smiles of hundreds of children taking the stage at the National Dance Institute performance of "This Land Is Our Land." The jubilant children perform their repertoire of professionally choreographed dances, making its founder and one of the most celebrated dancers of our generation, Jacques d'Amboise, ever so proud.
National Dance Institute (NDI), was created in 1977 by d'Amboise with the purpose that all children, regardless of their background or socioeconomic status, should have the opportunity to learn and enjoy the art of dance. Jacques d'Amboise, who joined the exclusive New York City Ballet in 1950 and studied under such legendary dancers as George Balanchine, uses his talents and knowledge to help the children at NDI. Not one to live in his past, d'Amboise takes the spotlight off of himself and focuses his massive heart on helping children discover their passion and forge a road of excellence, not only on stage but in all aspects of their lives.
When asked the most memorable moment of his career, he states he would rather live in the present. But don't let the gray hair fool you, d'Amboise is still light on his feet and can dance with the best of them. In fact, on the day of our Spotlight On TV shoot I was unexpectedly surprised when d'Amboise and his Director of over 20 years Ellen Weinstein were waltzing across the studio in between takes. They were rehearsing and it was lovely to witness these talented dancers in their element. Their love of dance, their passion, is why NDI has reached over 2 million schoolchildren through its programs.
At the Annual NDI gala, the children's charismatic performance not only brought a smile to the performers and their proud families, but also famed prima ballerina Misty Copeland, and host and athlete Michael Strahan who were in attendance. Both remarked at how happy and excited the children looked onstage. As Copeland graciously noted, the night was truly "all about the children."
NDI not only helps children build confidence and humility through dance, but also helps them understand and become inspired by some of history's toughest times. This year's performance entitled "This Land Is Our Land" included inspirational moments in American history. Some of the dances included an ode to the Civil Rights movement in Birmingham, Alabama, and the 1963 human rights march on Washington, D.C. that banded together Americans of all races and creed.
NDI opens the door for many children to experience the joy and art of dance.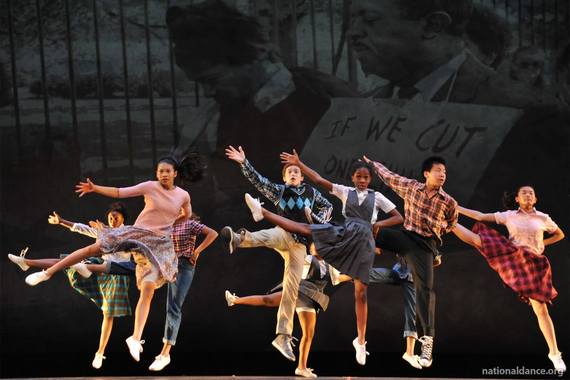 Photo Credit: National Dance Institute
Personally, I found my love of dance elevated even further watching the children's performance. I started dancing when I was 7 and continued until I was choreographing in college. The pure joy that radiates from the young dancers, from tots to the pre-teens, is contagious; you can't help but clap along and dance in your seat. It makes you so happy to witness this gift given to these students- free of charge.
Many of the children that attend the institute never thought of giving dance a try. Now those same children are the first to walk into class and the last to leave. The NDI in-school dance programs are literally changing these children's lives. The focus of the institute is not to turn children into professional dancers, though many have gone on to pursue professional dance careers and return to teach and change the lives of future generations.
In the words of NDI graduate Sam Brill, " Yes, NDI has given me the wonderful gift of dance, but it has also given me so many more gifts. To me, NDI was a lifesaver. Without NDI, I wouldn't have the ability to even think of trying something new. Without NDI, I wouldn't be able to break from my inner shell."
The effect NDI has on its children is evident, and if you are as touched by the wonderful work they are doing as we are, please get involved:
To offer services or supplies: Share
To offer funds and sponsor a child, team, or school: Donate
Here's a sneak peek into Constantine Maroulis and Angel Reed spotlighting the National Dance Institute:
Stay tuned for the full segment in mid July.
Visit Spotlight On TV for more segments spotlighting incredible stars' causes and nonprofit organizations.
As always, we ask you: What cause do YOU shine your spotlight on?