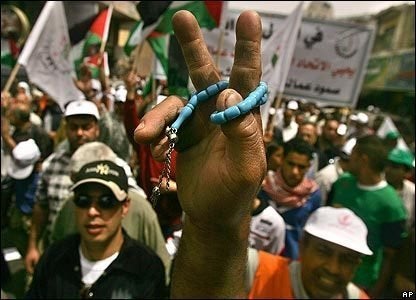 WHY WE'RE MARCHING ON MAY 1ST
When Antonio, a high school teacher, was asked why he will march this year, he answered, "I march because my grandfather marched as a Bracero along the railroad tracks of America, and was finally paid this year, four years after his death; because my father, uncles, aunts, cousins and friends have marched, bent over the Michigan crop rows, picking cucumbers and lettuce for the tables of America. I march because thousands of immigrants have sacrificed their lives and homes for a chance at dignified work and a better life."
Like Antonio, hundreds of thousands of people of all races, nationalities, and religions, from all walks of life, dish washers and doctors, seniors toddlers -- will be joining forces to march in cities across the United States on May 1st calling on the Obama Administration to end the cruel enforcement-only immigration policies of the Bush era and calling for passage of humane immigration reform this year.
May 1st is a national Day of Action because it marks the closing of the first 100 days of the new Obama Administration and a day which recognizes workers' rights. For a list of all participating cities (including New York, Miami, Chicago, Los Angeles, Las Vegas, Washington DC) and information on actions, visit www.anewdayforimmigration.org. People can also join a National Mobile Rapid Response Network by texting the word "justice" (or "justicia" for Spanish speakers) and sending it to 69866 to receive important updates.

Our May 1st actions will demonstrate support for President Obama's recent assertions that immigration reform is a priority for his administration. We must ensure that working groups will indeed start crafting legislation as early as this summer and that immigrant and labor advocates are at the table.
Obama's position is in keeping with his pledge to Latino voters. In 2008, at the National Council of La Raza convention, he promised, "I think it's time for a president who won't walk away from something as important as comprehensive reform just because it becomes politically unpopular...I will make it a top priority in my first year as the president of the United States of America....That way, we can reconcile our values as both a nation of immigrants and a nation of laws."
However, the administration's record on raids and detention is mixed and one of the overarching demands of the May 1st marches is "Reform, Not Raids". In the wake of public outcry over a raid in Bellingham, Washington, Department of Homeland Security (DHS) Secretary Napolitano ordered a review. She has since stated that work-site enforcement needs to be focused on employers and prioritize the deportation of persons with violent criminal histories. DHS is investigating human rights abuses in the immigrant detention system; whose growth has exploded as a private for-profit business, with limited government standards or enforcement. One Wisconsin business owner and lawful permanent resident, Tomas Contreras, was thrown into a border detention center, beaten and placed in isolation for speaking out publicly about the abuses he saw while in detention; he was eventually released and cleared of all charges.
Now is the time to pass legislation for humane immigration reform. The urgency is not just a moral issue -- it is also a critical component of rebuilding an economy based on workers' rights, corporate accountability, and prosperity for working people. And if politicians want the Latino vote in 2010 they must deliver in 2009.
Strengthening our economy will require shifting the balance of power between corporations and workers. The Obama Administration has two important labor reforms that will accomplish this goal: the Employee Free Choice Act and a pro-worker legalization bill.
In a weak economy unscrupulous employers try to take advantage of the most vulnerable workers. When workers are legalized they are in a stronger position to assert their rights and organize collectively with native workers to improve wages and working conditions.
Though a majority of unauthorized workers already contribute to our tax base, legalization would also close the economic gap by bringing in more workers and employers out of the underground economy.
Finally, President Obama recognizes the need to address the causes of forced migration by renegotiating trade agreements such as the North American Free Trade Agreement (NAFTA) which resulted in the number of unauthorized immigrants from Mexico skyrocketing by an additional six million after 1994.
What kind of America do we want to live in?
We are at a crossroads: On the one hand, we can continue down the path of failed enforcement-only policies that have cost taxpayers billions of dollars, failed to deter unauthorized migration, criminalized and imprisoned working people, and grown an underground economy.
Or we can establish a system that is orderly, provides legal avenues for immigration, and upholds families, workers' rights, and democratic values.
So why am I marching on May 1st? Because I am the daughter of immigrants; because working to survive is not a crime; because children are being incarcerated; because people are dying on our borders; because children are being forcibly put up for adoption while their parents are in detention; because I believe in the American people who have challenged unjust laws throughout our history; and because I believe that together we will make a difference.


Popular in the Community