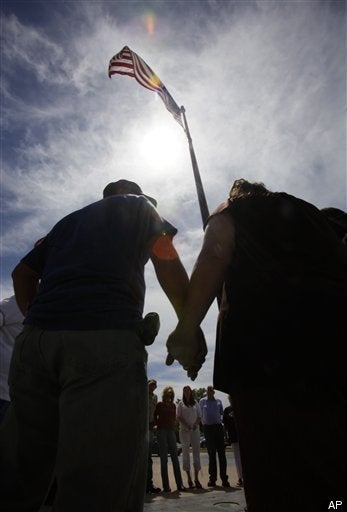 National Day of Prayer 2010 is today, May 6, 2010. It is occurring this year in spite of a recent court ruling declaring its unconstitutionality.
In response, the National Day of Prayer Task Force (NDPTF), whose mission is to "publicize and preserve America's Christian heritage," launched a "Save the National Day of Prayer" campaign. "This is an attack upon our religious freedoms, and it is a sad day in America when an atheist in Wisconsin can undermine this tradition for millions of others who simply wish to join their fellow citizens in praying for their country," the petition reads.
The question of constitutionality is not the only controversy that has divided Americans over National Prayer Day 2010. Recently, Army officials disinvited prominent evangelist Franklin Graham from attending the Pentagon's National Day of Prayer service due to offensive anti-Islam comments that he made following the 9/11 attacks.
Col. Tom Collins, an Army spokesman, defended the Pentagon's decision to disinvite Graham from its National Day of Prayer event. "His past comments about Islam are not consistent with the multifaith emphasis and inclusiveness of this event at the Pentagon," Collins said.
Following Graham's disinvitation from the Pentagon service, the NDPTF pulled out of the Pentagon event and signed on to organize the congressional National Day of Prayer service. In spite of continued protests from the Council on American-Islamic Relations and other Muslim civil liberties groups, Graham was invited to lead the event on Capitol Hill.
AOL reported today that before the congressional service, Graham prayed outside the Pentagon despite his disinvitation, thanking President Obama for issuing a National Day of Prayer proclamation and for instructing the U.S. Department of Justice to challenge a federal court ruling that declared the event unconstitutional.
A recent Gallup Poll showed that most Americans either favor the National Day of Prayer or are not bothered by it. Asked whether promoting Christian prayer should be a major goal of the event, 62 percent of Americans said yes.
Congress declared a National Day of Prayer in 1952, and in 1988 it fixed the event's observance to the first Thursday in May. On this day, the President traditionally issues an proclamation urging people to "turn to God in prayer and meditation," although not all have done so.
Calling all HuffPost superfans!
Sign up for membership to become a founding member and help shape HuffPost's next chapter