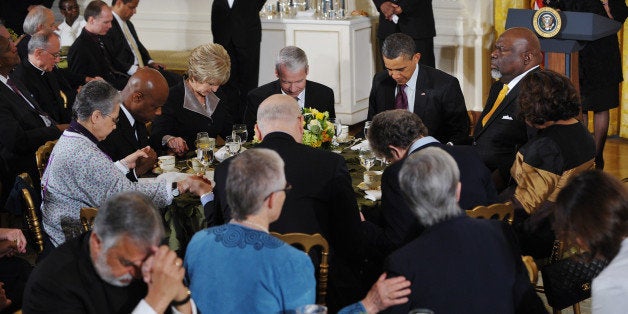 The first Thursday in May is a peculiar day for many Americans as it's a day set aside for government to intrude in their private religious practices. On May 1, the National Day of Prayer, government officials from city council to president ask citizens to join them in supplication. The National Day of Prayer was made an annual event when President Harry S. Truman signed a joint resolution into law in 1952. This was the Cold War era of McCarthyism where fear of communism drove Americans to permit the curbing of our freedoms, some temporarily, and some like the Day of Prayer and the insertion of "Under God" into the Pledge of Allegiance, unabating to the present day.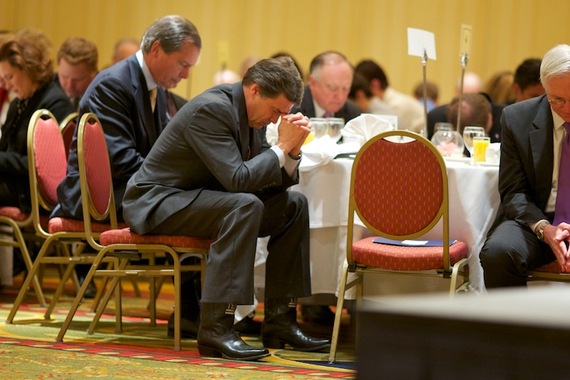 How do National Day of Prayer and "Under God" reduce our freedom?
Politicians asking Americans to pray and turning our daily pledge into kind of a prayer are egregious violations of the First Amendment principle of church-state separation where government is prohibited from actions that establish religion. If "God" and "prayer" don't qualify as "religious" I'm not sure what would.
These actions also run afoul the Fourteenth Amendment guarantee that all citizens deserve equal protection under the law. How can government provide equal consideration to all when it's sends statements like these that imply prayer is necessary for patriotic participation? By its very nature, prayer not only excludes nontheistic Americans, it makes them feel left out of American civic life simply because they either don't believe in a god or because they don't think the government should tell them when or how to pray. Non-praying religious people, and those Christians who take Jesus's warning against public prayer seriously, also are disregarded.
That's why the National Day of Reason, which takes place the same day, is a better alternative. The National Day of Reason celebrates the application of reason and the positive impact it has had on humanity, whether in developing new technologies or guiding good public policy. Everyone can celebrate reason, as all Americans use reason on a daily basis for decisions of all sizes, from the most tedious daily task to decisions about their career and their future.
The National Day of Reason has concrete applications as well, since it encourages participants to use reason as a way of helping others. To celebrate this day, local community groups help others in their community through entertainment, education, or charity. One example is Reasonfest, an educational event put on by the Secular Humanists of the Lowcountry, a local group in Charleston, South Carolina. The event will include many different speakers and entertainers, including a stand-up comic and presentations by activists associated with various political and social justice causes. Blood drives are another way to recognize this day since it fills a need in a practical way.
And while the National Day of Reason can be agnostic on the efficacy of prayer, I'm more than a little skeptical about benefits of prayer because the evidence shows that prayer just doesn't work. I have an affinity for Ricky Gervais's perspective on prayer. Last year around this time, on hearing that celebrities were praying for tornado victims in Oklahoma, Gervais tweeted this in response: "'@MTVNews: Beyoncé, Rihanna & Katy Perry send prayers to #Oklahoma #PrayForOklahoma' I feel like an idiot now...I only sent money."
As a humanist, I find it particularly frustrating to see elected officials who are supposed to represent me wasting their time in prayer when they could be doing something useful. But sure, useful or not, people have a right to pray if they wish to do so, and their right to that religious freedom is one that I would defend.
However, politicians should recognize that calling their constituents to prayer disregards the freedoms of those who are nonreligious or come from minority faiths. Persisting in calls for a government-sponsored day of prayer is ultimately an exclusionary act that serves to needlessly divide America. It's time we replace the National Day of Prayer with the National Day of Reason.
REAL LIFE. REAL NEWS. REAL VOICES.
Help us tell more of the stories that matter from voices that too often remain unheard.