Today, we begin a weekly blog series leading up to the National Day of Unplugging, which runs from sundown, March 7, 2014, to sundown, March 8, 2014. Join us in taking stock of our digital use. Share what you do when you are unplugged by snapping an "I UNPLUG TO ____" photo. Upload it to www.NationalDayofUnplugging.com or post it to Facebook or Twitter with #unplug.
Be honest. When is the last time you picked your children up from school and focused on them without checking email, texting or sneaking a peek at Facebook soon after they got in the car? When is the last time you sat down and played a board game with your family without the beeps, pings or rings of your cell phone distracting you? At the playground, do you sit on a bench and disappear into your phone? Do you find yourself constantly saying "Just a minute" or "Uh huh" to your children as you check a text or shoot off an email? Does that happen during dinner?
And are your kids just as distracted by technology, disappearing into "just another level" of Candy Crush or Temple Run or caught in the rabbit hole of scrolling through You Tube videos? Are you relieved when they are?
I'm the spokesperson for the National Day of Unplugging and all that happens to me at times. But I also set aside regular periods throughout the day, every day, to stash away the phone or turn it off entirely. I unplug to focus on my children and husband. It's not always easy. This is a challenge that my family faces daily and I know others who face that same issue: How do families find time to unplug together?
In celebration of the fifth annual National Day of Unplugging (NDU), from sundown Friday, March 7 to sundown, Saturday, March 8, the non-profit Reboot is asking individuals, families and communities to reconnect by putting down their smart phones, tablets and computers during the 24 hours.
Reboot developed the annual tech detox to remind young, hyper-connected and frequently frantic people to take a regular respite from all things digital. The National Day of Unplugging is not anti-technology. The movement recognizes the value and importance of technology in today's world. The goal is to encourage people to be more mindful of their technology use and reconnect in person, face to face with the people that are important to them.
Parenting experts warn that digital distractions are harming interpersonal relationships, hindering youth from developing face-to-face communication skills and teaching children that disappearing into digital devices for endless hours is an appropriate pastime.
Parents and their children are increasingly plugged into multiple digital devices across a variety of platforms including Facebook, Twitter, Snapchat and Instagram. Many toddlers even know how to use an iPhone or iPad before they can put together a full sentence. A recent study by Bridgewater State University found that the number of younger children who own mobile devices is increasing. The Bridgewater State University study found that 83 percent of middle-schoolers, 39 percent of fifth-graders and 20 percent of third-graders have mobile phones.
So, gather your family members and pledge to take a digital detox together -- whether for the full 24 hours of the National Day of Unplugging or for the length of a dinner, a board game, a snuggle... whatever, and refocus on creating meaningful relationships. And then try it again!
See our slideshow of "I UNPLUG TO ____" photos for inspiration and ideas.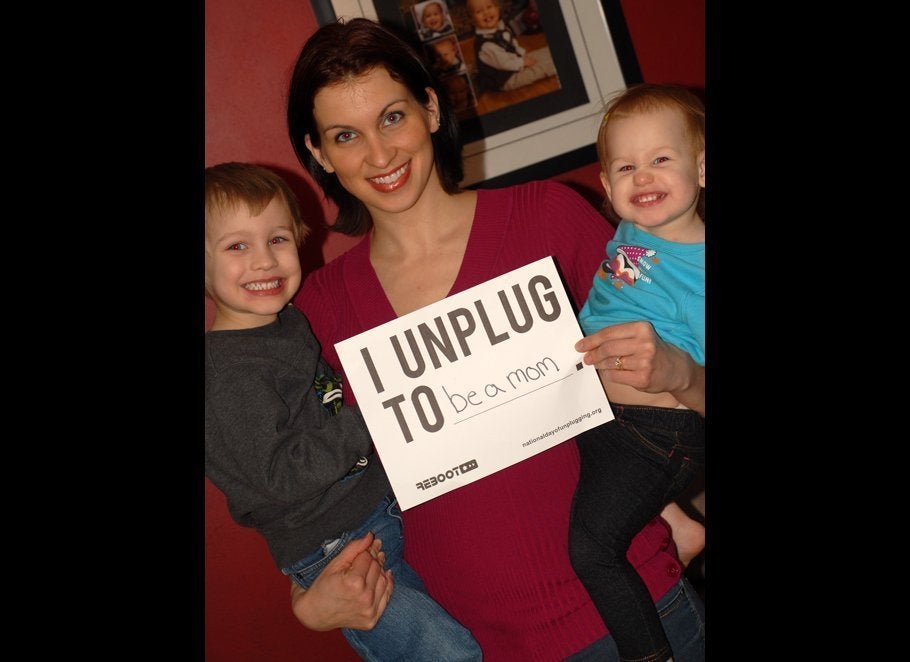 Get inspired for your own tech break...