"I urge all Americans to embrace the talents and skills that individuals with disabilities bring to our workplaces and communities and to promote the right to equal employment opportunity for all people."
- President Barack Obama, October 2015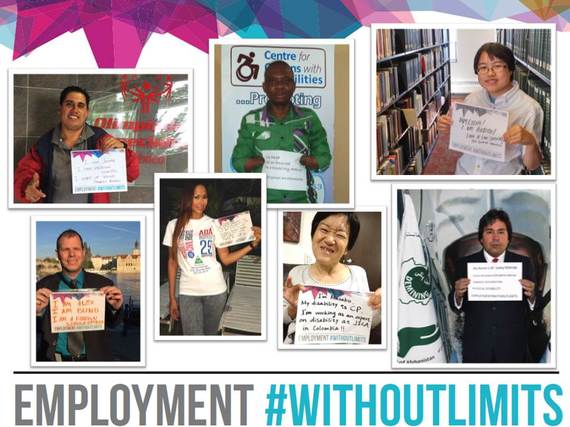 A colage of photos from the campaign featuring individuals holding up Employment #WithoutLimits signs
This October marks the 70th anniversary of National Disability Employment Awareness Month (NDEAM), commemorated annually to celebrate the many and varied contributions of America's workers with disabilities. In the United States we have seen great progress: people with disabilities now work in every sector of the economy, programs and institutions exist to provide job training and employment support, and employees with disabilities make up more than 13% of the federal government workforce. Thanks in large part to the adoption of the UN Convention on the Rights of Persons with Disabilities (CRPD) we've also seen greater attention being paid to disability employment from the disability community, the business community and governments around the world. There is a role for everyone in fighting discrimination and ensuring the full inclusion of people with disabilities in society and in the workplace.
When I contracted polio in 1949, there were no laws in the United States protecting disabled individuals' rights to education, employment, or even access in public buildings. At that time, there were very low expectations of what disabled individuals could contribute to society and the economy. I was fortunate that my parents advocated on my behalf and encouraged me to live up to my full potential. My parents would say, "You will have to work hard and study hard to secure a job that will enable you to be economically self-sufficient." They instilled in me a strong work ethic, a characteristic I share with disabled workers around the world.

"Veko and other people like her show to the rest of us that a person with disabilities not only can be very competent, but they are also highly productive and if there is anything that they don't need, that is our pity."
- Martin Leka, Radio Televizioni Shqiptar
According to the World Bank and the World Health Organization, people with disabilities make up about 15% of the world's population, a market equivalent to the population of China with a $1 trillion annual disposable income. Excluding people with disabilities means missing out on this economic potential. The participation of disabled individuals strengthens economies as they contribute to productivity and spend the money they've earned. Additionally, ensuring that people with disabilities are employed on an equal basis with their non-disabled peers is the most effective way to ensure they and their families are not trapped in poverty or dependent on government or social support.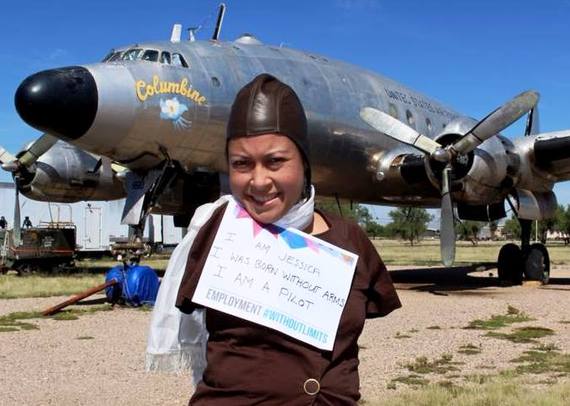 "I am Jessica. I was born without arms. I am a pilot. Employment #WithoutLimits."
As Secretary of Labor Thomas E. Perez has noted, "People with disabilities want to work, can work, and deserve to work. They want the same things we all want. They want the feeling of pride and purpose that comes with waking up every morning, performing a job and earning a paycheck at the end of the week. They want the dignity of knowing that they can support themselves and contribute to society. They want the freedom to live in a community of their choice. They want to be a part of the economic mainstream. They want to earn a fair wage. They even want to pay taxes." People with disabilities are not only employees, but also customers whose buying power expands when employed.
As a part of its human rights agenda, the U.S. Department of State promotes disability rights around the world - including the right to equal employment opportunity for all people. One way to address the stigma hundreds of millions of disabled people face on a day-to-day basis is enable them to get meaningful work. We are working with counterparts in governments on legal frameworks and initiatives, speaking with business leaders about the value of employment, working with local disabled people's NGOs and organizations to provide job training and assistive technologies, and promoting and improving inclusive education opportunities.
This October we've launched a social media campaign to break the stereotype that people with disabilities should be limited in their career options because of their disabilities. The Employment #WithoutLimits campaign highlights the contributions of workers with all types of disabilities from around the world, and showcases that people with disabilities can and should be employed on an equal basis with others.
From pilots to pharmacists, doctors and diplomats, comedians and a congresswoman, the 31 profiles covering every region of the world are as diverse as their disabilities. The Employment #WithoutLimits campaign demonstrates that people with all types of disabilities can work in all types of jobs.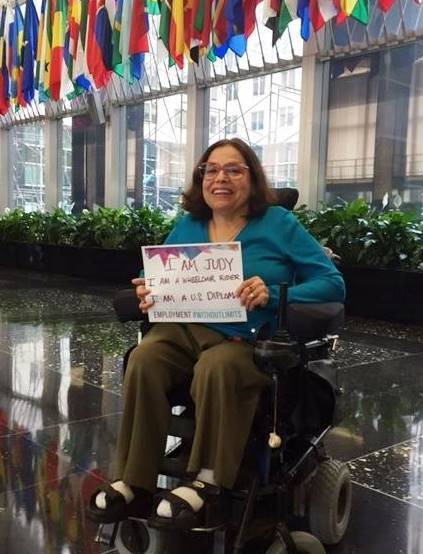 "I am Judy. I am a wheelchair rider. I am a U.S. Diplomat. Employment #WithoutLimits."
REAL LIFE. REAL NEWS. REAL VOICES.
Help us tell more of the stories that matter from voices that too often remain unheard.