Today, on the 26th Anniversary of the Americans with Disabilities Act (ADA), National Disability Institute (NDI) launches DISABLE POVERTY, a grassroots campaign which aims to increase awareness about the nearly one in three Americans with disabilities that live in poverty and remain outside the economic mainstream.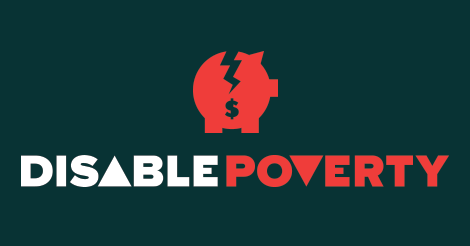 The effects of poverty are debilitating, particularly on those with disabilities, taking an insidious and progressive toll on emotional, physical, mental and spiritual well-being, and leaving many individuals without hope or belief that they can achieve the American Dream.
Through the DISABLE POVERTY campaign, National Disability Institute wants to bring awareness to the plight of seven million individuals with disabilities in this country who live in poverty, and the millions more who teeter just above the poverty line and are one unexpected expense away from plunging below it. In a presidential election year, with so much rhetoric around income inequality, the DISABLE POVERTY campaign is timely as no other population in America is subject to more economic disparity than people with disabilities.
The two overarching goals of the DISABLE POVERTY campaign, to be achieved in the next 10 years, are to:
DECREASE the number of working-age adults with disabilities living in poverty by 50 percent, and
INCREASE the use of banking products and services among Americans with disabilities by 50 percent.
Participants in the DISABLE POVERTY campaign are asked to take a pledge and share on social media urging others to do the same. In addition, a series of actionable items for individuals, disability/advocacy organizations, companies and financial institutions provide concrete steps that people can take to spread awareness about this issue. Beyond thinking, "Isn't it terrible that so many people with disabilities live in poverty," these actionable items are meant to empower individuals to become change agents on behalf of this economically vulnerable population.
Key findings from the report include:
Among households headed by working-age persons with disability, nearly one-fifth were unbanked (18.4 percent) and more than one-fourth were underbanked (28.1 percent).
Households headed by working-age persons with disability were significantly more likely to report using alternative financial services than households headed by those without disability (46.7 percent vs. 35.1 percent, respectively).
Households headed by working-age persons with disability were significantly less likely to have a savings account (with or without a checking account) compared to households headed by those without disability (46.7 percent vs. 72.5 percent, respectively).
People with disabilities are the largest minority in the United States, and also the poorest. In addition, people with disabilities are significantly under-represented in the American workforce, despite having marketable skills and a sincere desire to contribute their talents. As a result, people with disabilities are among the most unbanked and underbanked individuals in the country, often using unconventional banking services such as payday lenders and pawn shops which perpetuate circumstances of poverty and prohibit economic mobility.
We must make it a priority in this country to connect leaders from both the disability community and financial services sector, as well as policy makers, employers, regulators, self-advocates and family members to design the next generation of collective efforts to fulfill the ADA's promise of "economic self-sufficiency."
I'd like to end this blog with a quote from the remarks made by President H.W. Bush at the signing of the Americans with Disabilities Act on July 26, 1990 - one which perfectly captures the essence of the DISABLE POVERTY campaign: "Together, we must remove the physical barriers we have created and the social barriers that we have accepted. For ours will never be a truly prosperous nation until all within it prosper."
Please join National Disability Institute to elevate and amplify the conversation around poverty and disability in America. Through our words and our actions, we can disable poverty and advance shared prosperity for all Americans. Our time is now.
Since its inception in 2005, National Disability Institute remains the first and only national nonprofit organization dedicated exclusively to designing pathways to economic stability and mobility for persons with disabilities. Through public policy research and development and customized training and technical assistance, NDI has become a recognized leader nationwide demonstrating that individuals across the spectrum of disabilities can work, save for the future and advance their financial capability and economic stability.
Calling all HuffPost superfans!
Sign up for membership to become a founding member and help shape HuffPost's next chapter