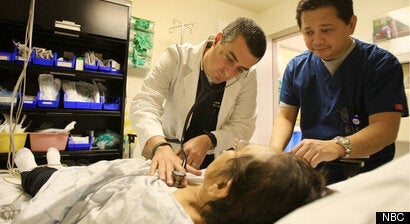 Health professionals can sometimes be under-appreciated, but today seeks to combat that. March 30 marks National Doctors' Day and it's the perfect opportunity to thank your own doctor or physician for their service.
The annual event was first celebrated March 30, 1933, when Eudora Brown Almond, wife of Dr. Charles B. Almond, set a day aside to honor physicians. From those beginnings in Winder, Georgia, the celebration spread, and the House and Senate officially declared March 30 "National Doctors' Day" in 1990.
There are many ways you can participate in Doctors' Day: thank your personal doctor, reach out to one you don't know, email a message of gratitude, deliver a card or send flowers. You might also leave something on a deceased doctor's grave, such as a red carnation, commonly associated with National Doctors' Day.
Calls for participation can be found across the Web today, such as this one from Greater Hazleton Health Alliance CEO Jim Edwards:
Each one of us, either by choice or by chance, has been profoundly touched and our lives improved by a physician's compassionate and professional care. Physicians are responsible for a wide range of our short and long-term healthcare needs such as sickness and health, screenings and immunizations, as well as the safe delivery of our precious newborns. They are committed to our good health and well-being, and for this we should be grateful.

Find more about the annual event here and let us know in the comments what you think of National Doctors' Day.