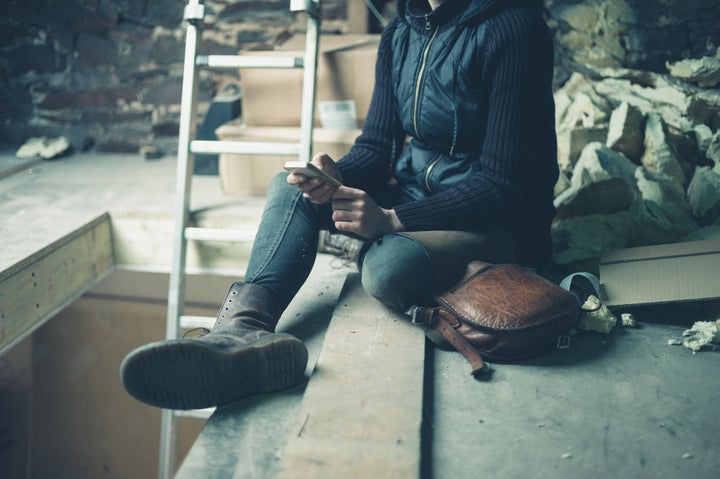 In 1996, Josie Slawik sat in the headquarters of the National Domestic Violence Hotline in Austin, Texas, and waited for the phone to ring.
The hotline had just launched as part of the Violence Against Women Act, and for the first time in U.S. history, victims of domestic violence had a single, toll-free number they could call for confidential help, day or night, regardless of where they lived.
Slawik was there to hear the first call come in ― and the next one, and the next. Over 20 years later, the calls still haven't slowed down, and neither has Slawik. A rough estimation puts the number of calls she has answered during her career at more than 50,000.
These days, Slawik, now a 66-year-old grandmother, works the day shift at the hotline, where each call can take anywhere from two minutes to two hours. She is bilingual, and often helps the hotline's Spanish-speaking clients. Since 1996, advocates at the organization have responded to more than 4 million calls, texts and online chats. Yet many calls still go unanswered due to a lack of resources.
The hotline's fate under President Donald Trump is uncertain. It is supported by a federal grant from the U.S. Department of Health and Human Services ― a department that Trump wants to cut by nearly 18 percent, according to a budget blueprint released last month. It's not clear which programs will be on the chopping block.
According to a statement provided by the hotline, if its budget were reduced by 10 percent, more than 180,000 contacts from victims, friends, family members and abusers would go unanswered each year. If it lost 20 percent of its funding, that number would rise to more than 220,000.
The Huffington Post recently interviewed Slawik about her experience on the front lines of the fight against domestic violence. The following conversation has been edited for length and clarity.
How did you get started at the National Domestic Violence Hotline?
[In 1996], I was working at a shelter in Austin, Texas, the Williamson County Crisis Center. I had a lot of experience working with domestic violence already, and I figured it would be something different than what I was doing.
After we were hired, we went through a 40-hour training. We were maybe 10 advocates at that time, and we were all just sitting there waiting for the first call to come in. My co-worker, sitting next to me, was the one that got the first call. We were really excited. In the beginning, of course, it was not as busy as it is now. But they started to come in slowly.
I'm sure every call is different, but can you summarize what a day's worth of calls might be like?
I work during the day, so the majority of calls are from women who are trying to get out of the abusive relationship, with their kids, while their husband is at work. We call shelters all over the place to get them in a safe place before the husband comes home.
Many of our calls are from family members and friends who are concerned for their loved ones that they can't get out, or they don't want to get out, or are not ready to get out, and they don't understand why they are still there. We get calls from batterers, too, wanting help. [They] say "I want this to stop," or "I don't want to go to jail." It's either court-ordered, or they really, really want to save their family. A lot of times they've been given an ultimatum ― either you get help or you're going to jail.
We are not counselors, but we do a lot of crisis intervention, and a lot of safety planning. Safety planning is important, especially if there are firearms involved, or [a history of] strangulation. We spend a lot of time with our callers. We don't have a time limit. [Calls can range] from two minutes to two hours, depending. And I am bilingual, so I get a lot of Spanish calls, and those can be very lengthy. To me, every call that we get is so important.
What do you tell abusers when they call?
"Thank you for calling." It takes a lot of strength to say "I have a problem, I'm an abuser and I want help." I really believe there is help for men who are abusers.
How have the calls changed over the years?
We still hear the same thing. The laws have changed to help women or men who are in abusive relationships. But the need is still there. The resources are not enough. We are still finding difficulty placing women in shelters. We still have a hard time finding resources that offer bilingual services to some of our callers. It's still the same.
What's the most common thing that you hear victims say they need? Shelter?
Not only a safe place to go, but help with the judicial system, where women are still losing their children to their abusers when they go to court for custody. They want help with legal services. And counseling.
I believe that a lot of our immigrant callers are afraid to call and ask for help because the fear of being deported is there, and that is very sad. Before, we could tell them "You have the right to call the police and get a protection order without fear of deportation," but now we can't say that. We've seen people get immigration on them at the courthouse. So, we do a lot of safety planning and [give them] other options while we have them on the phone, if they are not willing to call the police or get a protection order or leave.
How has your job changed over the years?
The technology is so much better. Back then, we had what we called the "blue book" ― a big book with listings for shelters, legal services and so on. We would have to find the state, and then find the resources and give it to our callers. It took a bit of time.
Now, not only are we able to give them resources, we are able to connect them directly to shelters or to local programs that offer counseling, help with protection orders, and other resources in the community to help them get back on their feet.
Having done this work for so long, what keeps you going, day after day?
I am a survivor myself, so I can understand why women stay or why women go back. My kids were little when we went through all this. My purpose of doing my work is to stop the cycle of the abuse, so that my children and my grandkids don't follow [what] I went through. Children learn what they see and hear at home. If they are learning violence, the violence will continue. It has to stop at home.
How do you deal with the trauma of answering these intense calls every day?
I have learned ways to take care of myself. Learning how to believe in myself, knowing that what I am doing is helping someone, one call at a time. There is a great wellness program that is offered to the advocates here. We get a lot of support from our supervisors and peer support from our co-workers. My way of taking care of myself is my spiritual wellness, and my family. My family keeps me grounded. And I have learned to leave [the calls] behind. Nothing goes home with me. It used to, but I learned not to take it with me anymore.
What do you think ultimately needs to change to reduce domestic violence?
I believe that we need to hold abusers more accountable, [and] have more education ― in schools, for police officers, and all the way to Congress. [We need to learn] about healthy relationships, and treating partners as equals. Abuse is about power and control. There are a lot of people that still blame victims for the abuse, and don't understand why people stay in abusive relationships.
What message do you have for the family or friends of someone who is in an abusive relationship, who might not be ready to leave yet?
Just to believe what they say. Be supportive and let them know they are not alone. That there is help out there. And that it's against the law when someone who says they love you is abusive to you.
When we have survivors who are still willing to stay in abusive relationships, we respect that, and let them know that one day, they will feel when it is time for them to leave. Most women are killed after they've made that decision to leave, so for a lot of women, they know that the moment they leave, they might be killed. We know that they are staying there just to stay alive.
Melissa Jeltsen covers domestic violence and issues related to women's health, safety and security. Tips? Feedback? Send an email or follow her on Twitter.
Sign up for the HuffPost Must Reads newsletter. Each Sunday, we will bring you the best original reporting, long form writing and breaking news from The Huffington Post and around the web, plus behind-the-scenes looks at how it's all made. Click here to sign up!
Related
Popular in the Community