During the 2016 presidential campaign, executives at the National Enquirer routinely sent drafts of articles and images related to Donald Trump to his attorney, Michael Cohen, for approval, The Washington Post reported Thursday.
The Post spoke with three people familiar with the process who described a close relationship between Cohen and the tabloid. David Pecker, the chief executive of American Media, Inc., the Enquirer's parent company, is a close friend of the president and has often spoken or acted to defend Trump.
"If it was a story specifically about Trump, then it was sent over to Michael, and as long as there were no objections from him, the story could be published," one of the Post's sources said. The arrangement reportedly continued even after the 2016 election.
According to the Post's sources, Cohen would sometimes request a more flattering headline or photograph, but sources said the appeals were not dramatic. They also said Trump regularly suggested stories to Pecker and had an interest in pieces that could be damaging to Democratic presidential nominee Hillary Clinton.
One cover story about Clinton's supposed secret medical history was supplied to Cohen in advance, a source said.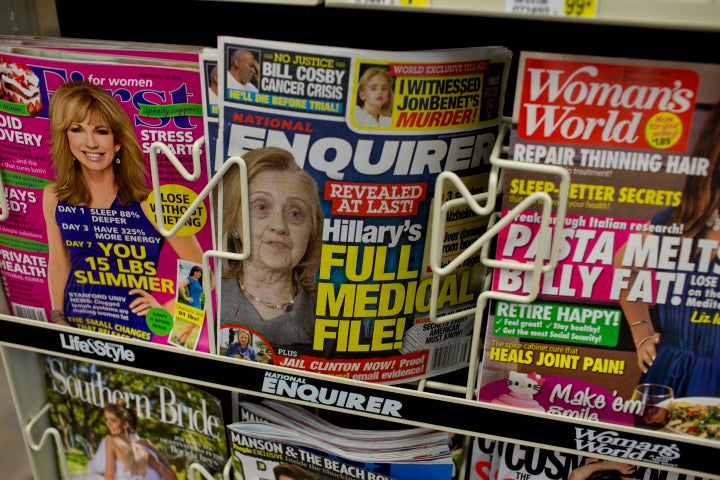 "It is unfortunate and disconcerting that disgruntled and terminated ex-employees who had no access to how editorial decisions are made and without any access to the company's top executives have been given a platform — hiding behind the protection of being an 'anonymous source' — to grind their axe on the back of their former employer," a spokesperson for AMI told HuffPost. The White House did not immediately respond to a request for comment for this story.
Pecker and AMI's chief content officer, Dylan Howard, were subpoenaed earlier this year as part of an ongoing investigation into Cohen, The Wall Street Journal reported this week. Prosecutors are trying to determine if the lawyer attempted to suppress damaging information about Trump during his presidential bid and if Cohen broke any campaign finance laws.
AMI reportedly arranged a $150,000 payment to former Playboy model Karen McDougal during the campaign to effectively silence allegations that she had an affair with Trump years before. McDougal said Cohen was secretly involved in that negotiation as part of the lawsuit she filed in Los Angeles Superior Court in March.
Howard denied the Post's report on Thursday, saying it was "completely false" that he or Pecker had provided Cohen with drafts of stories the Enquirer planned to publish. He told the Post that if any stories were shared, he would be "a little concerned because people are acting as rogues and renegades."
Michelle Lou contributed reporting.