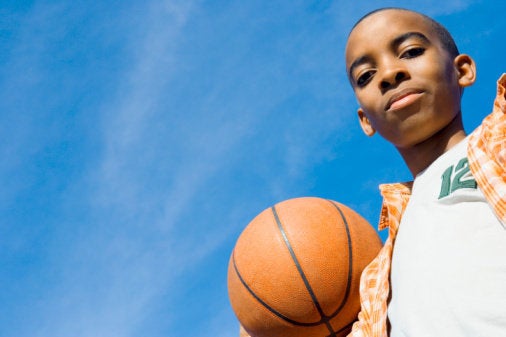 The importance of maintaining a strong body to harbor a strong mind didn't begin with Jack LaLanne or even our beloved Teddy Roosevelt (whose love for physical activity evolved from his childhood battle with asthma which he overcame with vigorous exercise). Staying fit has been part of the recipe for a healthful life and disease prevention for thousands of years dating back to the teachings of Confucius in China's Zhou dynasty as well as the incredibly fit society of Sparta during ancient Greek times.
In American history, the President's Council on Physical Fitness and Sports originated in the 1950's (after a study showed American children to be less fit than their European counterparts) and we've been celebrating exercise every May for nearly 27 years since Congress declared this month a time to emphasize fitness and sport back in 1983.
I still remember and cherish (I admit it!) the day when I received the "Presidential Physical Fitness Award" at my elementary school -- the certificate kids get after finishing a certain amount of sit-ups and pull-ups as well as shuttle runs and the ever-feared one-mile "endurance" run. I remembering beating "the boys" in my class too which was just icing on my cake!
But the point is, the emphasis my teachers put on being physically strong and fit never left many of us during these childhood years. To me, exercise is freeing, meditative, calming and rejuvenating all in one and it is hard to imagine a life experience devoid of it. To this day, I continue to be a huge proponent of fitness and sports.
There are just too many benefits to an active lifestyle to ignore. Our obesity epidemic and the host of chronic diseases that can be combated by making activity a part of our lives are two big ones. Additionally, the recent and shocking headline stating that our overweight/obesity is being associated with decreased military operational effectiveness is a grave matter for our national security. Generally speaking, the main health benefits of exercise include: stress reduction/relaxation, improvement in energy levels and moods, maintenance of strong bones and joints, and prevention of high blood pressure, diabetes and heart disease.
Yet to me, what is most important for all of us is not the "why", but the "how" in getting fit. Too frequently, we associate being fit with sweaty (and sometimes embarrassing) workouts at your local gym upholstered with a wall full of TV monitors and a myriad of intimidating fitness equipment or perhaps a jam-packed yoga studio outfitted with the latest and greatest mats, apparel and accessories.
But exercise can be more enjoyable and a whole lot more special than these interpretations. Below I provide some alternatives ways to engage and think about exercise that may inspire you this month as we make it a point to get and stay activate.
Get Outdoors
Now that the flowers are in bloom and the air is nice and warm, its so much easier to get outside. Being outdoors promotes a closeness to nature and our ecology that we rarely get due to the fact that most of us spend the majority of our lives indoors -- either at home, at work, shopping or in the car. Living and moving in natural surroundings is something most Americans do only on vacation, but the summer gives us a chance to do so everyday. Being closer to our environment can bring a sense of calm and peace as well as helping to bring down the fast pace of our modern lives. Secondly, exercising outdoors can be a lot more enjoyable than being at a gym on a machine. Trail biking or running gives us the chance to take in the soil, terrain and various textures of the earth. Doing sit-ups and a circuit of resistance exercises on a grassy area of your neighborhood or park can be so much more fun as you take in the rays, the sky, smell the grass and feel the soft ground -- all senses that we can't experience in a man-made gym. And whether your activity of choice be rollerblading, soccer or tennis, doing it outside allows you to breath the fresh air as opposed to being cooped up indoors.
Make Your Activity Mindful
Being more engaged and aware when you are moving your body is not only more effective from a weight-loss and muscle-building standpoint, but also can give you great detoxification benefits as well. Running on a treadmill or using a stair machine everyday is not only too repetitive and boring for many, but does not move your body in a variety of ways -- especially laterally. And when you move on a steady surfaces -- treadmill belts, hardwood floors, stationary bikes -- as opposed to more varied outdoor terrain, you miss hitting a lot of smaller, tertiary muscle groups that provide for a more resilient and balanced physique. Secondly, by becoming more engaged in your activity, you will find you can more easily concentrate on your breath and your focus. Deep breathing and increasing blood circulation -- whether in yoga or in hiking -- creates a more alkaline environment in our bodies, helping to strengthen our detoxification abilities.
Try a Sport!
Instead of running, weight-lifting or the usual fitness exercises, try getting involved in sport this summer. Sports have some amazing qualities that we may overlook and ignore because of our busy schedules. Team sports like softball, soccer and individual sports like tennis and golf not only improve your coordination and agility, but these and other sports can build a number of mental, social and physiological skills. Determination, drive, hard-work, leadership, fair-play and time management are just a few skills that both adults and children obtain from sports. Confidence, pride and respect for others are also big ones. Taking the time to find your local adult summer softball league or basketball league (as examples) can be a great addition to your body, mind and soul!
Here are some pics of some great outdoor, mindful activities I captured on a day out in New York City. Other ideas include outdoor bootcamps, triathalon training, golfing, walking, stadium stair climbing, tai chi or yoga outdoors, rollerblading and handball. You can take these ideas to your neighborhood by visiting your local parks, high school grounds, public tennis and basketball courts. Enjoy the summer and happy Fitness and Sports Month!