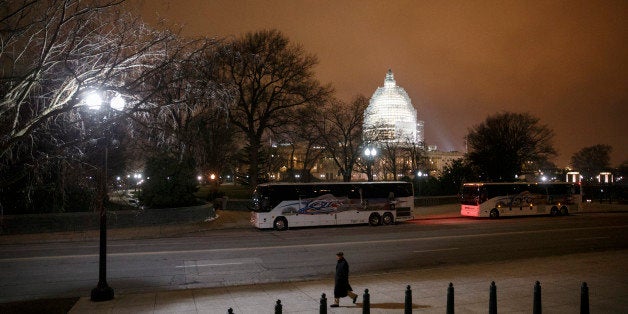 National fraternity and sorority organizations are backing away from a plan to advocate for a proposal to keep colleges from investigating sexual assault cases under certain circumstances during a student lobbying trip scheduled for next week.
The Fraternal Government Relations Coalition, which includes national fraternity and sorority umbrella groups and the Fraternity and Sorority Political Action Committee, sent a message over the weekend to student lobbyists. In the email, which The Huffington Post obtained, North-American Interfraternity Conference President Pete Smithhisler and National Panhellenic Conference Chairman Jean Mrasek omitted a controversial proposal about campus rape investigations.
"We will not be lobbying for or against any specific Congressional proposals on campus sexual assault in April," NIC and NPC told HuffPost in a statement Monday. "However, we expect our conversations to lead us to actively endorse such proposals later in the year when Congress considers reauthorizing the Higher Education Act."
Sexual assault survivors, advocacy groups and undergraduate members of Greek life have widely criticized the proposal. Some fraternity and sorority members drafted a petition -- which has acquired more than 500 signatures -- opposing it.
The NIC and NPC said they will work to "inform Congress about everything our organizations already do to combat sexual violence on campus." The organizations also said they "intend to gain a better understanding about how aware policymakers are about sexual violence on campus, and to ask lawmakers for their initial thoughts for how we can solve this important problem."
A group of 10 fraternities and sororities announced sexual assault and domestic violence education programs starting at all of their chapters in the fall. The Alpha Delta Pi sorority and Sigma Phi Epsilon fraternity launched an online campaign last week. ADPi also became the first sorority to join a group of fraternities in the Fraternal Health & Safety Initiative to combat sexual violence, binge drinking and hazing.
Tammie S. Pinkston, international president of Alpha Delta Pi, told HuffPost their undergraduate members are interested in programs addressing sexual assault because "women today are much more open and willing to talk about these topics."
Pinkston said two weeks ago she looked forward to "engaging in the discussion" about legislative proposals in Congress, but declined to support or disagree with the FGRC proposal to limit sexual assault investigations. She confirmed national sorority and fraternity leaders were participating in conference calls about addressing sexual violence during the upcoming lobbying trip.
"When I first read about the proposal in late March, I thought I was reading a satirical piece, to be honest," said Allie Bice, an Arizona State University student and a member of Kappa Alpha Theta. "I didn't think -- especially with the recent controversial events in Greek Life -- the FSPAC and other Greek affiliations would take this kind of initiative."
Bice said having NIC and NPC withdraw their support for the proposal would be a step in the right direction and "would mean so much" to undergraduate members.
Some sorority and staff members have chosen a quiet route in opting against public forms of protest -- for example, through letter-writing campaigns -- and those involved have declined to speak on the record and asked to keep their school name withheld to avoid punishment from their sorority or fraternity leaders.
Megan Haselschwerdt, an Auburn University domestic violence researcher who was a sorority member as an undergraduate, said she couldn't "quite wrap [her] head around" why the NPC was on board with the proposal to begin with.
"There is a legitimate critique of how many universities and colleges are handling -- or not handling -- sexual assault, but the answer should not be to remove the university sanction route as an option, or to make it an either/or situation," Haselschwerdt said. "The legal process, in nearly all cases, would not get resolved while the students are still on campus. Even worse is the reality that very few sexual assault cases even make it to court."
Haselschwerdt said she hopes the organizations and FratPAC will do more to get feedback from current Greeks and alumni because "it is clear that many individuals felt uncomfortable, at the very least, with the proposal."