Somewhere along the way many network and boutique publicists got the idea that the traditional elements of program promotion - press kits, DVD screeners, press conferences and other events - could be replaced by e-mails with links to online information and private streaming sites that would generate the same results. As a result, a growing number of critics are passing right by many new and returning shows, either by choice (because the shows are known to be terrible) or understandable oversight (the inevitable result of receiving hundreds of e-mails every day). Within that context, let us praise the National Geographic Channels and the tireless work of their publicity and marketing teams in getting the word out - especially about important programming that people really should be encouraged to watch. They go as far beyond e-mails and links as it is possible to do.
The networks of National Geographic are known for having an above-average presence at the twice-yearly Television Critics Association tours. Similarly, Nat Geo's Upfront events and activities can be counted on to make an impact with press and advertisers alike. And then there are its private press tours or, as some might call them, junkets. These aren't special press opportunities designed to call attention to unworthy piffle as most such press trips tend to be. Rather, they are carefully conceived and meticulously executed events meant to further generate awareness about certain programs that deserve all the extra attention they can get, especially in an ever-more-crowded television environment that seemingly discourages the increased production of programs that are genuinely good for people - something we might call Brain Food TV.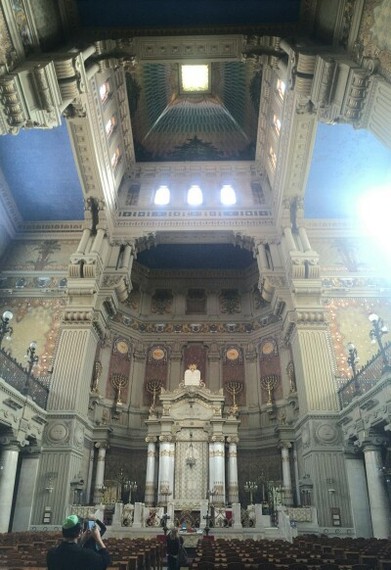 The most recent example of Nat Geo's efforts in this area is a recent trip to Rome for a group of people who write about television that served as an uncommonly immersive introduction to The Story of God, a limited series beginning this Sunday on National Geographic Channel that is simultaneously as intimate as anything else on television and too expansive to fully comprehend. It's a six-part documentary conceived and executive produced by Morgan Freeman, who also appears throughout the entire program, traveling around the world to no less than 20 cities in seven different countries on a fact-finding expedition that encompasses the past history and present status of every major religion and understandings by followers of all of them about creation, life, death and the after-life. There is even a side-track of sorts into how science and technology are intersecting with religion and spirituality through developments in artificial intelligence that have as their desired goal the imbuing of animated humanoids with something resembling souls.
There isn't a person on this planet who hasn't given much thought to these matters at some point in his or her life, even if only to reject all of it as the fabrications of storytellers or big business. But for most people questions about their beliefs are always there; in that way people today are no different from those who lived hundreds or thousands of years ago, regardless of their religion.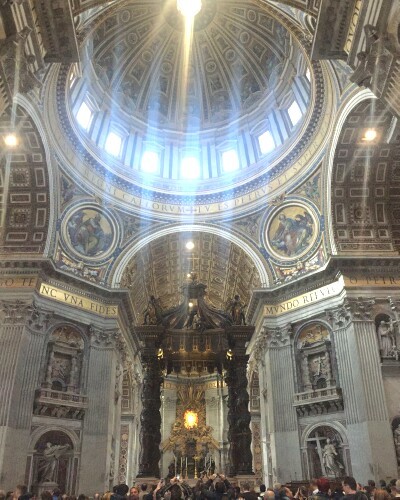 In that sense Morgan Freeman and his producers have attempted to freeze this moment in time, taking stock of all that has occurred up to this point and all that is here today. It was a mammoth undertaking, but the pay-off is spectacular. The four episodes of the series provided for early review are riveting and never for a moment feel like a boring classroom lecture on the subject. Instead, they bring the histories of Christianity, Judaism, Hinduism, Islam and Buddhism.
Plainly, a trip around the world to visit many of the locations included in The Story of God was not feasible. But the trip to Rome proved to be the next best thing -- it was not unlike an accelerated graduate course in the world's religions. Even for those of us who had been to the Eternal City had never really absorbed the scope and detail of its religious diversity. Over a very busy three days the trip included a walking tour of the city's Jewish Ghetto (the oldest Jewish community in the world outside of Israel and home to the Great Synagogue of Rome, seen in the first photo above); two visits to Vatican City (the first for a detailed tour of the Vatican Museums, the Sistine Chapel and the Basilica of St. Peter, seen in the second photo above; the second for a conversation with Monsignor Marcelo Sanchez Sorondo, Chancellor of the Pontifical Academy of Science and science advisor to the Pope); a visit to and tour of the Mosque of Rome (completed in the mid-Nineties, pictured below), and a leisurely afternoon at the Temple of Kalimandir, home to Yogi Krishna Nath, the spiritual leader of Rome's Hindu community.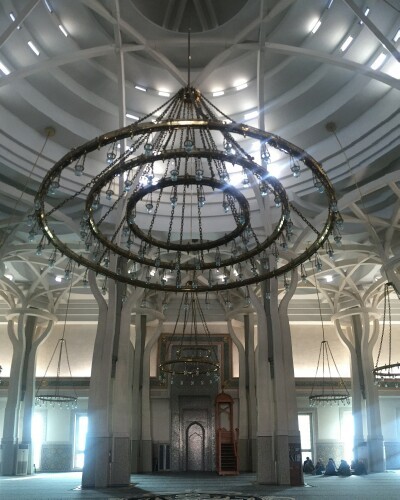 The trip also included a visit to the Biblioteca Casanatense for a curator-led visit of the vast historic library and - something special for the writers in the group - the opportunity to hold and gently leaf through priceless, individually hand-crafted religious books dating back almost 1000 years. Like much of what we saw during our stay in Rome, the library and those specific volumes will be seen in The Story of God.
It is generally acknowledged that Sunday is the most competitive night of the week on television. At first blush, the decision by Nat Geo to schedule this important program over a period of six consecutive Sunday evenings may seem questionable. But consider the specific timing here: It is doubtful that the original programming on HBO and Showtime would attract the same potential audience for God. Further, with the sixth season of AMC's monster hit The Walking Dead winding down, PBS' Downton Abbey having concluded and interest in CBS' The Good Wife waning during its final telecasts - not to mention the challenges that ABC, NBC and Fox are currently facing on Sunday nights - it would appear that the coast is clear for God to enjoy a respectable following. Perhaps He will even tweet about it, calling attention to His Story via His handle, @God.
Calling all HuffPost superfans!
Sign up for membership to become a founding member and help shape HuffPost's next chapter