 February is one of my favorite times of the year. It is a halfway point in the WNBA's busy offseason, and it is also a time to reflect and to celebrate. Today, Feb. 6, marks the 27th annual jubilation of National Girl and Women in Sports Day (NGWSD). Chartered by the U.S. Congress in 1986, NGWSD honors female athletic achievement and recognizes the positive influence of sports participation for women.
According to a report from Experian Simmons, 96 million girls in the U.S., age 12 or older, played sports in 2011-'12. What an incredible number, and how encouraging given this year's theme for the day -- "Girls in sports, an investment in the future."
Growing up in Henderson, Nev., a suburb about 20 minutes from downtown Las Vegas, in the 1970's sports were more of a boys' thing. No one in my family had really been into sports, and my mother was not gung-ho about me playing basketball. Seeing what happened to classmates of mine who may not have been involved in after-school programs or activities, it was as much a way to stay out of trouble as it was to be social and learn new things. I was finally able to compromise with my mother -- I could play basketball if I also participated in our girls' drill team.
From that point on, basketball and I developed a close relationship -- one I still hold close to this day. My high school coach, Matti Smith, put her trust in me by making me a member of the team, and then my teammates helped build my confidence in a way that nothing else had before.
Sports taught me how to make quick decisions and how to deal with disappointment; they taught me how to work in a team, and how to come together for the greater good. Imagine 96 million girls a year learning these same lessons and translating those sports skills into their personal and professional lives as they mature.
After high school, I played basketball at the University of Nevada-Las Vegas, where I received financial aid and competed for two years. I then went on to coach basketball, helping teach young girls the same lessons that my mentor and high school coach had taught me. Regardless of whether these youth go on to play sports professionally or live a corporate lifestyle, the lessons learned from having played will aid in their development.
When the WNBA began in 1997, I could not have been happier to come onboard. I was lucky enough to travel the world scouting and signing players for what has become the longest-tenured, most successful women's professional sports league in this country.
While building the league, our players and I have been able to get involved with WNBA Cares, the WNBA's global social responsibility program. Through our events and things like Basketball without Borders, we have traveled to South Africa, China, Australia, Europe, Cuba, etc. and I have seen what sports can do for young kids. Basketball is a global language. It breaks down barriers and it transcends cultures no matter who is playing. Watching young girls make their first basket and seeing the sense of empowerment it gives them is an amazing feeling, and one that is only amplified by seeing the look in our players' eyes as they do it.
While the number of girls participating in sports alone in this country is quite impressive, I believe that its effects are amplified by the amount of female role models that have developed over the last few decades. I am always struck that many of our players, if not all of them, can remember the point in time when the WNBA came into existence, and their pool of role models -- that up until that point were almost all men -- were broadened to include women. Our players today remember watching Lisa Leslie and Sheryl Swoopes growing up, not just Michael Jordan.
In 2011-'12, according to Experian Simmons, 17 million of those girls in the U.S. playing sports, age 12 and above, played basketball, making it the single most popular team sport. It also makes the role of league stars like Candace Parker (Los Angeles Sparks) and Maya Moore (Minnesota Lynx) that much more visible and impactful to our youth.
While our players continue to dazzle fans with their athleticism on the court, I take great pride in their active roles off the court, as well. Dozens of them either have their own foundations or are involved with charitable organizations. Almost all of our players have also participated in our WNBA FIT Clinics, where they engage with local youth for an afternoon of fun and fitness, and some have even traveled, as I have, for international clinics and events.
As a part if a long-time partnership to empower women and girls through sports, the NBA, the WNBA, and the U.S. Department of State will send a host of WNBA players and legends overseas throughout 2013 to promote participation in sports and discuss the importance of health and wellness with young female athletes. Currently, WNBA legends Tamika Raymond and Nykesha Sales are in the Ukraine, with further trips planned to other regions in the world, including Kazakhstan, Thailand, and Tunisia.
The existence of the WNBA has provided a destination and a vehicle to showcase these women's unbelievable talents on a national, and sometimes international, stage, and at a professional level. Because our players can so vividly remember the moment when they began readily seeing female role models, I think that the commitment they have to be those role models for our next generation is fresh and profound. They do it with great pride, and so do I.
When I think about what sports have done for me -- they helped me build self-confidence; they sent me to college; they helped me travel the world and meet all kinds of interesting people -- it makes me truly realize how important they are for our youth today. That is why I will be celebrating National Girls and Women in Sports Day today, with a promising outlook for our next generations of female leaders.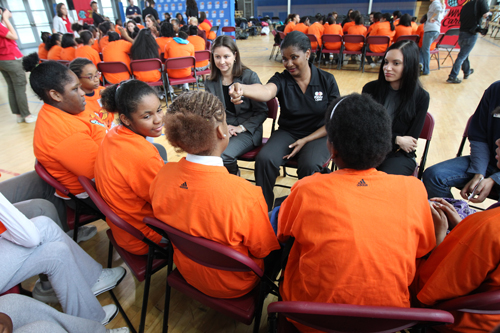 Popular in the Community