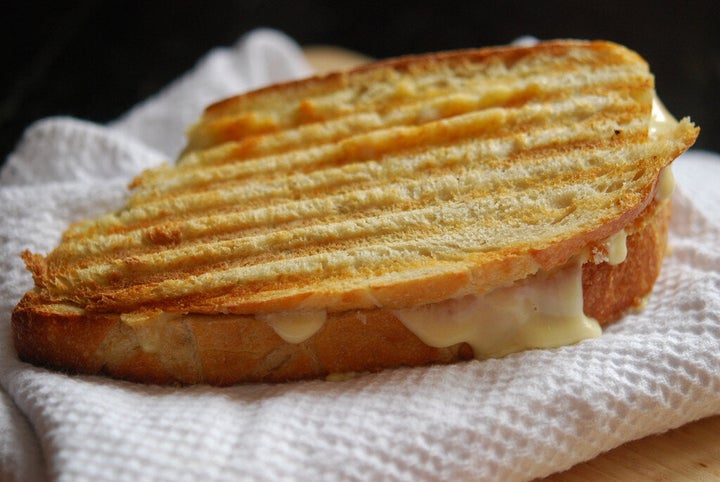 April is National Grilled Cheese Month, and we couldn't be more excited to pay homage to the classic American sandwich! Often paired with a bowl of piping-hot tomato soup, grilled cheese sandwiches have remained a popular childhood fixture. But beyond a childhood snack, a great number of fans maintain their sandwich love affair well beyond their kiddie years. Both humble and haute sandwich reincarnations have emerged on the food scene, and one thing is for sure -- grilled cheese sandwiches satisfy the youthful and adult palette alike. Below, you'll find a brief look into the history behind the comfort food favorite, and a few places to find a killer grilled cheese sandwich.
The History of Grilled Cheese
Grilled cheese sandwiches have been satisfying stomachs for nearly a century. First appearing on the food scene in the 1920s, the sandwich was prepared open-faced and topped with shredded American cheese. During the Great Depression, it grew in popularity due to the affordability of pre-sliced bread and processed cheese. It wasn't until the 1960s that the second slice of bread became a standard part of the sandwich, transforming it into the comfort food that we're familiar with today.
Taking Grilled Cheese to the Next Level
Although bread and cheese are the only necessary components in a standard grilled cheese sandwich, the classic sandwich has been transformed in innumerable creative ways. Even at the most basic level, substituting higher-quality bread and cheese can make a huge difference. For a gourmet spin on the sandwich, ditch the pre-sliced white bread and try focaccia or ciabatta bread. These breads grill wonderfully in a panini maker, adding a crunchy texture. Skip the American cheese and try goat cheese or gruyère for a touch of sophistication. Bacon, heirloom tomatoes, and avocados are just a few more ways to add extra flair.

Many eateries across the country have dedicated their menu to serving up their own rendition of the sandwich. Below are a few of Menuism's favorite spots to find a killer grilled cheese sandwich:
Grahamwich, Chicago, IL
An added touch of Wisconsin cheddar, tomato marmalade and cheese curds have propelled this Chicago eatery's grilled cheese sandwich to great heights of popularity.
Melt Shop, New York, NY
One of Melt Shop's grilled cheese variations includes roast beef with blue cheese, and horseradish mayo on sourdough. Sounds delicious, right?
Clementine, Los Angeles, CA
Clementine's special "Cheesemageddon" menu celebrates the month-long holiday with 15 delectable versions of grilled cheese. With options like the "Philly Cheesepocalypse" and "Parmageddon," Clementine's lighthearted menu puts an inventive spin on the sandwich classic.
Grilled Cheese & Co., Catonsville, MD
Ever try crab, meatballs or BBQ sauce in your grilled cheese sandwich? This Maryland eatery offers up some of the most creative versions of grilled cheese that we've ever seen!
What's your unique twist on the grilled cheese sandwich? Sound off in the comments!
Marisa Miyasaki loves to mix and match different cuisines and believes Korean Tacos are just about the coolest thing ever invented. She is a devout foodhist and has a borderline-crazy obsession with taking pictures of nearly everything she eats. As Menuism's Community Manager, Marisa hopes to share her passion for food with the world- one hungry foodie at a time.
Related