 Vermont Army National Guard captain Zachariah Fike knows how to go above and beyond the call of duty. However, his most notable mission has occurred far from the front lines.
When Fike, a member of the Military Order of the Purple Heart and collector of military artifacts and memorabilia, was given an antique Purple Heart by his mother Joyce as a gift he knew exactly what to do, he told NPR. "This is a special medal that definitely needs to go back to the family," Fike told the Department of Defense Live.
Captain Fike had received the medal himself after a tour in Afghanistan, during which he was injured by a rocket-propelled grenade. He knew the value the medal would have for the family of the soldier who received it.
Fortunately, the Purple Heart had an engraving. It belonged to U.S. Army Private Corrado Piccoli.
Over the next year, Fike tried to find any information he could concerning Pvt. Piccoli's surviving family, he told NPR.
Using the Internet, he learned that Corrado Piccoli had been born in Italy in 1923 and immigrated to America where he enlisted in January 1943. According to the Department of Defense Live, he was killed in action in Fremifontaine, France.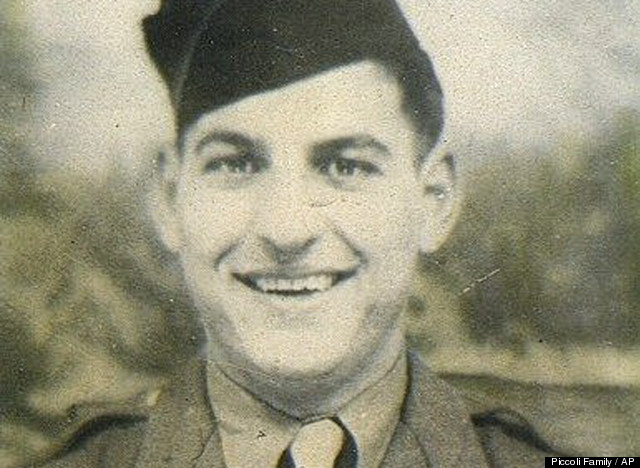 This circa 1943 photo provided by the Piccoli family shows U.S. Army Pvt. Corrado A.G. Piccoli. Capt. Zachariah Fike of the Vermont National Guard, who collects war memorabilia, received Piccoli's Purple Heart as a Christmas gift in 2009 and spent a year tracking down the soldier's family so he could the return lost medal. Fike plans to present it to Piccoli's siblings Sunday, Aug. 7, 2011, in Watertown. (AP Photo/Piccoli Family)
Eventually, Fike found Piccoli's younger sister, Adeline Rockko. When she first heard from Fike, she was skeptical: "I flooded him with questions. Bang, bang, bang. One right after the other," Rockko told NPR.
Soon, though, the woman regretted how she'd responded to Fike's gesture. "I walked away from the phone, and I says, 'Oh my god, he's so nice and he's returning our medal, and I treated him this way?'"
Rockko called him back and thanked him. Almost immediately after that conversation, she drove eight hours to meet Fike. "At that point, I knew you meant business," he told Rockko during an interview with NPR. "To drive eight hours to come see me."
Adeline Rockko was particularly emotional when she held the medal. "I realized, 'Well, this is the only tangible thing that we have left.' "
Since then, Fike has made it a hobby to reunite other families with lost Purple hearts. He has already returned five and is working on another four, he told The Huffington Post.
In another instance, he was asked to locate the owners of a Purple Heart found in the washing machine of a retirement home in Alabama. The medal belonged to a Cpl. Freeman who had died in service in 1944. His widow kept the Purple Heart in her pocket her entire life before she misplaced it at a nursing home. Fike found Cpl. Freeman's last living sibling and presented her with the heart at a ceremony earlier this year.
"These guys were fighting for our country, and they should be remembered even though it happened 60 years ago. Something that is a symbol of the ultimate sacrifice shouldn't be found at an antique store or displayed on someone's wall," he told The Huffington Post.
REAL LIFE. REAL NEWS. REAL VOICES.
Help us tell more of the stories that matter from voices that too often remain unheard.
BEFORE YOU GO