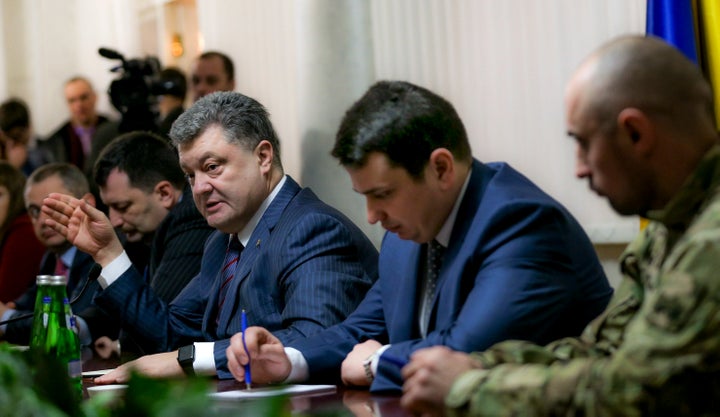 An NGO presented a case to Ukraine's parliament this past Tuesday that alleged a prominent anti-corruption organization has been making use of U.S. aid money for personal use.
National Interest of Ukraine (NIU), founded and managed by Executive Director Vasily Apasoff, argued that AntAC – the Anti-Corruption Action Center – has been taking grants from various governments and misreporting to donors how the money is being used.
"International organizations receive sizeable fund transfers to execute certain programs," Apasoff stated in the video presentation. "After implementation, organizations receiving grants [will] report on their work."
AntAC has taken nearly $1.5 million in money from the U.S. Embassy of Ukraine, USAID, the Kingdom of the Netherlands, the International Development Law Organization and the International Renaissance Foundation. A video was presented rather than in-person testimony on account of a usually restrictive process for non-parliamentarians to enter the chamber.
Apasoff specifically levied accusations against AntAC that its reports to donors – which include accomplishments like helping to write 19 pieces of legislation, funding private anti-corruption investigations, organizing conferences and creating a national registry of Ukraine's civil servants – have oversold their accomplishments while money was put to personal use.
"None of those 19 'initiated' laws states that AntAC is their author or initiator. The national registry ... is not actually a registry and is not up to date," Apasoff asserted.
"The conferences on asset recovery were held in quite respectable places; luxury hotels like 'Opera' and the 'President Hotel.' It should be noticed that the cost … is incredibly low."
AntAC has not responded to the latest allegations. The NGO has fended off accusations about misappropriations for over a year, including from the General Prosecutor's Office (GPO) that U.S. allocations were never put toward reform efforts, specifically a $200,000 grant from Washington's local embassy.
"As the United States Embassy knows to the very cent how and where their money is spent," wrote AntAC Executive Director Daria Kaleniuk in 2016 when allegations first surfaced. "Artificial attempts to uncover something look pathetic and only support the notion voiced by Ambassador Pyatt that the GPU cannot successfully fight with internal corruption and is sabotaging all law enforcement reform."
Kaleniuk, along with her co-founder Vitaliy Shabunin and several others – were accused of pocketing money from the NGO's donations, as Apasoff displayed charts taken from Ukrainian tax records displaying meager AntAC salaries next to much larger amounts of freelance income.
Shabunin's 260,000 UAH salary was a fraction of his reported 1.7 million UAH freelance income while Finance Director Antonina Volkotrub's 530,000 UAH salary was less than a third of his 1.86 million UAH freelance earnings.
"The transfer of funds designated 'for services,' was paid to 32 independent contractors amounting to 5,920,000 UAH," Asapoff claimed, drawing a parallel with the 7.38 million UAH in independent contracting AntAC's top five leaders reported to Ukrainian authorities.
"Such transfers are a financial violation."
The testimony brings up another front in Ukraine's ongoing tussle with foreign interest groups – Russian and Western. The dispute might also invite new scrutiny from the United States, where discussions about relations with Ukraine have become a matter of debate since the 2016 election.
"A public organization has the right to conduct entrepreneurial activities and receive income from it," Asapoff reiterated. "However, such income shall not be distributed among the founders and members of a public organization."
Related
Popular in the Community