 It's awards season, everyone. And not just for the painted madames and monsieurs of the glittering silver screen, no sir! It's also time to hand out awards to Congress. Not good ones, mind you. But the National Journal has done its annual ranking of the most conservative and the most liberal members of Congress, for your approval or argument. And not to be outdone, the American Conservative Union has decided on who are its "Defenders of Liberty." Let's break down all the action.
Every year, the National Journal determines the ideological standouts from within the Democratic and Republican caucuses in the House and Senate. It takes the "roll-call votes in the second session of the 112th Congress," and sorts through them until it has identified the ones that put the ideological differences between the parties in the sharpest relief. The Journal checks who voted for what on those occasions, subjects those votes to statistical analysis, assigns weights "based on the degree to which it correlated with other votes in the same issue area," and factors in the various absences and abstentions. Finally, they cut the head off the duck and watch the duck's dying torso stagger around a Ouija board while listening to Enya. Ha, just kidding, I made up the part that actually sounds like it might have been fun!
At any rate, after all is said and done, the Journal arrives at results. And so, without further ado, your 2012 winners:
-- Sen. James Risch (R-Idaho) is the most conservative senator.
-- Sens. Tom Udall (D-N.M.) and Richard Blumenthal (D-Conn.) tied for the most liberal senator.
-- Rep. Todd Akin (R-Mo.) is the most conservative member of the House (like you couldn't have guessed that)
-- And a whole mess of Democratic representatives have tied for the most liberal member of the House. They are Lynn Woolsey (D-Calif.), Pete Stark (D-Calif.), Linda Sanchez (D-Calif.), Bobby Rush (D-Ill.), John Olver (D-Mass.), Jim McGovern (D-Mass.), John Lewis (D-Ga.), Barbara Lee (D-Calif.), Mike Honda (D-Calif.), Donna Edwards (D-Md.), Danny Davis (D-Ill.), John Conyers (D-Mich.), William Lacy Clay (D-Mo.), Yvette Clarke (D-N.Y.), and I promise you that is it.
What does this mean for the winners? Hard to say. If you cast your mind back to 2007, then-Sen. Barack Obama was deemed the "most liberal" senator. Now Obama is president, and he's the sort of guy to give up his stated position on the Bush-era tax rates for upper-income earners when he doesn't have to, and has proposed big cuts to earned benefit programs like Medicare. Plus, he has a "kill list" now. What I'm saying is that the distinctions that the National Journal makes may only have tenuous and tangential connections to "relevance" and no connection to "permanence." (Also in 2007, Ron Paul was only the "178th-most-conservative lawmaker" in the House.)
Lindsey Graham, long hated by the Tea Partiers of South Carolina, should have faced a rough-and-tumble primary in 2014. But while it's possible a challenger may emerge, Graham looks unlikely to face a serious competitor at this point. The reason? Graham has cultivated relationships with South Carolina Republican congressional members (which may be why none of them are stepping up to challenge him), and his huge war chest of $4.5 million is also acting as a deterrent to any would-be challengers.
So, is a potential challenger to Graham going to fundraise on the fact that Graham went from being the 41st most conservative senator in 2011 to the 33rd most conservative senator in 2012, according to the National Journal? I suppose anything's possible.
Also, the National Journal notes that Georgia Rep. Paul Broun, an announced contender for the Georgia Senate seat being vacated by the retiring Saxby Chambliss, has a "Surprisingly Moderate Score in Vote Ratings." But Broun is selling himself these days as the first member of Congress to call Obama a socialist, which should be sufficient, in the eyes of Georgia conservative voters, to allay any fears that he might be secretly reasonable. And, in fact, the American Conservative Union rankings, Broun has a perfect score on their ratings and was awarded "Defender of Liberty." So Paul Broun isn't sweating the National Journal's assessment even a little bit.
The American Conservative Union doesn't bother with bipartisan scoring. It aims to identify the most conservative members of Congress, and shame those who don't make the cut. From the ACU Ratings page:
The ACU tracks a wide range of issues before Congress to determine which issues and votes serve as a dividing line to help separate those members of the U.S. House and Senate who protect liberty as conservatives and those who are truly liberal.

Since 1971, the congressional ratings have become the gold standard in holding every member of Congress accountable for their voting record by scoring some of the most important issues facing the nation. The ACU is dedicated to supporting the efforts of courageous conservative leaders fighting for limited government, promoting prosperity and individual freedom, and defending traditional values. As a result, the ACU Ratings of Congress has throughout its 41 editions included a wide variety of issues covering votes on taxes, wasteful government spending, cultural issues, defense and foreign policy.
Those who score 100 percent on the ACU's scale get recognized as a "Defender of Liberty." This year, the senators earning that distinction are: Ron Johnson (R-Wis.), Jon Kyl (R-Ariz.), Mike Lee (R-Utah), Mitch McConnell (R-Ky.), Rand Paul (R-Ky.), Marco Rubio (R-Fla.), and Pat Toomey (R-Pa.).
The similarly honored House members are Michele Bachmann (R-Minn.), Diane Black (R-Tenn.), Marsha Blackburn (R-Tenn.), Paul Broun (R-Ga.), Dan Burton (R-Ind.), Mike Conaway (R-Texas), Jeff Duncan (R-S.C.), Jeff Flake (R-Ariz.), John Fleming (R-La.), Bill Flores (R-Texas), Trent Franks (R-Ariz.), Scott Garrett (R-N.J.), Trey Gowdy (R-S.C.), Tom Graves (R-Ga.), Wally Herger (R-Calif.), Duncan Hunter (R-Calif.), Lynn Jenkins (R-Kan.), Jim Jordan (R-Ohio), Jeff Landry (R-La.), Randy Neugebauer (R-Texas), Pete Olson (R-Texas), Mike Pompeo (R-Kan.), Bill Posey (R-Fla.), Tom Price (R-Ga.), Ben Quayle (R-Ariz.), Todd Rokita (R-Ind.), Ed Royce (R-Calif.), Steve Scalise (R-La.), David Schweikert (R-Ariz.), Tim Scott (R-S.C.), Cliff Stearns (R-Fla.), Marlin Stutzman (R-Ind.), Lynn Westmoreland (R-Ga.), and Joe Wilson (R-S.C.).
The ACU also honors everyone who scores above an 80 percent on its ratings scale as an "ACU Conservative" -- sort of like saying, "Hey, you guys let a little bit of liberalism get past you, but you're all still really swell guys, so have an 'I Participated' ribbon." There are like, a ton of people who earned that distinction, so if you're curious, just click here to read them.
Suffice it to say that if you didn't win some award from the American Conservative Union, you might have been trying to govern without the blinders of tribal politics. Take that to your grave, loser.
Before You Go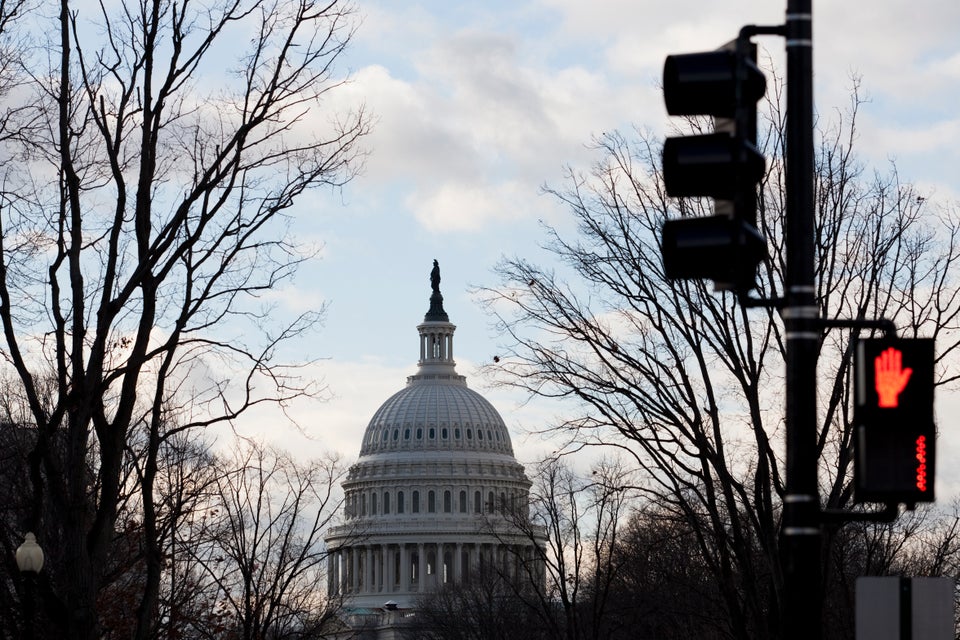 113th Congress Facts
Popular in the Community