 NEW YORK -- NBC News anchor Brian Williams joked with attendees at Thursday night's National Magazine Awards dinner that given all the categories being honored, "if you publish a magazine in the United States, even desktop publishing, you're not leaving here without an award."
While that wasn't actually the case for many magazine editors in attendance, New York magazine left the Marriott Marquis ballroom with three Ellies, the award which gets its name from the Alexander Calder-designed "Elephant" statuette handed out to winners.
New York won the "essays and criticism" prize for Wesley Yang's cover story "Paper Tigers" -- a personal cover story looking at Asian-American over-achievers -- along with best magazine section for "Strategist" and single-topic issue for "The Encyclopedia of 9/11."
The New Yorker, which battles New York annually for the biggest haul of Ellies, won the reporting prize for Lawrence Wright's deep investigation into Scientology and the public interest award for Sarah Stillman's "The Invisible Army," which shined a light on the lives of foreign workers living on U.S. bases in Iraq and Afghanistan.
Time magazine won the coveted "Magazine of the Year" prize, the final award given out by the American Society of Magazine Editors. Managing editor Rick Stengel, accepting the award, said he feels like "when we win, everybody wins" -- a feeling that may not have been shared with those who didn't win.
"We're 90 years old next year and we've reached more readers than any time in our history by an exponential amount -- 50 million people or more per week -- and we do that on every platform under the sun," Stengel said.
Bloomberg Businessweek won for general excellence among general-interest titles, thus ending the hopes of an upset win for first-time nominee Vice. Vanity Fair editor Graydon Carter described the late Christopher Hitchens as a "brilliant journalist and thinker," while accepting the "columns and commentary" award for some of the writer's final work at the magazine.
Williams, no stranger to comedy, poked fun at the ceremonial aspects of award dinners and pleaded with the audience to continue clapping while he took "a highly uncomfortable photo" on stage with each recipient. "Only thing worse than these photos here are when they're done in a silent room," Williams said.
"If Cat Fancy wins for commentary, be happy for them, keep it going," Williams said. "Cover me on the photo-op. I will be grateful. And then the recipients will talk and they'll have 60 unromantic seconds." (After 2011's marathon awards dinner, speeches were kept to under a minute).
This year's most memorable acceptance speech came from D Magazine editor Tim Rogers, who began by telling the audience that "if you ask any man who writes, and tries to write funny, if he's honest, he's trying to get laid." Rogers, who edits the Dallas-based magazine and wrote the prize-winning piece, went on talk about his 16-year marriage and how his wife "doesn't read the stuff I write." But tonight, he said, "with a little bit of luck, a little bit of red wine, and this award, I'm going to get lucky."
"For that moment, we were all one, in that, I didn't know where he was going," Williams said when returning to the stage. And now, Williams said, "Mrs. D Magazine [has] a lot of pressure."
Longtime New Yorker media columnist Ken Auletta introduced Terry McDonell, editor of the Time Inc. Sports Group and recipient of the Magazine Editors' Hall of Fame award, as someone who has "had as many costume changes" as Lady Gaga. Indeed, McDonell has edited 13 magazines -- most recently, Sports Illustrated -- while also writing novels, poetry and screenplays, including "Miami Vice" back in the '80s.
Despite a rocky few years in the magazine industry, amid changes brought on by the disruption of the Internet, McDonell spoke enthusiastically about the future of magazines, regardless of platform.
"I think that being an editor right now is the most interesting time to be an editor because of all the possibilities that are coming," McDonell said. "I think it's absolutely gonna rip. And in that sense, change is going to be very, very good, especially when the challenge is basically, change or go home.
"My response to that is no fear," he said. "Bring it."
FULL LIST OF NATIONAL MAGAZINE AWARD WINNERS BELOW
Magazine Of The Year: Time, Rick Stengel, Managing Editor, Catherine Sharick, Managing Editor, Time.com
General Excellence, Active and Special Interest Magazines: Inc. , Jane Berentson, Editor
General Excellence, General-Interest Magazines: Bloomberg Businessweek, Josh Tyrangiel, Editor
General Excellence, Lifestyle Magazines: House Beautiful, Newell Turner, Editor in Chief

General Excellence, Thought-Leader Magazines: IEEE Spectrum, Susan Hassler, Editor in Chief
General Excellence, Women's Magazines: O, The Oprah Magazine, Oprah Winfrey, Founder and Editorial Director, Susan Casey, Editor in Chief
Columns and Commentary: Vanity Fair, Graydon Carter, Editor, columns by Christopher Hitchens: "When the King Saved God," May; "Unspoken Truths," June; and "From Abbottobad to Worse," July

Design: GQ , Jim Nelson, Editor in Chief, Fred Woodward, Design Director

Essays and Criticism: New York, Adam Moss, Editor in Chief, "Paper Tigers," by Wesley Yang
Feature Photography: New York Times Magazine, Hugo Lindgren, Editor in Chief, "Vamps, Crooks & Killers," photographs by Alex Prager; introduction by A.O. Scott
Feature Writing: Esquire, David Granger, Editor in Chief, "Joplin!" by Luke Dittrich, Contributing Editor
Fiction: Zoetrope: All-Story, Michael Ray, Editor, "The Hox River Window," by Karen Russell
Leisure Interests: Saveur, James Oseland, Editor in Chief, "Italian America," by John Mariani, Lou Di Palo, Marne Setton, Rina Oh, Greg Ferro, Jane and Michael Stern, James Oseland, Dana Bowen, Frank Castronovo and Frank Falcinelli
Magazine Section: New York, Adam Moss, Editor in Chief, "Strategist"

News and Documentary Photography: Harper's, Ellen Rosenbush, Editor, Stacey Clarkson, Art Director, "Juvenile Injustice," photographs by Richard Ross
Personal Service: Glamour, Cynthia Leive, Editor in Chief, "The Secret That Kills Four Women a Day," by Liz Brody, Editor at Large
Photography: Vogue, Anna Wintour, Editor in Chief, Grace Coddington, Creative Director, Raul Martinez, Design Director
Profile: D Magazine, Tim Rogers, Editor, "He Is Anonymous," by Tim Rogers
Public Interest: The New Yorker, David Remnick, Editor, "The Invisible Army," by Sarah Stillman
Reporting: The New Yorker, David Remnick, Editor, "The Apostate," by Lawrence Wright
Single-Topic Issue: New York, Adam Moss, Editor in Chief, "The Encyclopedia of 9/11"
Related
Before You Go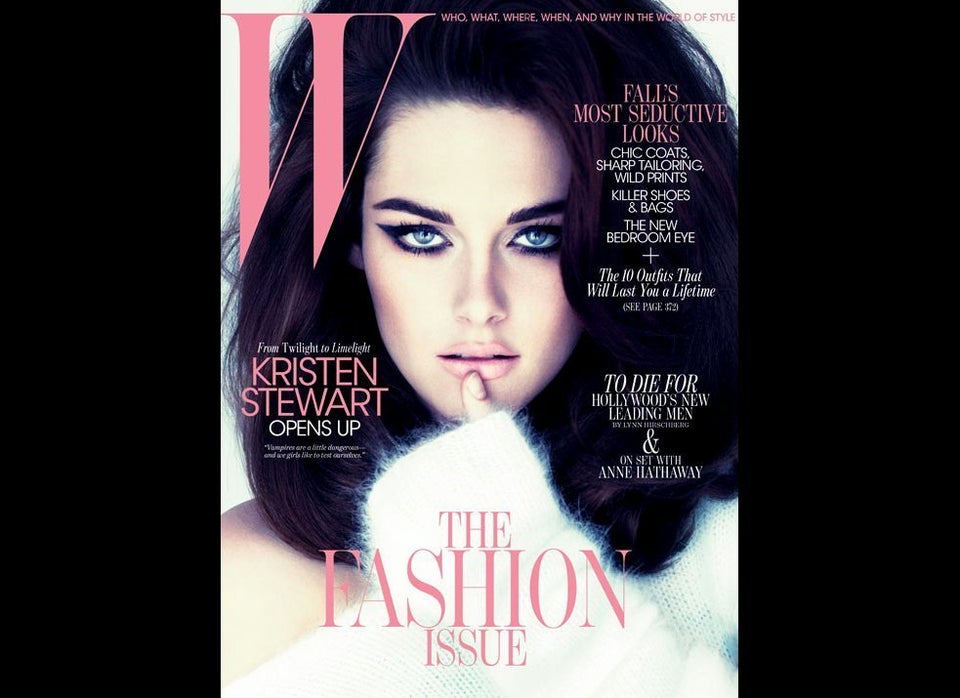 Best Magazine Covers 2012
Popular in the Community