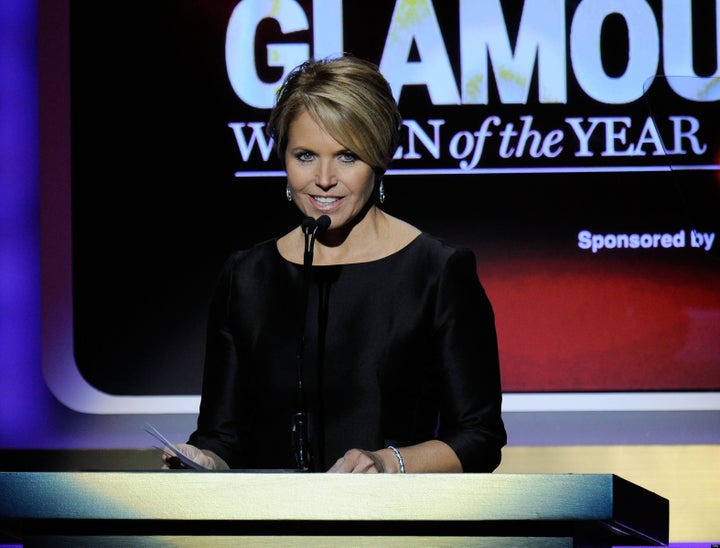 NEW YORK -- Katie Couric kicked off Monday's National Magazine Awards dinner by heaping praise on the influential editors, designers and writers gathered together for the industry's glitziest event.
"Nothing beats curling up with a magazine or your iPad," Couric, the night's host, told the packed ballroom at 583 Park Avenue. The outgoing "CBS Evening News" anchor spoke of the joy in "taking a moment out of our ridiculously busy lives and sinking your teeth" into a piece by the New Yorker's David Grann, before rattling off favorites like Time's Nancy Gibbs, National Journal's Marc Ambinder and Rolling Stone's Rob Sheffield. "I heart Rob Sheffield," Couric gushed to Rolling Stone founder and editor Jann Wenner.
While there are many uncertainties in the magazine industry -- from print advertising drops to the impact of iPad subscriptions -- the winners and presenters spent the evening focusing on the positive and honoring standout magazine work over the past year. Sid Holt, chief executive of the American Society of Magazine Editors (ASME), described the four-hour dinner as "a true celebration of magazine media."
In some years, a single publication -– most likely, the New Yorker –- dominates the evening and walks out of the ballroom with an armful of awards. While there was no runaway winner this year, four publications –- National Geographic, Los Angeles, New York and The New York Times Magazine –- each won two awards. National Geographic took home the coveted prize for "Magazine of the Year." (The New Yorker won only a single award despite leading the pack with 11 nominations.)
Legendary journalist and author Tom Wolfe, sporting his trademark white suit, won the Creative Excellence Award, the magazine industry's lifetime achievement award. While presenting the award, Wenner, Rolling Stone's founder, recalled publishing 27 installments of Wolfe's "The Bonfire of the Vanities" in 1984. "We published as a serial novel, a new chapter every week, written on deadline, the way Charles Dickens used to do it," Wenner said, while noting that Rolling Stone still lost the fiction award that year to Seventeen magazine.
Vanity Fair's Christopher Hitchens won the "Columns and Commentary" award for his deeply personal writing on battling cancer. Vanity Fair editor-in-chief Graydon Carter accepted Hitchens award and earlier in the evening gave a tribute to Tim Hetherington and Chris Hondros, the two conflict photographers killed last month in Libya.
Here's the full list of winners:
General Excellence:
News, Sports and Entertainment Magazines: New York
Literary, Political and Professional Magazines: Poetry
Fashion, Service and Lifestyle Magazines: Women's Health
Food, Travel and Design Magazines: Garden & Gun
Finance, Technology and Lifestyle Magazines: Scientific American
Special-Interest Magazines: Los Angeles
Design: GQ
Photography, Print: W
News and Documentary Photography: The New York Times Magazine
Feature Photography: ESPN, The Magazine
Single-Topic Issue: National Geographic
Magazine Section: New York
Personal Service: Men's Health
Leisure Interests: Men's Journal
Public Interest: The New Yorker
Reporting: Harper's Magazine
Feature Writing: Los Angeles
Profile Writer: New York Times Magazine
Essays & Criticism: The Paris Review
Columns & Commentary: Vanity Fair
Fiction: Virginia Quarterly Review
Magazine of the Year: National Geographic

Related
Popular in the Community