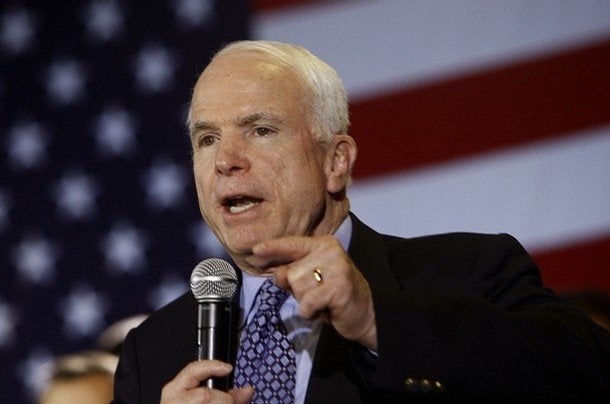 Well, it's taken nearly a month, but it seems that the national media is beginning to examine the sudden and mysterious departure of John McCain's (R) son -- Andrew -- from the board of directors and audit committee of a failing Nevada bank (Silver State Bancorp), a topic we've discussed at great lengths here for a number of weeks (see here, here, here and here for refreshers).
On page 3 of today's Wall Street Journal, three reporters by-lined a story titled McCain's Son Sat On Troubled Bank's Board.  The fact that three reporters have been assigned the story signals that the Journal is taking a serious look at McCain's involvement in the bank.
While both McCain and the bank continued its public silence and refusal to discuss his involvement with the bank and circumstances for his departure, the Journal did advance the story in a number of important respects:
First, it highlighted the fact that Silver State, yesterday, further revised its dismal second quarter results (during which time McCain served on the board and on its audit committee) to include another $10 million in losses, providing more evidence of just how dire its financial condition current is:
On Thursday, the bank said in a securities filing that it actually lost $73.2 million in the second quarter. Silver State also said in the filing that its worsening financial condition means there is "uncertainty about the company's ability to continue as a going concern."
Secondly, the story cites unnamed McCain associates who had encouraged him to leave the bank for political reasons:
But with banks across the country struggling amid the credit crunch and the economic slowdown, the Republican presidential candidate's family ties could emerge as an issue on the campaign trail. The younger Mr. McCain's associates had urged him to step down from the board of Silver State, saying it could become a liability in his father's White House bid, according to a person in the local banking industry familiar with the matter.
Finally -- and even more concerning -- is how the involvement of federal and state banking regulators has "intensified":
In recent weeks, federal and state regulators have intensified their scrutiny of the bank's books, according to people familiar with the bank. The bank's customers have been pulling deposits at a rate of about $4 million per day, one person said. A Federal Deposit Insurance Corp. spokesman declined to comment.
And let's be mindful of something I wrote a week ago:
It's worth noting that the FDIC has recently been seizing insolvent banks at the close on business on Fridays in hopes keeping depositors calm so to avoid "runs" on those banks. Given the especially dire financial results that Silver State announced last week, we should be on the lookout for any FDIC action on Friday. It's hard to imagine that Silver State will avoid seizure, given how dire their situation is. For me, the question is when -- not if -- the feds step in.
One final note: despite the Dow Jones being up about 75 points this morning, Silver State (SSBX) is down another 20 percent to just 65 cents per share. It was around $12/share when McCain joined the bank's board in February, meaning it has lost 95 percent of its value in a matter of months. (Note: I had previously stated McCain had joined in April. That was erroneous. He joined the board in February and was ratified for a full-term in April).
Update (12:24 pm ET): The Las Vegas Review-Journal has an update:
Silver State Bancorp, the $2 billion-asset holding company for a similarly named Henderson bank, on Thursday disclosed it may not be able to continue as a "going concern" as presidential politics began to swirl around former director Andrew McCain, son of Republican presidential candidate John McCain.

The national news media is starting to ask questions about the resignation of Andrew McCain from Silver State's board in late July as the bank's financial problems became more apparent.

...In another troublesome note, the bank holding company said four customers provide 34 percent of the bank's total deposits.

...Steve Stern, a spokesman for the bank, declined to elaborate on the statement but confirmed that national news reporters have been inquiring about the resignation of Andrew McCain.

Andrew McCain previously was a director of Choice Bank in Scottsdale, Ariz., which Silver State acquired in February. Andrew McCain joined Silver State's board the following month.

He served on the board's audit committee, but the audit committee didn't see financial results for the second quarter until several days after Andrew McCain resigned, Stern said.
Calling all HuffPost superfans!
Sign up for membership to become a founding member and help shape HuffPost's next chapter