WASHINGTON — Interior Secretary Ryan Zinke has called on President Donald Trump to shrink or otherwise weaken protections for 10 national monuments, according to a final report made public Tuesday.
The release of the document, a version of which was leaked to the media in September, comes a day after Trump and Zinke traveled to Utah to announce an unprecedented dismantling of two of the state's national monuments: Bears Ears and Grand Staircase-Escalante.
In addition to the Utah sites, Zinke has recommended Trump shrink the boundaries of two land monuments, Nevada's Gold Butte and Cascade-Siskiyou in Oregon and California, as well as consider reducing the size of a pair of marine national monuments, Pacific Remote Islands and Rose Atoll. The report also calls for sweeping changes in how these protected sites are managed, including allowing for drilling, mining, grazing, logging and commercial fishing.
In a release announcing the report, Zinke said that as part of his review he met with a range of people from across the country and from all sides of the issue. His recommendations, he added, "reflect that, in some circumstances, proclamations should be amended, boundaries revised, and management plans updated."
"America has spoken and public land belongs to the people," Zinke said.
The report does not propose specific boundary changes for those sites.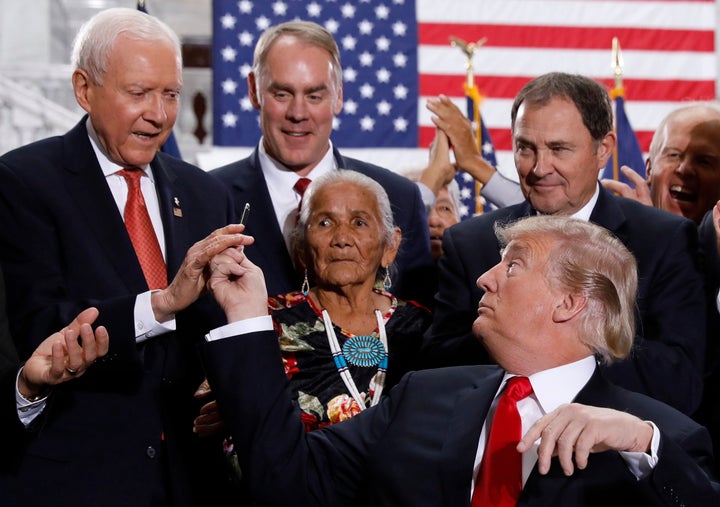 The report follows a months-long administrative review of recent monument designations that Trump launched in April and which many view as an illegal attack on the unilateral powers the Antiquities Act of 1906 grants to presidents. Trump has described monument designations by recent administrations as an "egregious abuse of federal power" that locks up federal land and threatens local economies.
Jennifer Rokala, executive director of the Center for Western Priorities, called Zinke's report "Phase II of an all-out assault on America's public lands and our nation's century-old conservation legacy."
"The first report Secretary Zinke gave to President Trump was riddled with basic factual errors; the result of a shoddy process that ignored comments from 2.8 million Americans," she said in a statement.
In his report, Zinke acknowledged that the vast majority of the 2.8 million public comments received by the Interior Department favored maintaining the current size of all monuments, demonstrating what the agency called "a well-orchestrated national campaign organized by multiple organizations."
Monument opponents, he added, "primarily supported rescinding or modifying the existing monuments to protect traditional multiple use, and those most concerned were often local residents associated with industries such as grazing, timber production, mining, hunting and fishing, and motorized recreation."
Zinke has also recommended Trump create three new national monuments totaling roughly 134,000 acres, the vast majority of which would be in Zinke's home state of Montana. Two would mark African-American historical sites. One site is Camp Nelson in Kentucky, a 4,000-acre Union Army depot used to train black regiments during the Civil War. The other is the Medgar Evers Home in Jackson, Mississippi, where the state's first NAACP field secretary was assassinated by a white supremacist in 1963. A museum is already located there on a less-than-one-acre plot.
The final recommendation is the Badger-Two Medicine area in Montana's northwest corner. If designated, the proposed monument would encompass 130,000 acres within the Lewis and Clark National Forest. In the report, Zinke noted that the area is considered sacred by the Blackfeet Nation, a consideration he disregarded in the case of five Native American tribes in Bears Ears.
On Monday in Salt Lake City, Trump signed a pair of proclamations to drastically shrink the Utah monuments — the largest reduction of national monuments in history. The boundary of Bears Ears National Monument, a 1.35 million-acre landscape named after a pair of buttes and home to thousands of Native American archeological and cultural sites, will shrink by about 85 percent. The 1.87 million-acre Grand Staircase-Escalante National Monument, the largest land national monument in the country, will be cut roughly in half.
The move, which was quickly met with a slew of legal challenges, reduces Bears Ears to 201,876 acres and Grand Staircase-Escalante to 1,003,863 acres — a collective loss of more than 2 million acres.
Additionally, both monuments will be divvied up into several smaller units. Bears Ears will consist of two disconnected areas called Indian Creek and Shash Jaa. Grand Staircase-Escalante will consist of three units: Grand Staircase, Escalante Canyons and Kaiparowitz.
Zinke said during a speech Monday that by rolling back protections, he and Trump are giving a voice back Utah and rural America.
"No one loves public land more than I," Zinke said. "You can love it as much, but you can't love it any more."
But it is this push to roll back monuments that has many questioning his dedication to conservation and preserving public lands. And while Zinke considers himself "a Teddy Roosevelt guy" and an "unapologetic admirer and disciple" of the late president — who signed the Antiquities Act into law and used it to protect 18 monuments, including more than 800,000 acres of the Grand Canyon — his critics say he is anything but.
"Teddy Roosevelt is rolling in his grave," Jamie Rappaport Clark, president the conservation nonprofit Defenders of Wildlife, said in a statement following Monday's rollback of Utah monuments.
Alex Kaufman contributed to this report.
Before You Go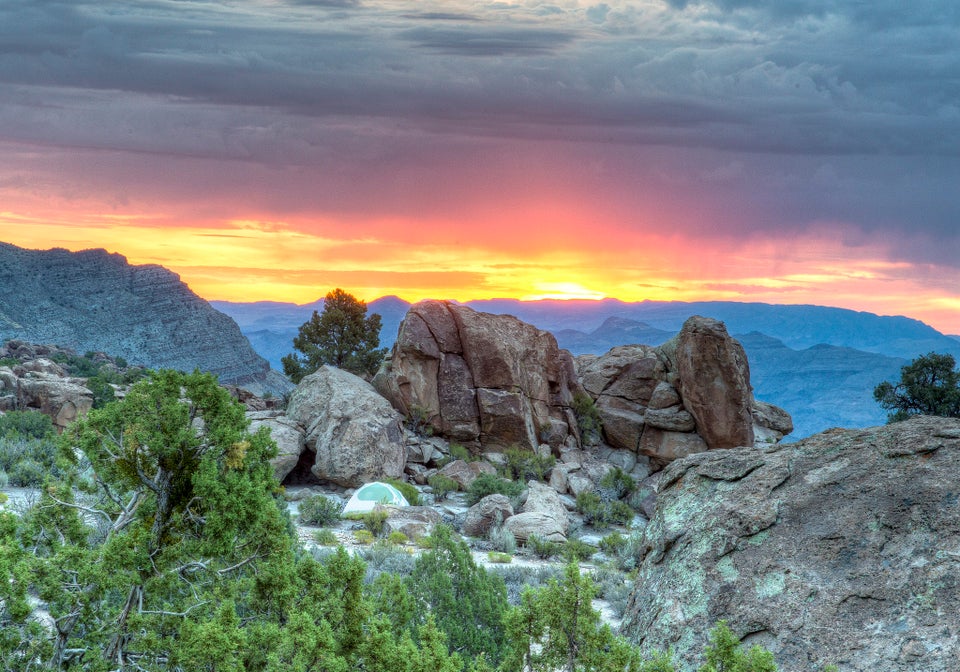 National Monuments Threatened By Donald Trump's Executive Order
Popular in the Community