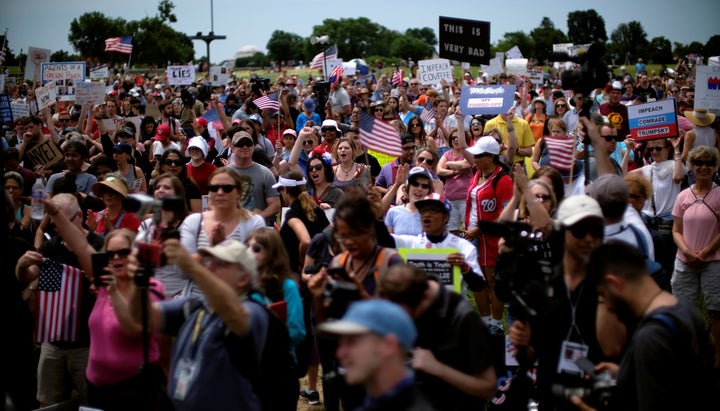 Most Americans look around today and say the national mood is "everyone for themselves," according to YouGov/Economist tracking polls. That 65 percent is up 15 points since President Donald Trump was inaugurated in January.
Fifteen percent judge the mood more positively as "We're all in it together" ― that's down 7 points since January ― and 20 percent aren't sure.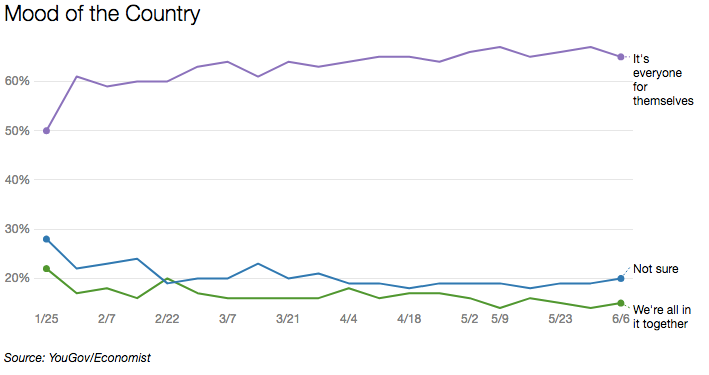 Compared to other metrics, there's not much of a partisan gap. In the latest poll, Democrats, at 70 percent, are the most likely to say it's everyone for themselves. But the majority of Republicans and independents agree, at 61 and 63 percent, respectively.
There's somewhat more of a divide along the lines of the 2016 vote. Seventy-five of Americans who voted for Hillary Clinton think it's everyone for themselves, but only 59 percent of those who voted for Trump say the same.
MORE OF THE LATEST POLLING NEWS:
JAMES COMEY IS TRUSTED OVER TRUMP - HuffPollster: "Americans largely believe that former FBI director James Comey is more trustworthy than President Donald Trump, a new HuffPost/YouGov poll finds, although his testimony did little to change minds about the seriousness of the relationship between the White House and Russia. ... By a 20-point margin, 46 percent to 26 percent, Americans say Comey is more honest and trustworthy than Trump, with the remainder unsure. ... Americans also put relatively more faith in Comey's recollection of events. Half believe that Trump asked Comey to pledge loyalty to him, as Comey testified on Thursday, with just 15 percent believing Trump's disavowal of having done so. Among those who believe that Trump did ask for Comey's loyalty, 71 percent call the question inappropriate. ... Americans say, 44 percent to 31 percent, that the Trump administration's relationship with Russia is a legitimate issue, with the remaining quarter unsure." [HuffPost]
THE CENSUS, AMERICA'S "ECONOMIC SECRET WEAPON," IS IN TROUBLE - Michael McAuliff: "When most people think of the U.S. Census Bureau, they probably don't think of an agency that supercharges the profitability and efficiency of American businesses. Nor do they realize that one of the economy's best secret weapons is facing its greatest crisis since James Madison and Thomas Jefferson created it in 1790. ... But Congress and the White House don't seem to share the same high estimation of the Census Bureau, judging by the money they are willing to spend as it gears up for two of the most challenging statistical counts on the planet ― the constitutionally mandated 2020 enumeration of every person in America, and the 2017 Economic Census. ... The GAO had already labeled the 2020 Census as 'high risk,' noting that the bureau was treading into a lot of new territory that it was not especially well-equipped to handle, especially on the technological front." [HuffPost]
WHAT TO WATCH FOR IN VIRGINIA'S GUBERNATORIAL RACE - Harry Enten previews Tuesday's primaries: "Two Democrats that previously had moderate records, Lt. Gov. Ralph Northam and former Rep. Tom Perriello, are fighting over who is the most anti-Trump. Neither has held a consistent lead in the publicly released polls. On average, the race is basically tied; Northam is up 40 percent to 39 percent. But the polls show a wide range of possible outcomes — anything from a Northam blowout to a high-single digit lead for Perriello. ... Meanwhile, on the Republican side, former Republican National Committee Chairman Ed Gillespie is favored. But he is struggling to find a comfortable position on President Trump, and he's trying to hold off former Trump statewide Chairman Corey Stewart. Gillespie is a mainstream Republican who has critiqued Trump at some points in the past and has generally tried to steer clear of him on the campaign trail. Keeping Trump at arm's length, however, has drawn criticism from Stewart, who has tried to recreate the populist uprising that benefited Trump in 2016. ... The polling has been limited, but Gillespie has led in every poll but one by 15 percentage points or more." [538]
NEW SURVEY FINDS A TIED RACE IN GA-06 RUNOFF - Tim Darnell: "With one week to go in the nation's most expensive congressional election in history, Karen Handel and Jon Ossoff are tied in the race to replace Tom Price, according to an exclusive new 11Alive poll conducted by SurveyUSA. ... As of Friday, June 9, more than 75,000 early votes had been cast, according to the Georgia Secretary of State. Among those survey respondents who told SurveyUSA they have already voted, Ossoff leads by 19 points. Among those who said they had not returned a ballot but will do so before the deadline, Handel leads by 14 points. ... Three weeks ago, an 11Alive/SurveyUSA poll had Ossoff 7 points ahead of Handel. This latest poll includes fewer high-school educated and fewer lower-income respondents than did the previous survey." A recent Atlanta Journal-Constitution poll gave Ossoff a 7-point edge, with other surveys since May largely showing Ossoff up by only 1 to 3 points. HuffPost Pollster's average gives Ossoff a very slight advantage, with just over 49 percent to Handel's just under 47 percent. [11Alive, Pollster chart]
'OUTLIERS'
― Links to the best of news at the intersection of polling, politics and political data:
-Patrick Murray provides some historical context for impeachment polling. [Monmouth]
-Kevin Quealy examines the partisan leanings of religious leaders. [NYT]
-Claude Brodesser-Akner reports on turnout in New Jersey's gubernatorial primaries. [NJ.com]
-Gary Langer and Chad Kiewiet de Jonge discuss the use of multilevel regression with post-stratification, or MRP, for election predictions. [WashPost]
-The New York Times charts the results of the U.K.'s election. [NYT]
-Andreas Murr, Mary Stegmaier and Michael S. Lewis-Beck analyze how U.K. forecasting performed. [WashPost]
-Andrew Reynolds notes the record number of LGBTQ people elected to the U.K. Parliament. [WashPost]
Popular in the Community