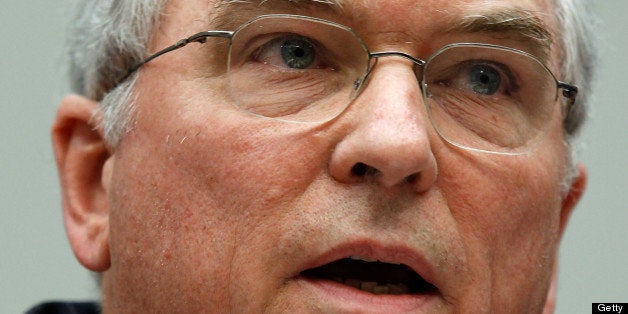 State and federal regulators are weighing whether to impose additional restrictions on the mortgage practices of five of the nation's largest banks after numerous complaints of harm to borrowers.
A group of state attorneys general and the U.S. Department of Housing and Urban Development have had advanced discussions with at least two big banks about further restricting so-called dual-tracking, officials said -- the process of simultaneously pursuing home seizures while considering borrowers' applications for alternatives such as loan modifications.
The discussions are the result of complaints related to provisions in last year's multi-state mortgage robo-signing settlement between dozens of government agencies and Bank of America, JPMorgan Chase, Wells Fargo, Citigroup and Ally Financial (formerly known as GMAC). The settlement has delivered tens of billions of dollars in mortgage aid to distressed borrowers, and had promised to reform how companies treat homeowners and pursue foreclosures.
While the companies have made broad strides in reforming servicing practices, officials said, much more improvement is needed.
Officials said they are considering changing current policy by agreeing with banks to halt foreclosure proceedings when borrowers first apply for loan modifications and provide basic information. Today, banks halt the process of repossessing a borrower's property once banks deem the applications complete, a process that can take months. During that time, foreclosure proceedings generally continue.
Talks are fluid and the legal language that would accompany a change is still being sorted out, officials said.
But the change, if implemented, may further reshape how mortgage companies interact with distressed borrowers. For years, officials and borrower advocates have complained that the largest banks frequently string borrowers along for months by repeatedly requesting documents -- often the same batch of records -- before determining that the application is complete and evaluating them for modified loans. During this time, late fees and other charges rack up, ballooning the total amount owed, making a modification more difficult to achieve and pushing troubled borrowers into foreclosure.
By putting a halt on foreclosure proceedings after basic information is submitted, officials said they hope it may speed decisions on loan modifications and limit the amount of fees imposed on distressed borrowers.
In cases where requests are quickly denied, it also may hurry the foreclosure process so that borrowers and the owners of their loans are not stuck in a months-long limbo.
"The changes of the kind we're talking about is to get to the point where a borrower just gets an answer," said Joseph Smith, the government-appointed watchdog heading the Office of Mortgage Settlement Oversight. "The answer doesn't have to be yes. The answer is simply going to be yes or no."
Consumer advocates, who have long called for changes to dual-tracking procedures, praised the move.
"It's about time we put a stop to dual-tracking, a practice that has caused rampant borrower confusion and has resulted in unnecessary foreclosures that devastate families and reduce recovery for investors," said Julia Gordon, director of housing finance and policy at the Center for American Progress.
Federal regulators, investors in mortgage securities and industry executives previously have criticized government policies that lead to delays in home repossessions. They've argued that quicker foreclosures would enable faster transfers of properties from borrowers who can't afford them to those that can.
Officials said they had hoped to implement this kind of restriction on dual-tracking when they were negotiating the settlement, prior to the deal being reached in February 2012. Negotiators for the government and the banks had reached an agreement on dual-tracking, but it fell apart by the end of the talks.
HUD Secretary Shaun Donovan said bank practices that lead to delays on modification decisions for borrowers "can cause enormous harm" for households.
Tom Miller, Iowa attorney general, said delays in processing applications for mortgage modifications "can serve as a proxy" for the myriad problems that have plagued the mortgage industry in the wake of record defaults and home seizures since the housing bubble burst a few years ago.
Delays in processing mortgage modification requests "are the number one problem in servicing today," one official said.
It's unclear how the proposed changes could affect the roughly half of U.S. home loans that are owned or guaranteed by government-backed mortgage financiers Fannie Mae and Freddie Mac.
Fannie Mae and Freddie Mac prevent companies that service their mortgages from pursuing foreclosure within the first 120 days of a borrower falling behind on payments, so long as the homeowner and the mortgage servicer are "engaged in a good-faith effort to resolve the delinquency."
Companies that service Fannie Mae and Freddie Mac mortgages also have begun to automatically offer distressed borrowers trial loan modifications that would become permanent upon three consecutive timely payments. Under the terms of their program, which officially begins July 1, borrowers do not have to submit documents and application materials to obtain a reduced monthly payment requirement.
Borrowers are encouraged to seek better modification offers by formally applying through their mortgage servicers, however.
The panel of regulators and prosecutors overseeing the settlement may strike a deal with the banks to tighten up the dual-tracking restrictions. Or, Smith may begin to grade the banks' compliance with the settlement's provisions in a way that would effectively achieve the same outcome. Smith's team is looking to implement up to four new tests that would be used to grade the banks' compliance.
Two would involve testing the effectiveness of banks' implementation of a requirement to provide a "single point of contact" for distressed borrowers looking to avert foreclosure, Smith said. Another would involve modification requests, while a fourth would grade how well the banks are correctly updating borrowers' account information as they pursue foreclosure alternatives such as loan modifications.
Smith said he hopes to finalize the details within a month.
Calling all HuffPost superfans!
Sign up for membership to become a founding member and help shape HuffPost's next chapter
BEFORE YOU GO
PHOTO GALLERY
More Crazy Examples of Congressional Theatrics