Today is #WhyILoveMuseums day on Twitter, and we decided to spotlight an upcoming exhibition that shows what a museum is capable of: illuminating the past to change the future! The National Museum of Women in Arts (NMWA) in Washington, D.C. presents a groundbreaking exhibition featuring female artists from 1750-1850, many of whose rare works could only be seen in a handful of French institutions.
Although the art world is forward-thinking in many respects, women remain underrepresented in a vast majority of museums and galleries. In 1989, the feminist artist group "Guerilla Girls" reported that only 5% of modern paintings in the Metropolitan Museum of Art were women, though 85% of nudes were. Recently we have seen a surge of women-only exhibitions, such as LACMA's "In Wonderland", directing attention to female artists who have been less appreciated than their male contemporaries. The National Museum of Women in Arts is working to change these statistics as well; they are currently the only museum solely dedicated to celebrating the achievements of women in the arts.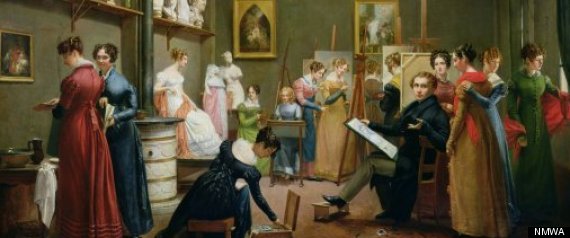 Adrienne Marie Louise Grandpierre-Deverzy, "The Studio of Abel de Pujol".
The NMWA's exhibition, entitled "Royalists to Romantics: Women Artists from the Louvre, Versailles, and other French National Collections", features women's talents and women's stories from the tumultuous time during and after the French Revolution. The struggles of Louis XVI, the gossip of Marie Antoinette, the glory of Napoleon, and many moments in between are finally depicted from a woman's point of view.
The exhibition features 77 rarely-seen works taken from museums and libraries all over France. Although the works on view seem far away both temporally and geographically, the exhibition may illuminate more similarities than you would expect. NMWA curator Dr. Jordana Pomeroy explained: "The exhibition will illuminate a burgeoning area of art history that describes a rich, active, and compelling art world as complex and layered as our art world today."
Exploring the role of female artists at this time, the works will address the issues faced specifically by women, such as learning their craft while being excluded from academic training and being subjected to scandalous accusations because of their gender. The works do not only show what women create, but explains the burdens they overcame to do so.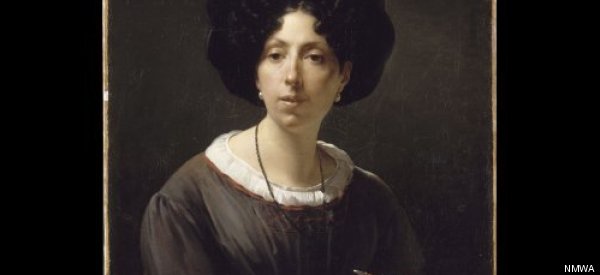 Antoinette Cécile Hortense Haudebourt-Lescot, "Self Portrait."
"Royalists to Romantics" will be on view at on view at the NMWA, now until July 29, 2012, and also at Nationalmuseum, Sweden in Stockholm from September 27, 2012 – January 20, 2013. The exhibition features 35 artists including Marguerite Gérard, Antoinette Haudebourt-Lescot, Adélaide Labille-Guillard, Sophie Rude, Anne Vallayer-Coster, and Elisabeth Vigée-Lebrun. It is accompanied by a 135 page fully-illustrated catalogue available through Scala Publishers.
Which era of women artists would you like to see get its own exhibition? Let us know!
Calling all HuffPost superfans!
Sign up for membership to become a founding member and help shape HuffPost's next chapter
BEFORE YOU GO