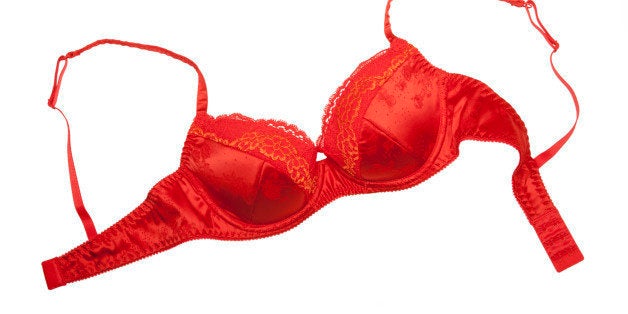 When I attended Girl Scout camp as a rising fifth grader, I was flat as a board. I overheard one of my tent mates say, "She's a carpenter's dream."
I had no idea what she was talking about. All I could think of was wood and nails. "I don't get what she means, do you?" I asked another camper.
"It means you have no tah-tahs," she answered.
I didn't get what that meant, either.
My friend saw my confusion and tried to clarify non-threateningly, "You have no 'girls,'" she said as she looked at my chest.
I looked down. Straight down. There were no obstructions from my head to my toes. Nothing. Not one single thing, not even two little things, got in my line of view. At age 11, bazoomas eluded me.
During free time that Sunday, I sat on my bed (which was really a cot) and wrote to my mother. I remember the stationery well: It was the smooth side of a piece of bark that we stripped off a tree during a recent hike. Our counselor told us that, in the olden days, people used to write letters on birch bark.

Dear Mom,

Hi. How are you and Dad? Does Patsy [my dog] miss me? Oh, and can you send me a trainer bra? Everyone in my tent wears bras and everyone is making fun of my undershirts. I also think a bra will make it easier for me in sports.
I was certain making that last point would convince my mother that the time had come. And who knew? Maybe wearing a bra would give me the self-confidence to run fast(er) when we sprinted to the lake for free swim.
At mail call later that week, I received a puffy envelope. I knew exactly what was in it.
"Wow, you got a present in the mail today," a few of the girls said.
"Yeah, it's probably nothing," I said. But getting my first bra was a really big deal. Even though I hadn't yet gotten "my friend," a bra was a solid first step to womanhood.
When I returned to my tent, I opened the envelope. A light pink training bra was wrapped in white tissue paper. A little note from my mom said, "You are such a big girl now."
I immediately turned my back to my tent-mates and slipped the bra on over my head. From the back, the bra strap looked really impressive.
The unimpressive part, though, came when I lifted my arms to put my shirt back on. With nothing to hold down the trainer bra, it raised up under my armpits.
I thought I heard some tittering, but it was probably my imagination.
"Yeah, I started wearing a bra this summer," I could hear myself telling my BFFs when I got home in August. I would try to be casual but boy, did I feel cool.
That was more than four decades ago. Now wearing a bra is about as exciting as vacuuming with your very own vacuum cleaner.
So imagine my delight when I learned that July 9th is National No Bra Day. What does this mean exactly? For a solid 24-hours, feel free to bust out of the confines of your brassiere, sports bra and bustier. And if some boob stares at you (or at your chest) with question, just say, "Today is for the 'girls'."
Along with feeling unbridled and uplifted, you will feel gratitude to your mom for getting you into training, many moons ago, for this very important day.
Support HuffPost
The Stakes Have Never Been Higher
Related
Popular in the Community