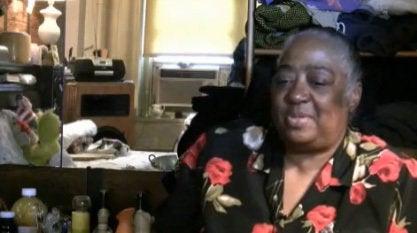 The not-for-profit Visiting Nurse Service of New York, where I work, was founded by Wald in 1893. Wald lived in the immigrant neighborhoods where she worked, and understood the importance of building trust within the community. She was committed to bringing care to those who for myriad reasons were not able to get to a doctor or a hospital. She also understood that illness in the home reflected larger societal problems. As a Public Health Nurse myself, I'm in the trenches everyday dealing with illnesses that reflects society's struggle to make healthy choices and create policies that support and sustain them.
In my role as Hypertension Clinical Coordinator for the Home-Based Intervention for African Americans Project at VNSNY, I'm charged with helping patients make healthier choices about the food they eat, the exercise they get (or don't get), and the way they communicate with their doctors. Like Lillian Wald, I'm there to notice if depression is setting in, if ankles are swelling, if the scales are inching up, or if there are other symptoms that aren't getting mentioned or remembered during doctors' visits.
For many patients, food is the centerpiece of social and cultural activities, and making changes does not come easy. Our hypertension program is focused on helping patients understand why they need to make changes--but we don't just leave them there alone and say "do it." We come to them, we see what's in that fridge, we help them log their blood pressure and ask about the ups and downs. We stick with them over the long haul and help them understand and accept responsibility while supporting them through difficult changes. We encourage them to get up and outside, go down to their water aerobics class, or over to the church food pantry so they can share with their friends and neighbors. As home care nurses, we engage and stay involved.
One of my favorite patients was a nurse herself in her heyday. She understands how important it is to stick to her diet, but she's getting older now and like most of my patients she needs encouragement
sometimes--especially when it feels like her "body is turning on her."
She is always grateful when I check in, and I enjoy hearing what she's up to. When she forgets to take her meds on time, or has one too many "sweeties," I help her get back on track. It took her a while to open up, but once she did, we developed quite a bond. What home care nurses really understand is that when you listen and give people time, they let you in, not only to their homes, but to their hearts as well.
Before joining VNSNY, I worked in some of New York's busiest hospitals for more than 20 years. It was very exciting and important work, and I'm glad I did it. But somehow I think what I do now has an even bigger impact on people's lives.
Hypertension, diabetes and heart disease are real problems for real people, many of whom need help managing their illnesses and adapting their lives. My patients and I develop lasting relationships. I know their friends and family. I become a part of the fabric of their communities. We connect at home, where the biggest changes need to happen.
When I can really sit down with someone and understand how they live, what they like to do, who their friends are, where they go to church--they trust that when I say I'm there for them, I mean it. I'm not just advising and moving on to the next patient, I'm getting to know someone and how they move about their community.
Another patient that I visit at home is a gentleman who suffered a brain aneurysm last year and after two surgeries was going through rehab. He was starting to get impatient and stressed about getting better, so we worked with him to develop rehab goals. We helped him visualize going to the corner store to shop and used that motivation to get him moving toward the goal. We enlisted an entire team, from the rehab specialist to his wife and sister so he never felt alone or unsupported. With patience, support and clear goals, my gentleman made it to the corner store and back and now has his sights on getting to the bus stop!
At the end of the day, the basic care of patients--attending to the physical, emotional and spiritual needs, does not change. It's the same today as it was in the late 1800s when a little girl ran into Lillian Wald's nursing school classroom and compelled her to follow the child home where she found the child's mother hemorrhaging after giving birth two days earlier. The compassion, skill and understanding we have for our patients must always be there.
National Nurses Week gives us an opportunity to honor those pioneering spirits who came before, as well as those who work in the trenches today. Nursing is a profession that can adapt to changes in the health care environment, and as the Baby Boomer population continues to age, I predict that home care will become more and more important as a way to keep Americans healthy, independent and thriving in their own homes.
Lillian Wald wouldn't have wanted it any other way.
Check out these related posts from Paula Wilson, RN at VNSNY: