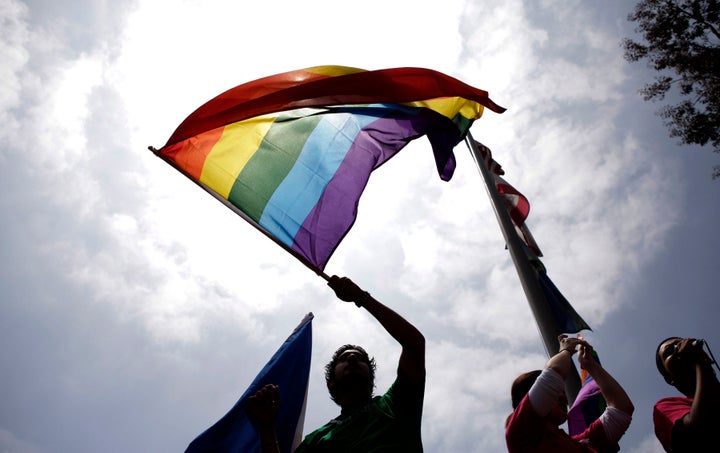 WASHINGTON -- In 2008, the owners of a Sacramento ice cream parlor donated thousands of dollars to support Proposition 8, which would ban marriage equality in California. Gay rights activists, unhappy with the owners' actions, posted negative reviews of the company online. Protesters also stood outside the shop and handed out free rainbow sherbert and waved signs reading "I love rainbow sherbert" and "It's a rocky road to equality."
That is just one of the examples that the National Organization for Marriage has cited as evidence of the "countless reports of threats, harassment, and reprisals" that marriage equality opponents have faced by LGBT activists.
In another instance in Washington state, an opponent of marriage equality was collecting petition signatures to challenge a law granting legal protections to same-sex couples, when two ladies "glared at him and one said 'we have feelings too.'" He did not report the incident to the police.
In state after state, judges are finding that these sorts of examples do not actually constitute "harassment," and they're rejecting NOM's requests to therefore keep its donors secret and be exempt from campaign finance disclosure laws.
NOM's strategy is essentially reversing the traditional argument -- that gay individuals frequently face harassment -- and arguing instead that gay individuals are the harassers.
But four federal judges and three state boards in seven states -- California, Iowa, Maine, Minnesota, New York, Rhode Island and Washington -- have all found NOM's evidence to be lacking. Not a single state has backed up NOM.
NOM did not return a request for comment for this article.
The latest setback for NOM came in California. In October, a federal judge in Sacramento, U.S. District Judge Morrison England, Jr., ruled that NOM and the pro-Proposition 8 group ProtectMarriage.com, a coalition of religious conservatives, was not exempt from state disclosure rules and therefore ineligible to keep their donors secret.
"First, while Plaintiffs characterize their evidence as voluminous and comprised of 'virtually countless reports of threats, harassment, and reprisals' ... they have pointed to relatively few incidents allegedly suffered by persons located across the entire country who had somehow manifested their support for traditional marriage," England wrote in his opinion in ProtectMarriage.com v. Debra Bowen, which was filed on Nov. 4.
"In addition, the vast majority of the incidents cited by Plaintiffs are arguably, as characterized by Defendants, typical of any controversial campaign," continued England. "For example, picketing, protesting, boycotting, distributing flyers, destroying yard signs and voicing dissent do not necessarily rise to the level of 'harassment' or 'reprisals,' especially in comparison to acts directed at groups in the past. Moreover, a good portion of these actions are themselves forms of speech protected by the United States Constitution."
Federal Judge Benjamin Settle, who was nominated by President George W. Bush, came to a similar conclusion in Doe v. Reed, which was filed on Oct. 17.
"Doe [the plaintiff] has supplied no evidence that police were or are now unable or unwilling to mitigate any claimed harassment or are now unable or unwilling to control the same, should disclosure be made. This is a quite different situation than the progeny of cases providing an as-applied exemption wherein the government was actually involved in carrying out the harassment, which was historic, pervasive and documented," he wrote.
Despite these setbacks, gay rights advocates are warning that NOM will still be a force in the 2012 elections.
"Independent courts and judges have created a historical record documenting NOM's fake victimization crusade," said Kevin Nix, spokesman for the Human Rights Campaign. "But make no mistake: the group remains a tour de force next year when it comes to stopping marriage equality and electing anti-equality candidates at the federal and state levels -- particularly under the leadership of NOM's extremist new chairman."
A less-noticed part of that pledge also binds the presidential contenders to setting up a "presidential commission on religious liberty to investigate and document reports of Americans who have been harassed or threatened for exercising key civil rights to organize, to speak, to donate or to vote for marriage and to propose new protections, if needed."
"Many of the Republican presidential hopefuls were duped into taking NOM's pledge that is substantively and morally empty, one which is based on claims that have been soundly rejected by even conservative federal judges," said HRC President Joe Solmonese. "I urge the candidates to reconsider and retract their pledge. It's doubtful that most Americans would look fondly upon a candidate whose plan is to walk into the White House with a plan to launch baseless investigations of their fellow citizens."
NOM has faced losses like the ones in Washington and California in five other states.
In Maine, NOM spent $1.8 million to oppose the referendum on marriage equality, according to the website NOMExposed.org, which is a project of the Human Rights Campaign the Courage Campaign. In March, the 1st Circuit Court of Appeals sided with the Maine Ethics Commission and ruled that the group needed to disclose its donors.
"These [disclosure] provisions neither erect a barrier to political speech nor limit its quantity," the appeals court opinion stated. "Rather, they promote the dissemination of information about those who deliver and finance political speech, thereby encouraging efficient operation of the marketplace of ideas."
NOM wanted to run ads in support of Republican Carl Paladino's failed bid for New York governor in 2010, but it didn't want to register as a political action committee and therefore be required to disclose its donors. In 2010, a federal judge rejected NOM's argument.
The First Circuit Court upheld a ruling by a Rhode Island court, which upheld the application of the state's disclosure laws to NOM's anti-gay marriage campaign spending in 2011.
A state board in Iowa informed NOM in 2009 that it would have to disclose its donors after the group sent a nationwide email to supporters asking for donations to be used in a ballot campaign against gay marriage in the state with a helpful reminder: "best of all, NOM has the ability to protect donor identities."

Popular in the Community