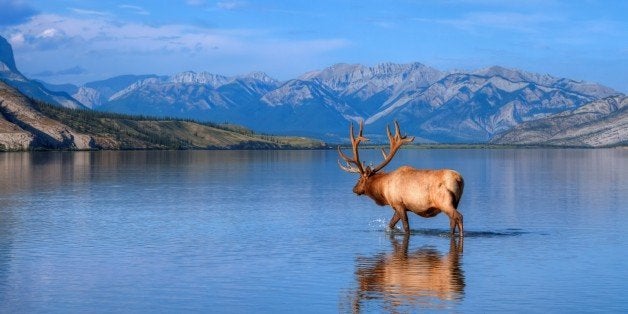 Next year, in August, the National Park Service will celebrate its official centennial. Throughout the year the men and women who bear the title of United States Park Ranger will honor themselves, and those who preceded them, for 100 years of service to protect the greatest collection of natural, historical, and cultural wonders anywhere on Earth.
It's a huge deal for an incredible group of patriots!
Why am I so sweet on the Park Service? I've spent the last six months on a massive road trip across the United States gathering media to help document next years celebration, and the incredible Rangers who make it all possible.
Let me begin by putting some of our stunning Parks into perspective:
Forest Canyon Overlook -- Rocky Mountain National Park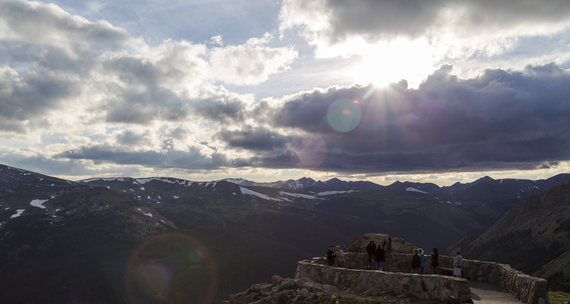 The Rocky Mountains form the spine of North America, and contain a variety of America's most breathtaking Parks. To reach this view you can ascend Trail Ridge Road, the highest continuously paved road in the United States, cresting at 12,183 feet and closed to use for more months than it is open. To reach this perspective (in a motor vehicle) you must travel through Rocky Mountain National Park in Northern Colorado between early June and mid-October, and millions choose to make the journey each year (3.4 million in 2014).
Sliding Sands Trail - Haleakalā National Park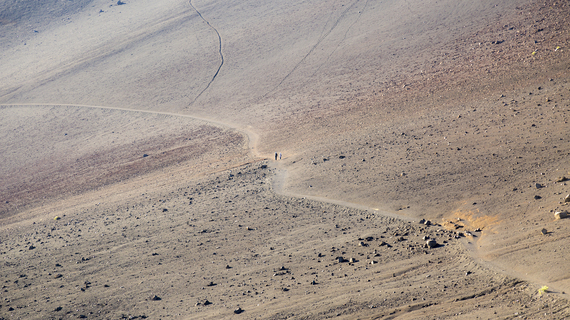 From this perspective it may seem unlikely that this photograph was taken in one of Hawaii's two great National Parks, but it's true. This 'moonscape' is near the summit of the Haleakalā crater on the island of Maui, and those two tiny 'ants' are actually hikers walking down the Sliding Sands Trail at dawn.
General Sherman Trail - Sequoia National Park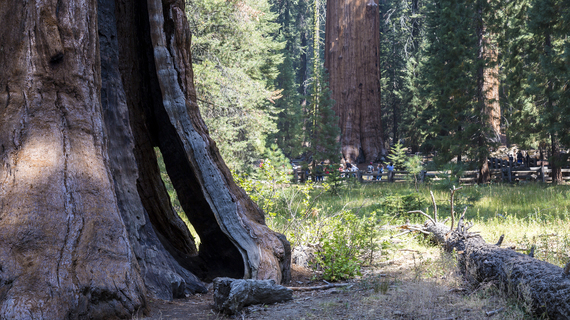 What would you look like standing next to one of the world's largest trees? If I told you the world's largest tree (the General Sherman Giant Sequoia in Sequoia National Park) was 275 feet high, 25 feet in diameter, and 52,513 cubic feet in volume, would that help you imagine what you might look like standing next to her? Make sure to wish General Sherman and her sisters a happy birthday when you visit; 2500 years is a long time to be alive.
High Dune - Great Sand Dunes National Park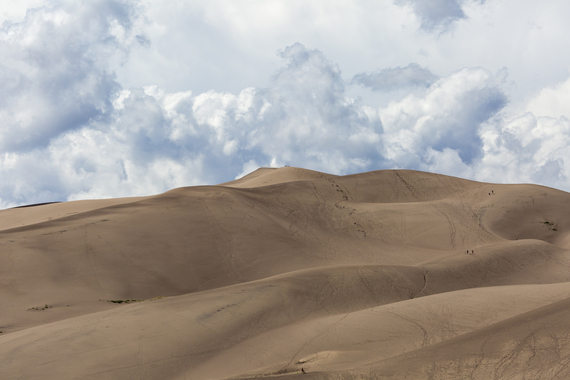 I'd swear an oath on any book of your choosing that I took this photograph in the State of Colorado. The sands of the Sahara in countries like Morocco or Tunisia don't look quit like this (and they have a totally different origin), so what you're looking at is completely and totally American. Here's the perspective: the tallest dune in this shot is about 700 feet tall and the tallest person in this shot is about 6 foot 2 inches tall.
Boquillas Canyon Overlook - Big Bend National Park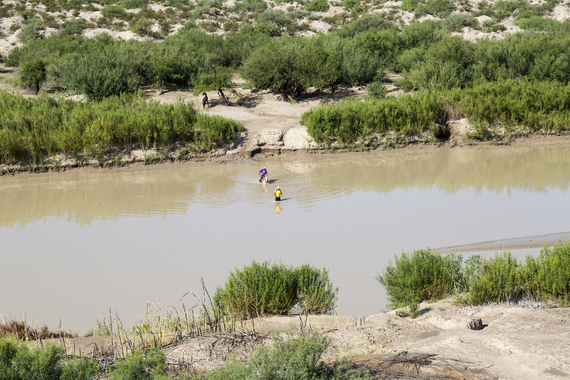 The Rio Grande River doesn't just cut the southern border of the United States with Mexico, it also cuts the southern border of Big Bend National Park, a rarely visited gem tucked in the "bend" of South Texas. Imagine the Rio Grande you see here suddenly, and dramatically, slicing through solid rock to form slot canyons; your imagination would lead you just downstream (and upstream) of this photograph, where rappelling equipment would be needed to make a crossing instead of just wading across.
Aialik Glacier - Kenai Fjords National Park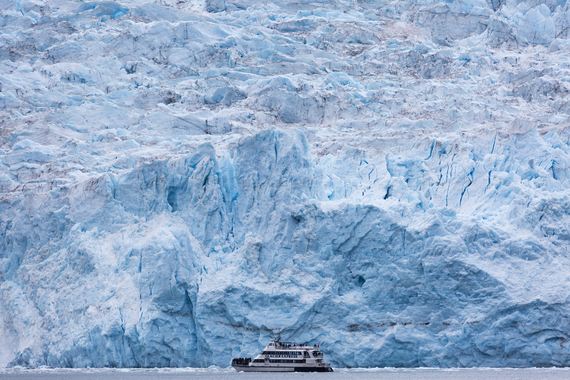 I wanted to include discernible people in all of my perspective photographs to give you an idea of size and scope, but you get the idea (if you can identify an individual person in this photograph your eyes are better than mine). Set adjacent to the Aialik Glacier's tidewater face one can appear small, very very small. Seeing a glacier, any glacier, up close and personal, fills one with an instant sense of awareness of the future that could be if they were to disappear completely.
Blue Forest Trail - Petrified Forest National Park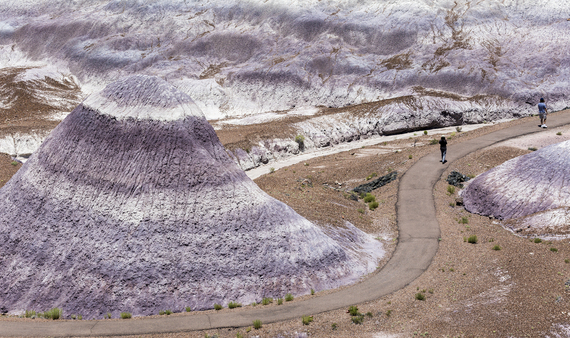 These colorful badland mounds in Northeastern Arizona contain a secret. As rain and wind sculpt their shape, eating away at their relatively soft skin, a sea of petrified trees is revealed. This allows visitors to feel what it's like to hike through a forest where not a single tree hasn't turned to stone.
Ruby Beach - Olympic National Park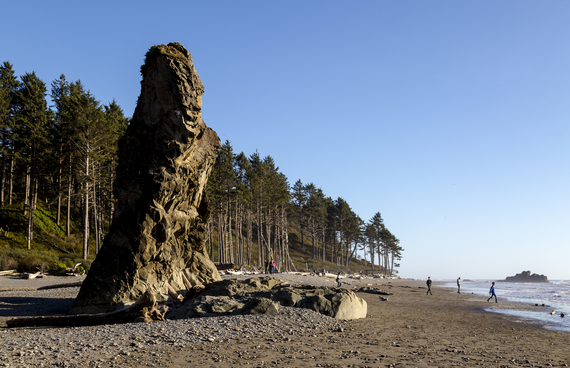 Photographs can sometimes apply a skewed optical perspective, making certain objects seem larger than life. The sea stacks of Washington State's Olympic National Park are impressive, but not quite as monolithic as this one may seem. Some of them can be ascended for an even more impressive perspective of this seaside Park.
Queens Trail - Bryce Canyon National Park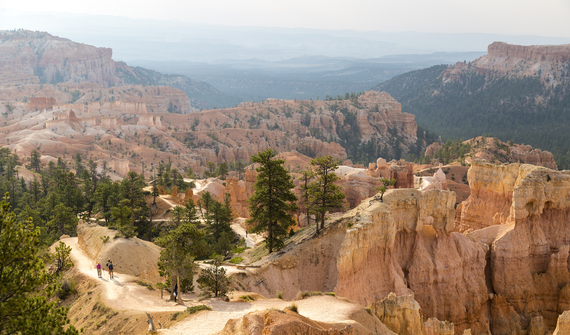 Anyone would forgive you for saying you never learned what a hoodoo was in school. But not only can you become a hoodoo expert, you can also hike down beside them, thousands of them, in the surreal, Bryce Canyon National Park. A hoodoo is a tall thin rock spire that protrudes from a desert landscape, usually in a spectacular fashion (apparently it's also a form of black magic; thank you Merriam-Webster).
Rock Point - Black Canyon of the Gunnison National Park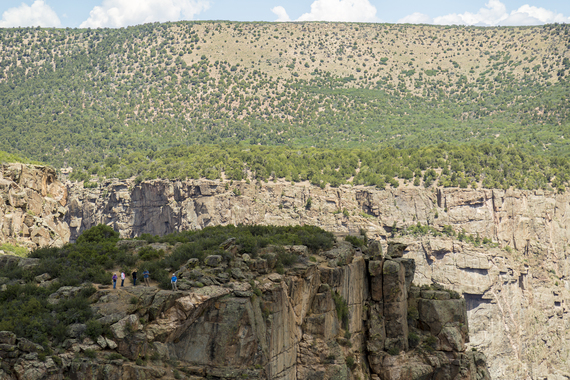 When I first saw the Black Canyon of the Gunnison (in central Colorado) I was dumfounded. I'd heard about, and seen countless images of, the Grand Canyon, but never a one about the Black Canyon. I'll leave it to you to imagine how far down these visitors in the photo can look to see the river below.