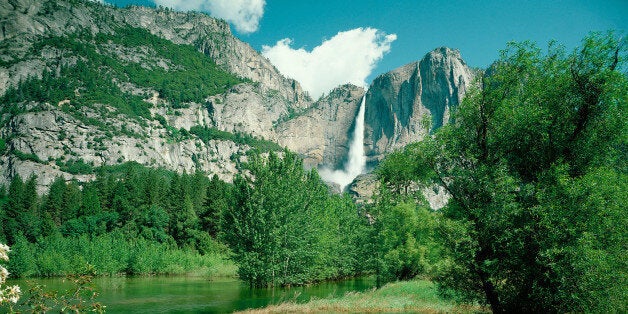 Thanks to the government shutdown, all 401 national parks are closed. This is unfortunate for many reasons, but it's also bad for any number of would-be tourists who made plans and booked flights to visit these parks; this is, after all, primo leaf-peeping season in many of the parks.
You were supposed to go to: Acadia Go instead to: Bar Harbor or Portland. If you're headed to Acadia, chances are you were going to stay in Bar Harbor, considering the town is nestled in the park. But head further south and check out the growing foodie city of Portland (be sure to check out Coastal Maine Popcorn Company for deliciously inventive bites).
You were supposed to go to: Great Smoky Mountains Go instead to: Though it's cross state lines, drive the 80 miles east to Asheville, North Carolina. The new "craft beer capital of America" offers not only brews, but also great fall hiking spots (October is its peak month for leaf-peeping) and food galore.
You were supposed to go to: Mt Rushmore and Badlands Go instead to If you're making the trip to Mount Rushmore, you were probably also going to go see Badlands or the Black Hills National Forest. Instead, make good use of your car and drive around the state. Nearby to Mount Rushmore sits Rapid City, which has a small but nimble art scene. There's also a burgeoning wine scene . It's about a three-hour drive to Pierre, but it's well worth the schlep.
You were supposed to go to:Yellowstone Go instead to: Any number of places. Tucked away in the corner of Wyoming, Yellowstone offers opportunities for visitors to check out Jackson Hole (about a 57-miles) or head north towards Bozeman, Montana (roughly 80 miles). Or if you're looking for a longer jaunt, head north to Whitefish, Montana, which boasts wonderful hiking, biking and fishing (it's also next to Glacier National Park).
You were supposed to go to: Yosemite Go instead to: Luckily, Yosemite isn't far from California wine country. Often, Yosemite is a day trip from San Francisco and parts of Napa and Sonoma counties (although that's a bit more of a trek). Keep yourself busy in the charming downtowns of Napa, St. Helena and Yountville. Or head south towards Carmel and Monterey.