The looming government shutdown threatens to severely limit public access to America's national parks and deliver a crushing economic blow to communities that rely on park tourism.
On a call with reporters late Thursday, Biden administration officials detailed plans to shutter the majority of national park sites around the country in an effort to prevent the kind of damage sustained when the Trump administration opted to keep them open during the lengthy 2018-19 shutdown.
"We're on the precipice of a Republican government shutdown that would damage our communities, our economy, our national security and our public lands," a senior administration official said.
The federal government is set to come to a screeching halt when annual funds run dry at 12:01 a.m. Sunday, unless lawmakers in Congress are able to reach an eleventh-hour deal. A handful of House Republicans are currently standing in the way of a short-term funding solution.
The senior administration official stressed that a shutdown would "severely impact every corner" of the National Park Service, which manages 425 individual sites spanning more than 85 million acres.
"At National Park Service units across the country, gates will be locked, visitor centers will be closed, and thousands of park rangers will be furloughed," the official said. "Accordingly, the public will be encouraged not to visit sites during this period of lapse in appropriations out of consideration for protection of natural and cultural resources, as well as visitor safety. At the end of the day, the parks belong to all of us and we all share in their stewardship."
The previous two presidential administrations took entirely opposite approaches to managing national parks through lapses in federal funding. One was wildly unpopular, while the other resulted in widespread pollution, vandalism and damage to sensitive ecosystems.
During a 16-day shutdown in 2013, the Obama administration closed national parks and monuments from coast to coast ― a move that drew fierce public backlash. Signs went up that read, "Because of the Federal Government SHUTDOWN, All National Parks Are CLOSED." Barricades were erected around the National Mall in Washington. TV news aired footage of military veterans busting through blockades to access war memorials. Vacations and weddings were ruined.
Hoping to avoid a similar firestorm, the Trump administration kept sites open during the record 35-day shutdown of late 2018 and early 2019 ― albeit without rangers, restrooms and other visitor services. Unsurprisingly, parks and monuments fell into shambles. Trash and human waste piled up. Natural and cultural resources were vandalized and damaged. At Joshua Tree National Park, visitors built illegal roads, and cut down some of the park's namesake and imperiled trees. One man died after falling into a river in Yosemite National Park.
At the time, Jon Jarvis, a former director of the National Park Service, called the Trump administration's decision to keep parks open with bare-bones operations an "embarrassment."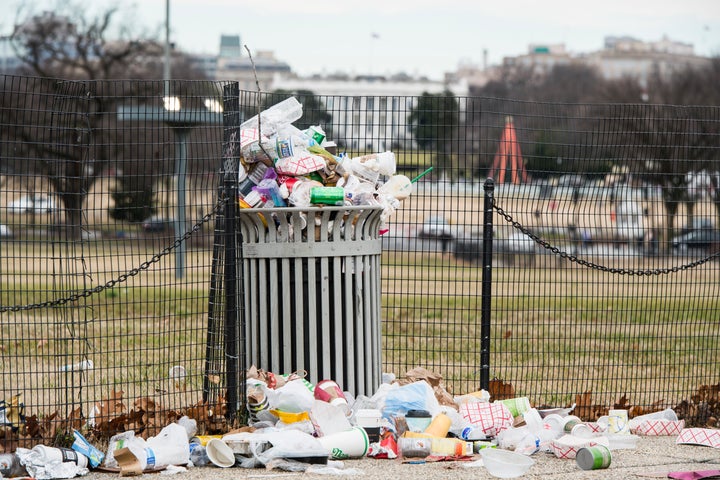 As problems mounted and drew intense media coverage, then-Interior Department Acting Secretary David Bernhardt issued an order allowing the National Park Service to dip into park entrance fees, typically reserved for operations and general maintenance, to combat the mess and keep sites open — a move that then-NPS Deputy Director Daniel Smith called an "extraordinary step" and that the Government Accountability Office later ruled was illegal. The government watchdog warned the agency that draining entrance fee dollars during any future shutdown would be considered "knowing and willful violations" of the law.
The Biden administration's plan for navigating parks through a lapse in funding "is based on lessons learned" from the Trump-era shutdown, the senior administration official said. Many park units are still recovering from the impacts of that event, including damage to facilities and resources, and the depletion of maintenance funds that parks rely on, the official said.
"It's not a pretty sight," the official said of the lingering impacts. "It was a very difficult and frustrating thing for the parks to recover from. And we've learned from that experience."
"A shutdown means something," the official added. "It can't be business as usual because we rely on appropriations."
Theresa Pierno, president and CEO of the National Parks Conservation Association, a nonprofit advocacy group, said in a statement that shuttering parks is a "worst-case scenario," but "necessary to protect our most treasured places" if Congress proves unable to strike a funding deal.
"During the last shutdown when parks operated with only skeleton crews, we watched helplessly as Joshua Trees were cut down, park buildings were vandalized, prehistoric petroglyphs were damaged, trash piled up, and human waste overflowed," she said. "And visitor safety at parks across the country was put at risk. We cannot allow history to repeat itself."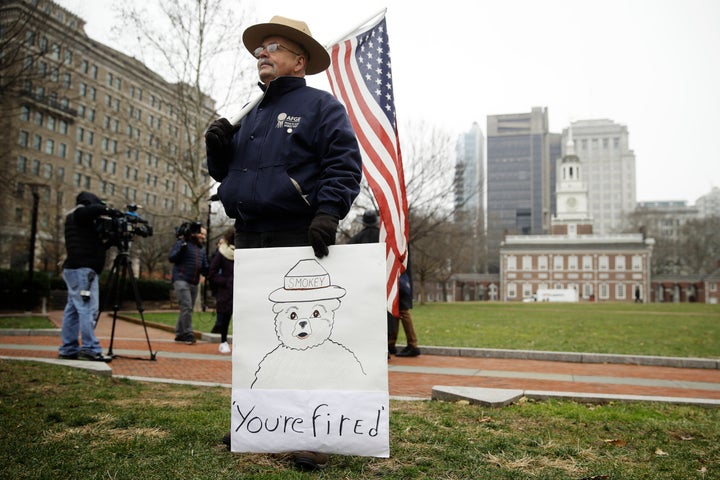 Pierno noted that a shutdown would have devastating ripple effects.
"Parks could lose more than $1 million in fee revenue every day they are closed," she said. "This money is critical for funding law enforcement, maintenance projects, visitor services and wildlife habitat restoration projects. Thousands of park staff would be furloughed without pay, and local businesses that rely on park visitors could be forced to close their doors with no guarantee of when they can reopen."
The Interior Department, the parent agency of the National Park Service, has not estimated exactly how many parks would close completely, other than to say a "majority." Some sites, including the National Mall and Memorial Parks in Washington, will remain accessible to the public, but with limited, if any, visitor services. NPS websites — including one for the popular Fat Bear Week competition, slated to kick off Oct. 4 — will go dark. Updates on road and trail conditions will come to a halt.
A full shutdown contingency plan for the National Park Service is expected to be released Friday morning.
Along with criticizing the Trump administration's actions during the 2018 shutdown, the senior Biden administration official on Thursday's call condemned the House Republican appropriations bill for the Interior Department, which proposes a 13% cut to the National Park Service's budget.
"Instead of pursuing these reckless cuts, we are hopeful that House Republicans will fulfill their obligation to keep the government open so the American public can enjoy the great outdoors without disruption," the official said.
Support HuffPost
The Stakes Have Never Been Higher
Popular in the Community