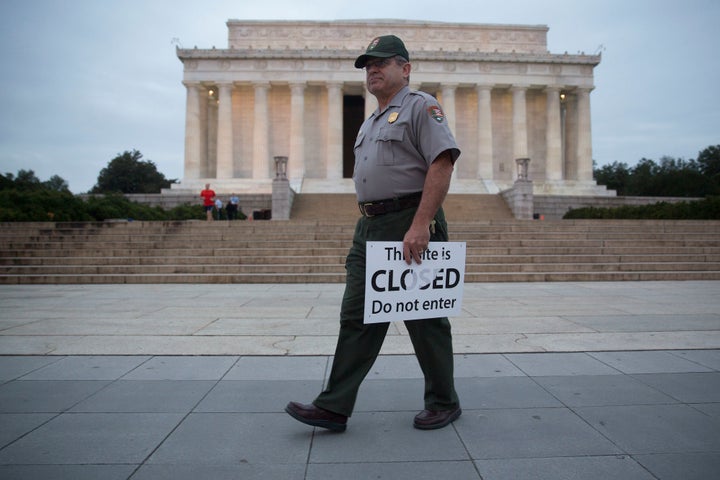 WASHINGTON — As a government shutdown grew increasingly likely this week, the Trump administration scrambled to find a way to keep America's national parks and monuments open — albeit without rangers, restrooms and other visitor services.
While the federal government appears woefully unprepared for a shutdown generally, the motivation for this particular exception seems clear: President Donald Trump and his team are looking to avoid the fiery backlash that the previous administration faced when it shuttered parks and monuments in 2013.
It's a move that puts natural and cultural resources at risk, critics warn.
Jon Jarvis, the former director of the National Park Service, dubbed it "incredibly idiotic." The park service is not going to be able to live up to its stewardship responsibilities, he told HuffPost on Friday.
"The great thing about national parks is that when visitors come, they have a certain expectation of the experience," Jarvis said. "That there will be rangers on duty. There will be information at the visitor center. … If they get lost, we're going to find them. If they get injured, we're going to rescue them."
What makes the U.S. park system the best in the world, he said, "is a professional corps of managers in the field that provide for that experience and protect the resource."
The Trump administration has notified National Park Service officials across the country to maintain public access at parks "unless access presents a serious and imminent threat to human life, safety, or health, or a serious and imminent threat to the condition of a sensitive natural or cultural resource."
Major national parks, including Yellowstone, Grand Teton, Yosemite and the Grand Canyon, were all scheduled to be open Saturday morning. Many war memorials and battlefields are also managed by the National Park Service. And Interior Secretary Ryan Zinke posted a photo early Saturday of himself with students at an open National World War II Memorial.
During a 16-day shutdown in 2013 — in the first year of President Barack Obama's second term, when Republicans controlled the House of Representatives and Democrats had a majority in the Senate — national parks and monuments were closed across the country. Barricades were erected around the National Mall in Washington. Signs were put up that read "Because of the Federal Government SHUTDOWN, All National Parks Are CLOSED." Vacations were ruined. TV news aired footage of military veterans busting through blockades to access war memorials.
If that experience proved anything, it was that closing parks and monuments is indisputably unpopular. And despite having previously threatened a shutdown, Trump seems to understand that Americans could be quick to blame him for any federal closures they don't like.
A day before the 2013 shutdown, Trump told Fox News that "problems start from the top." When people look back decades later, he said, they're "going to be talking about the president of the United States — who was the president at that time?"
Similarly, Zinke — who oversees an agency that employs more than 70,000 people and manages 500 million acres of land, including the 59 national parks — has spoken about the important role those parks play in how Americans view the federal government. In a speech to agency staff on his second day as secretary, Zinke called the parks "the face" of the Interior Department.
"For a lot of the millions of people who visit our parks every year, you're the face," he said. "So your uniforms, showing up every day, your professionalism, is how most of America views our department. And that's an enormous responsibility."
With the Republican-controlled Congress proving unable to fund the government by midnight Friday, visitors to U.S. parks, monuments and memorials are expected to face bare-bones operations — open access without those welcoming uniformed professionals.
Interior spokeswoman Heather Swift said in a statement Thursday that those public places would "remain as accessible as possible" in the event of a shutdown.
"The American public and especially our veterans who come to our nation's capital should find war memorials and open-air parks open to the public," she said. "Additionally, many of our national parks, refuges, and other public lands will still try to allow limited access wherever possible."
But former Interior officials warned that the administration's attempt to save face could backfire.
"With this new direction — where some things are open, some things are not, some things are going to be maintained, some things are not — and you're asking them to figure this out on the fly in 24 hours," Jarvis said. "That's where it's going to be a great deal of chaos."
Sally Jewell, who served as secretary of the interior during the 2013 shutdown, told The Atlantic that clearly the administration is trying to "reduce the heat," but it's "naive" to think that a few police officers can protect these sites.
"It's not realistic," she said, "and I think it's a lack of understanding of the roles that so many people play in the parks and, frankly, what [roles] volunteers play in the parks as well."
And Kate Kelly, public lands director at the Center for American Progress and an Interior official during the Obama administration, accused Zinke of "using the national parks as pawns in some political game."
"The National Park Service's mission shouldn't be held together by duct tape and bailing wire in order to lessen the public's blowback on the party that controls Congress and the White House," she said in an email.
As the head of the park service during the 2013 shutdown, Jarvis recalls facing a lot of the criticism. He remembers the deluge of media articles about parks being closed, the local economic suffering, the angry tourists, the weddings that had to be relocated.
"It's painful," he said. "The park service hates to do this stuff. We love to have the public come and see us."
But that doesn't justify keeping these sites open without proper staffing and services, he warned. Jarvis compared the plan to ordering the Smithsonian to close its doors but bring its collection outside for everyone to see.
"It's not like these areas are impervious to impact, to vandalism, to terrorism attacks, to damage," he said.
CORRECTION: A previous version of this story incorrectly stated that Republicans controlled both chambers of Congress in 2013. Only the House of Representatives had a Republican majority.
Support HuffPost
The Stakes Have Never Been Higher
Popular in the Community