OK guys, be warned: this is one of the most heartwarming stories you'll read on National Pet Day.
This story starts with an organization called Caregiver Volunteers of Central Jersey, which was created to assist homebound and disabled elderly with vital tasks in an attempt to help them stay independent. Many of these seniors have Alzheimer's, dementia, and various physical ailments.
When the founder of this organization, Lynette Whiteman, emailed me and told me that they bring therapy dogs -- many of them, adopted rescue dogs -- to visit these seniors, I nearly burst into tears of joy.
"The elderly who are homebound feel the loss of a dog in their lives very deeply," Lynette said. "They generally are life-long dog owners, but sadly, find themselves at a time in their life when their medical or financial situation does not allow them to have a pet."
During her home visits with seniors, Lynette found that conversation was sometimes challenging; but whenever she asked someone if they had a dog, it changed everything.
"They would light up right away, go off to find pictures of dogs they had, and start talking about them," said Lynette. "I thought, 'There are therapy dogs brought into nursing homes, so why don't we bring them into peoples' homes?'"
And that's exactly what she did. Now, there are 35 dogs enrolled in the program she founded, and 75 percent of them have been rescued from shelters.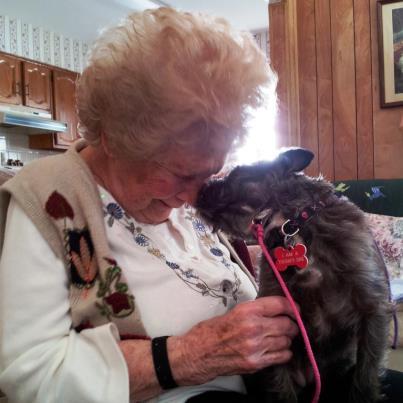 One of those dogs is Bandit, a five-year-old rescue Collie who had experience visiting hospice patients with her owner, Lori. Nowadays, she also visits 99-year-old Miriam. Miriam is a huge animal lover, but is no longer able to care for one.
"Miriam brightens up when she sees Bandit. She hugs him, and you can just feel the presence of love," said Lori. "He lays right down at her feet, and she just giggles and says, "Look, look! He's so comfy in my house!'"
Miriam gets a big kick out of playing fetch with him and reminiscing about her life, her generation, and the animals that she loved.
"He comes in usually checks out all of the rooms in the house. I think he's protecting me," said Miriam. "We always rub noses, and he pushes his rear end up to me, like he wants to sit on my lap. I'm a very small person, so I rub his rear end and he plops down on my feet."
Sometimes, Carlo, Miriam's 98-year-old neighbor, will come over on his scooter.
"He doesn't talk much, but boy, he'll take the toy that squeaks and tease Bandit and just laugh and laugh," said Lori.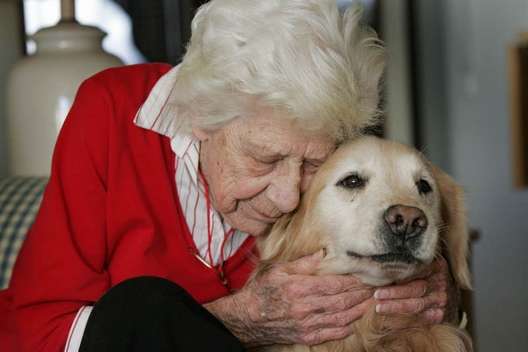 Then there's Daisy, an 11-year-old Cocker Spaniel who was rescued from a shelter in South Carolina. She goes with her owner, Barbara, to visit 87-year-old Violet. Violet is immobile and homebound because of bilateral knee replacement surgery and unable to move without assistance.
Violet had a Cocker Spaniel when she was a little girl, and Daisy's visits bring back wonderful memories. Daisy always jumps up on the couch to sit right by Violet, and Violet pets her head, cuddles he, and repeats over and over how beautiful she is.
"I always had dogs, but I can't take care of them anymore because of my knee. I'm always excited to see Daisy. She's so sweet, she gives me all these little kisses," said Violet. "I wish there were more people that were able to do what Barbara's doing."
Before Barbara leaves, she always puts the date of their next visit on Violet's calendar so she has something to look forward to.
"Daisy had a hard life before she was adopted. She and Violet relate to each other. They are both old and have their infirmities, but they make each other happy."
Related
Popular in the Community