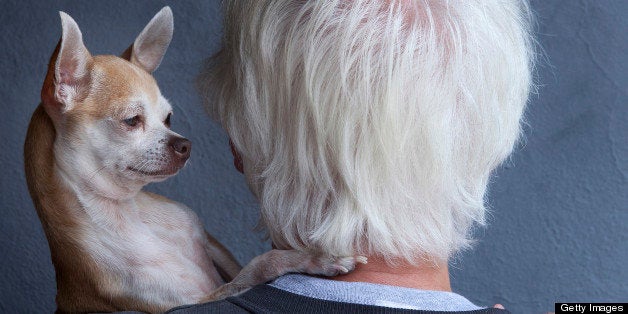 May is National Pet Month, a celebration of the benefits and joy pets bring into people's lives across the United States. Countless studies have shown the benefits of having an animal companion are many, and that's especially true for seniors.
Caring for an animal stimulates physical activity and gives many people a feeling of purpose. During what often can be a lonely time of life, the addition of a dog or cat can be a bridge for seniors to become more social with others. It can also lower stress, stimulate the mind and bring a renewed interest in life. Whether it is the cardiovascular benefit of walking a dog or the increased self-esteem and companionship that can make a senior feel needed, a pet is a wonderful addition for seniors who enjoy them.
This is not a one-sided relationship; the benefits are reciprocal. Pets that may not have a caretaker are taken into a home where they receive regular meals, veterinary care and constant attention and love.
If you are a pet owner, then you understand the strong connection that exists between an owner and his best furry friend. In fact, approximately 40 percent of families that contact A Place for Mom ask about pet-friendly communities and many seniors will not even consider making a move without their cherished pets.
If you are considering a move to an assisted living community and wish to bring a pet to help enhance your loved ones' quality of life, it is important to research and find a pet-friendly community that meets your needs. Here are some things to consider and questions to ask as you begin your search process:
Pet Services. Does the community offer grooming, on-site or visiting veterinarians and dog walking services for various sizes and breeds?
Weight Restrictions. Are there any limitations regarding the size and weight of the animal?
Types of Pets: Does the community restrict pet ownership to particular types of animals or breeds? For example, some communities only allow small dogs and cats, while others also welcome birds, fish, rabbits and other small animals.
Standard Policy vs. Case-by-Case: Some communities don't have a standard pet policy, and instead review requests on a case-by-case basis. Deciding factors may include the type and size of the animal, as well as the health of the resident and their ability to care for the pet on a daily basis. If you find a community you love, but don't see a posted pet policy, simply ask the community director if they would consider allowing your loved one to bring their pet.
More information and articles relating to pet benefits for seniors can be found on the A Place for Mom blog.