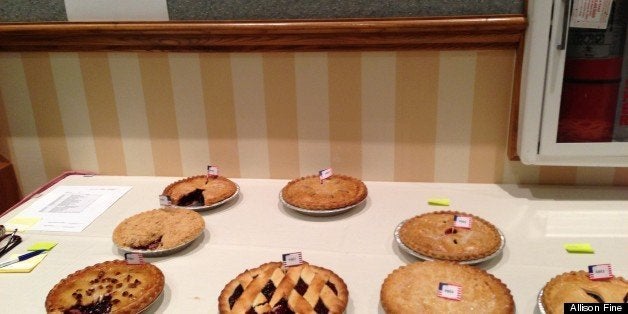 The glorious sign hung in the entryway of the Caribe Royale Convention Center in Orlando, Florida: National Pie Championships.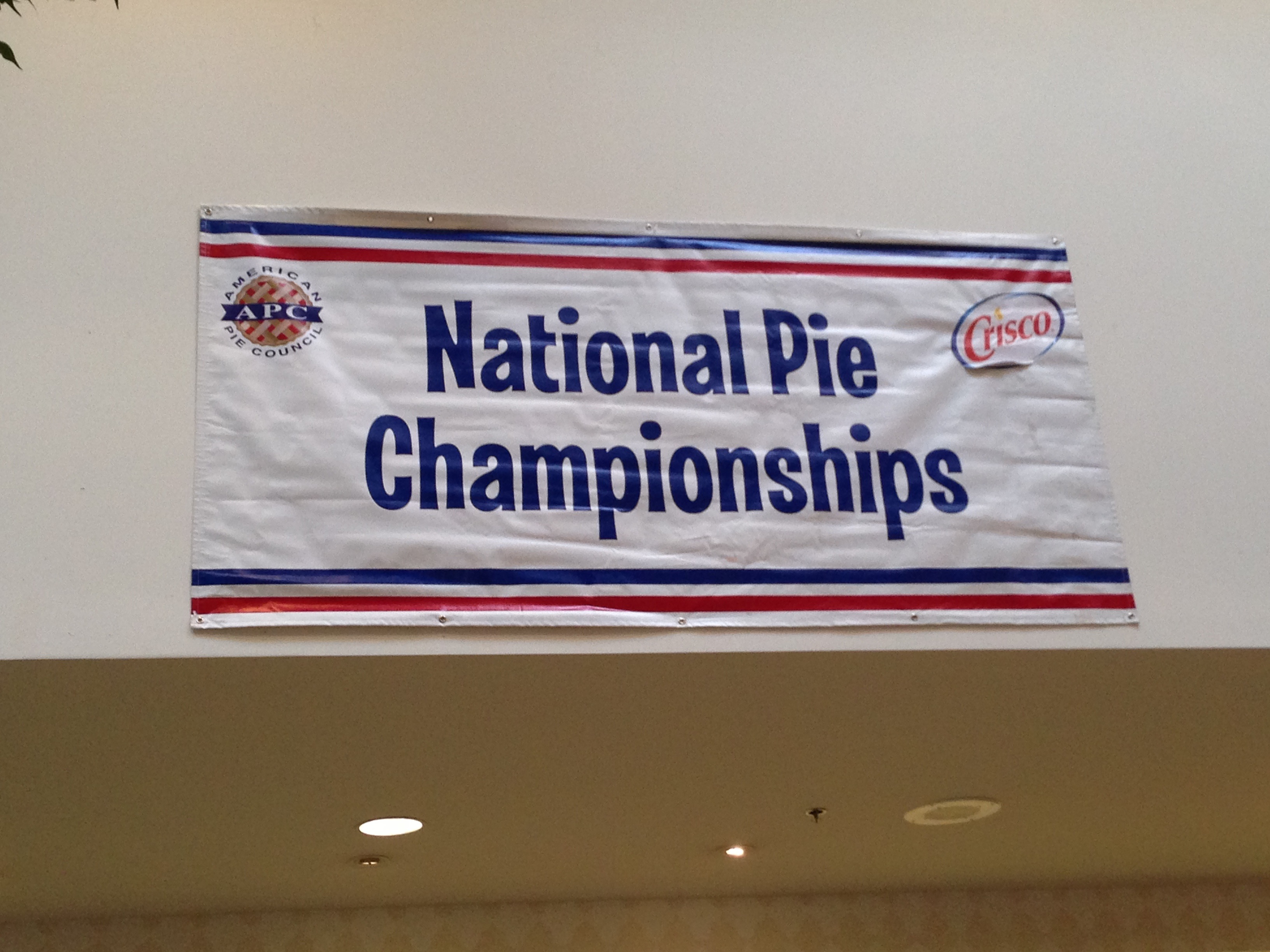 Not local championships, or state or regional either -- national. Not cakes or cupcakes, or custards or flans. And not the number that begins 3.14, but: Pie! (That's how you know the difference between civilians and pie people; the exclamation point.) I applied to be a judge at the 2013 National Championships and here I was at the end of April in Orlando, FL with my elastic waistband pants on ready to start judging.
The volunteer at the registration desk pointed to the coffee urns down the hallway and said that's where we would be meeting for our training. "But you don't look like you need any coffee," she said. I was more than a bit bouncy with excitement.
One hundred men and women gathered for our training session with Rich Hoskins, the co-director with his lovely wife, Linda, of the American Pie Council (APC). Again, National! And Pie! And Council sounded cool, too, like a gathering of Greek elders deliberating on the evils of dense crusts and runny fillings. According to Rich, a very fit and patient man in a Pie Celebration t-shirt, khaki shorts and sneakers, we would be judging pies on their overall appearance and the impression a single slice makes (basically, how badly do you want to eat this pie?) And then the real investigation begins with the first bite. Do the filling flavors blend nicely? What is the texture and consistency of the crust? What is the mouth feel of the pie. Could any phrase be more apt and fun to say? Mouth feel for fruit pies means it should have, "good definition, and be firm, but not overly crisp." The last criteria was aftertaste -- what stayed with you and how. These seven criteria would be rated from 1-9 on our judging sheet and totaled.
There was one additional category at the bottom of the judging sheet, Overall Impression. This category was so important, Rich said, that it would be weighted more heavily than the others. This 1-9 number would be multiplied by two and then added to the total tally. We 100 judges let out a collective groan. Pie people, it seemed, dread multiplication as much as cupcakes. Rich tried to reassure us, just multiply the last number and add it to the rest of your tally. It's simple, he said, patiently, pleadingly. We didn't believe him. "We're like the IRS with all this math," someone muttered behind me. "It's like we're taking the SATs. Where's my number 2 pencil?" said another. I was going to need my calculator -- but I was going to need it anyway to tally the seven other numbers.
We then went to the large ballroom with tables of pies lining the sidewalls.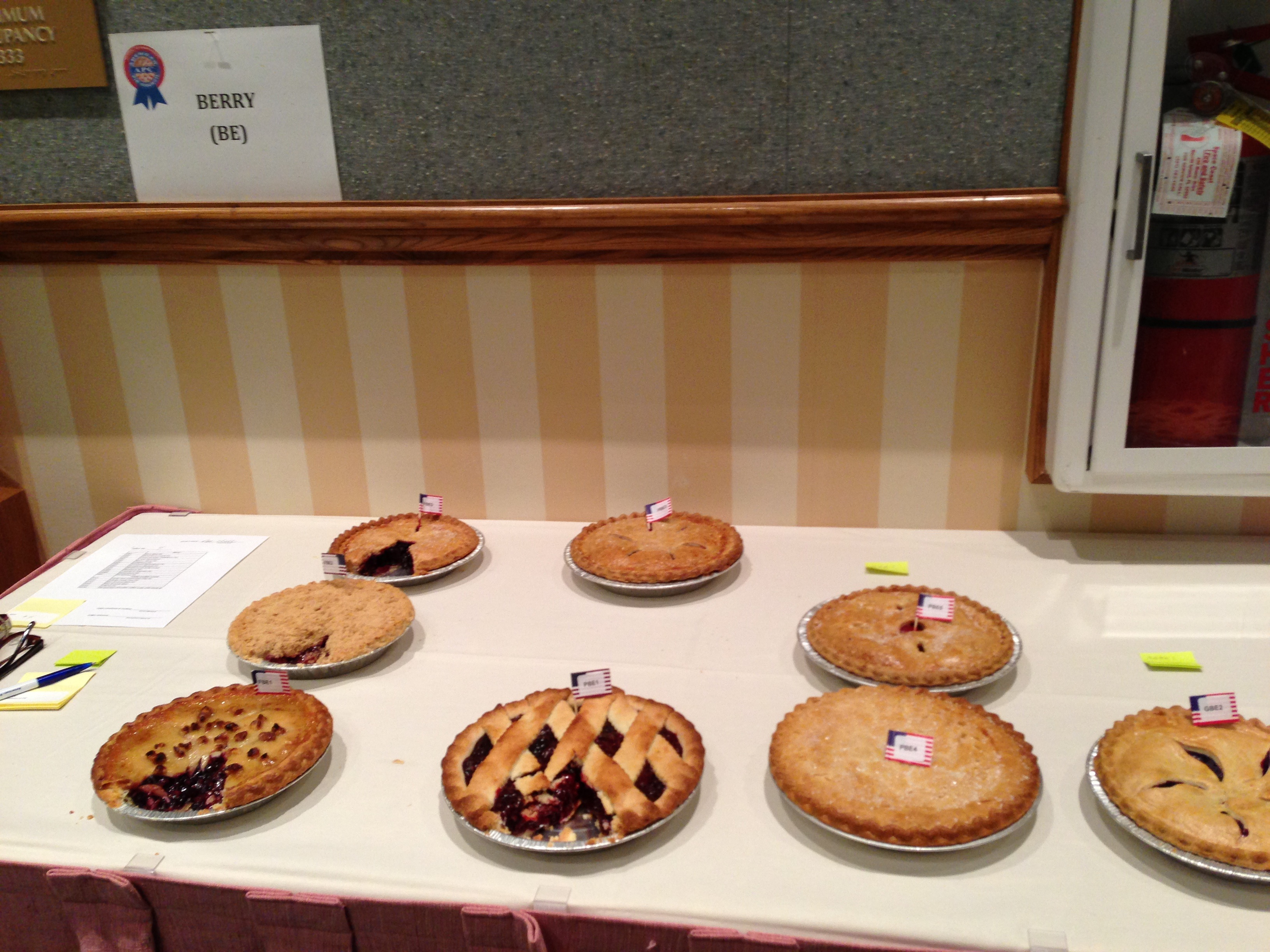 I was at table #3, which was, thankfully, the berry pie table, my first choice. My fellow berry judges were Whitney from Denver, Axel from Ft. Meyers (and the owner of a small pie company, April's Pie Company), Pam from Ft. Lauderdale (who was lactose intolerant and delighted not to be at a cream pie table) and Randy from Reston, VA. We started with an additional Pamela, but when an opening was announced at the chocolate cream table she bolted for it. Good riddance, I muttered.
Our server was a delightful volunteer named Cynthia who had the thankless task of picking up a pie to be judged from the side table, bringing it to our table to show each of us individually the entire entity, walking across the room to the slicing tables and then coming back to the table to distribute the slice for tasting.
Cynthia presented our first pie, Triple Berry Pie. There would be 18 berry pies in all, she said. Pam shushed us with a finger to her lips to signal to us that our silent deliberations were to begin. This was in accordance with the APC's anti-bullying policy Rich had described in our training. It was instituted several years before in response to concerns that some judges were feeling cowed by the strong opinions of others at their tables. Today's pies would not be judged by consensus or community -- the winning pies would be judged individually, on their merit, through private deliberation. It was as ethic as American as... well, you get the idea.
Cynthia showed us INSAFB1 (each pie had a special code name), then brought the slice for tasting. Not so good, this first one, the crust was soggy, the fruit was indistinguishable. I didn't rate it highly, but tried to peek at the judging sheet of my tablemates to see if I was too high or too low. Even if we weren't going to be consensual, I wanted to be within shouting distance of the others. They covered their papers when I tried to look. This anti-bullying policy was more successful than Just Say No! But after the plates were cleared we discussed how disappointing the first pie was and I felt comfortably within the range of normal. (Please note: "normal range" is only in reference to the pie judging on that day, not to my life writ large.)
Then came our second pie: HHFB1. A tiny Very Berry Pie. I deliberated on Mouth Feel for a while. It was smooth, but maybe too smooth? A fruit pie should be comforting and soft in your mouth, but it should also have some body, not jelly-like.
Two more berry pies. More internal debate about Mouth Feel, Crust and Aftertaste. Pies go by.
"How many more do we have, Cynthia?"
"Twelve."
"Twelve!?"
Oh, dear. I posted on Facebook that I was beginning to run out of steam, and we weren't even halfway through! My friend Debra wrote back that I needed to find my second stomach, the one reserved just for pie. I could feel the sugar rising in my body like mercury in a thermometer.
Humbleberry. Huckleberry. Marionberry. Raspberry.
And then Cynthia brought a cherry peach pie. Hang on, we're the berry table.
"Cherries are berries," Whitney said.
"No way," I replied, "berries grow on bushes, cherries come from trees."
Whitney is right, others said (retribution for cheering the fleeing Pamela?)
We all whipped out our smart phones. Berries are small edible fruits that do not have a stone or a pit.
"Cherries are clearly not berries," I chirped while conveniently failing to mention that I was clearly wrong about the tree/bush distinction.
And then we had a berry cream pie. This "pie" was three quarters cream cheese. What in the world was going on?
"This isn't a pie," I said, it's a cheesecake!"
"No, it's a pie," Axel said, "because it has a crust."
"Like a mincemeat pie is a pie because of the crust," Pam chimed in.
"Then what's a cream pie with a graham cracker crust?" I asked. I slammed my palm down on the table for emphasis -- and to get off the berries from the last pie.
"Tradition," they said. I harrumphed at the unconvincing answer and gave up trying to make myself unsticky.
We were getting a bit cranky and still had five more pies to go. We decided to break for lunch, and also to give poor, diabetic Cynthia a break from running around the room.
After lunch I limped across the finish, fork still in hand, sugar thermometer up to my hairline. But we weren't immediately released from our judging duties. The tallying committee had to make sure there were no tie scores. The cream pie table had two ties, which meant re-tasting four pies. The judges looked green at the prospect of consuming even one more bite of cream pie.
The winning pies from the myriad categories judged during the day were announced later that evening. For me, though, which pie won was far less important than the fact that the American Pie Council and the Championships exists (of course, I may have felt differently if I were a baker.) It was thrilling to be with people who are as passionate about pies as I am. It must be like the first time a lone Trekkie goes to a convention and finds dozens of other people dressed like Spock. There are other peas in my pie pod -- and they're alive and well, and baking and tasting hundreds of pies every year in Orlando, Florida.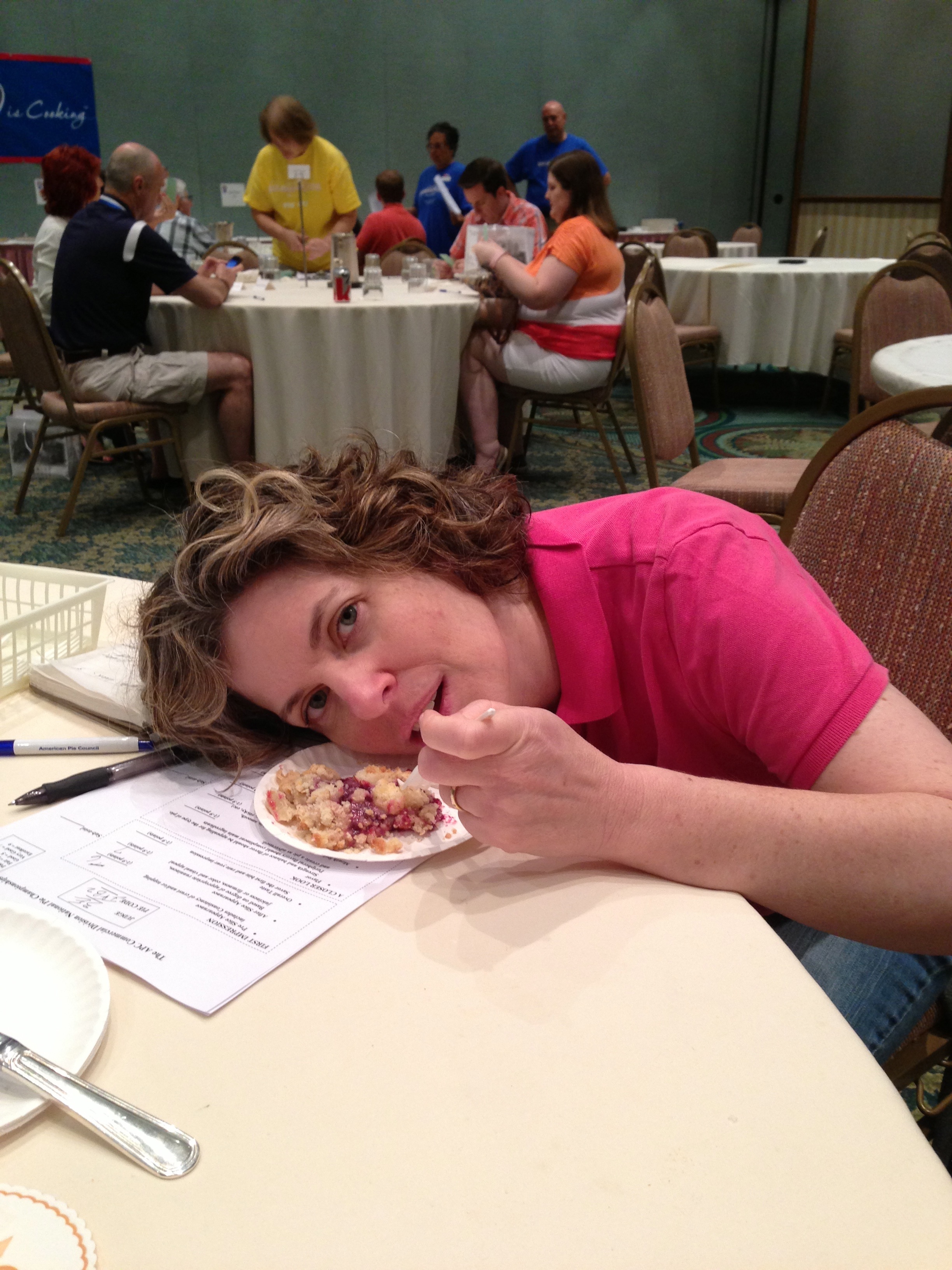 5 Hours....18 pies...Last bite...