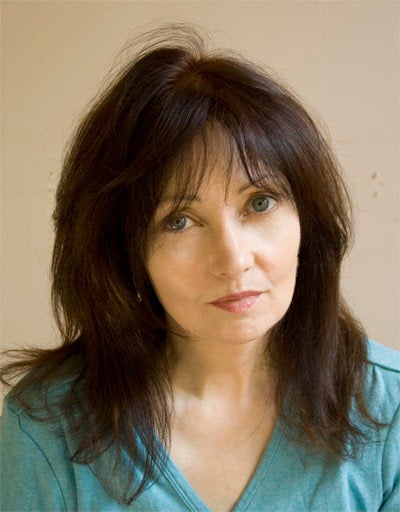 Salman Rushdie said, "a poet's work is to name the unnameable, to point at frauds, to take sides, start arguments, shape the world, and stop it going to sleep."
This seems like an art worthy of celebration to us, which is why, in honor of National Poetry Month, we'll be featuring a different poet each week on our page. Some will be traditional veterans of their craft, while others will be burgeoning experimental writers. All will offer unique perspectives on the often overlooked medium.
This week's poet is Alice Fulton, who has been writing since she was in high school in the late 70s. Her work concerns themes of technology, faith, and often, the creation of poetry. Her work has been described as challenging, partly because she champions the use of enjambments (the breaking up of a sentence or clause across multiple lines, a technique e.e. cummings is famous for). Fulton was awarded a MacArthur "Genius Grant" fellowship in 1991, and in 2011 she was given the American Academy of Arts and Letters Award in Literature.
Here is her previously unpublished poem, "Barely Composed."
You are so not gold.
So ruffled,
stooping, hunchbacked
and wishing
to be closer to gold's calm repose.
Inert and beaten
into leaf, free
of snits and scolds.
Hammered, embossed
by lost-wax techniques.
Ductilemalleable.
Reflective yet implacable.
How great must it be
to be not
needy? An irrational
deep magnet
whose lack of reciprocity is valued
as a lack of rust.
In gold we trust.

We like the way it can be fashioned
into tiny hives
and worn beneath the skin,
dispensing medicines.
Or used inside the bodies of those
who can't fully close their eyes.
Gold implants work
with gravity
so eyes can close.
It is a mercy. It is a mercy
to close your eyes,
you know. You know

gold teeth or plated diaphragm
domes with mouthpiece
components that transcribe voice
vibrations into currents
would make you more
permanent even when exposed
to rain and snow.
Or you could come equipped
with gold-faced mirrors
like the ones inside
telescopes that can detect
a single candle burning on
the surface of the moon.
Now there's a pretty skill.
Though there is no candle
burning on the moon,
we marvel still.

They say a trader can protect herself
with scales or acid.
They say it makes a nice death mask.
Tears won't change it.
Is that not great?
Why then do I scruple
to entirely embrace it?
It is too precious
for small transactions
and too heavy
for large ones.
It has nothing to prove.
Paper is its substitute.
Related
Popular in the Community