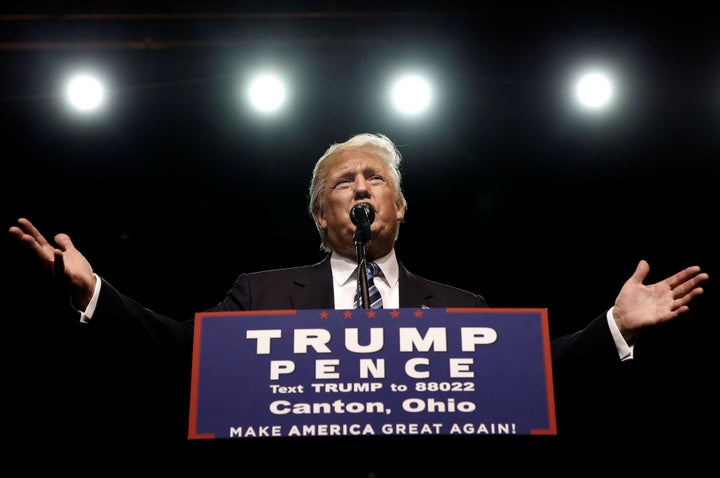 A labor union representing more than 250,000 police officers officially endorsed Donald Trump for president on Friday.
The Fraternal Order of Police said its "member [had] spoken," and that the Republican candidate had locked down the necessary two-thirds support from the union's board. The union's president, Chuck Canterbury, said in a statement that Democratic presidential nominee Hillary Clinton hadn't bothered seeking the union's backing.
"Obviously, this is an unusual election," Canterbury said. "We have a candidate who declined to seek an endorsement and a candidate without any record as an elected official. Mr. Trump, however, has seriously looked at the issues facing law enforcement today. He understands and supports our priorities and our members believe he will make America safe again."
Throughout his campaign, Trump has voiced support for the law enforcement and border-patrol community while criticizing protesters who have drawn attention to police shootings. He has denounced the Black Lives Matter movement and portrayed the nation's cities and black communities as hellscapes practically beyond repair. He has also anointed himself the "law-and-order candidate" in a crumbling society, echoing the 1968 campaign of Richard Nixon.
Until now, Trump hadn't gathered much official support from the country's law enforcement unions. The National Border Patrol Council, a political outlier in the world of public-sector unions, endorsed Trump in May, and the New England Police Benevolent Association declared its backing for him in December. But those unions are tiny compared to the FOP.
The FOP has typically endorsed a Republican in modern times, having backed the GOP presidential candidate in the 2000, 2004 and 2008 elections. However, it spurned Mitt Romney in 2012 and declined to endorse anyone at all. That's because Romney had voiced his support for Senate Bill 5, an Ohio measure that stripped cops of their collective bargaining rights but was later overturned in a referendum. Bill Clinton was the rare Democrat to win an FOP endorsement.
Law enforcement unions generally tend to be more conservative than other labor groups. The vast majority of unions that have endorsed a candidate have named Clinton as their choice.
Popular in the Community